Member Submission
TNT Tuesday Night Track / Winter Coaching / Track Marshal / Dartmouth Relay
By: Tim Smith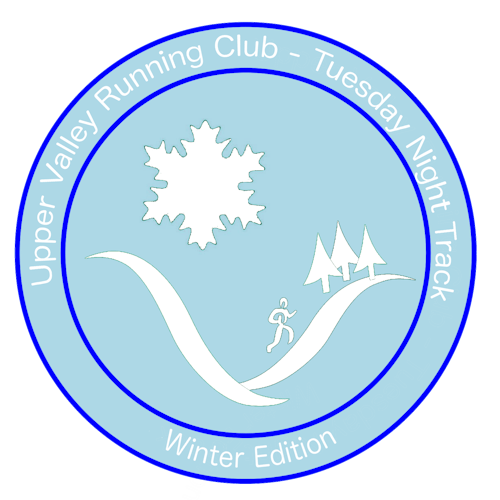 It has been a delight running TNT on a lot of grass this last month, but "The Times They Are a-Changin'" (Bob Dylan) or maybe "To every thing there is a season" (various sources) and in November we will be transitioning to Winter Track.
Occum Pond / Daylight Savings
Our workouts have been pushing into the twilight, so even before the daylight savings transitions, we will be at Occum Pond, starting  Tuesday, November 2.
We meet at the parking area near the DOC house and sledding hill.  It is almost exactly a mile on the road around the pond (to within about a dozen meters).  We meet here in the winter because:
   o The tracks are often covered with ice and snow.
   o There are street lights all the way around the loop.
   o It gets plowed.
   o There is little traffic.
   o You can always turn left and never cross traffic.
What to wear?
Often I arrive with an extra layer, and then strip it off after a lap or two. During the middle of a hard work-out, the fence next to where we start can be covered with discarded jackets, shells, gloves and other layers.
Be Visible
Don't forget to wear some sort of reflector and/or head lamp. Traffic is low, but it is not zero, and we are often running in the middle of the road.
Workouts
After Thanksgiving we will switch over to "Winter Mode", which means less intense. In the winter we tend towards longer intervals and less speed. It is several months until your next major race, so it is a good time to let your body relax a bit. Still, a weekly burst is a good thing for the legs and lungs. We have a monthly cycle of workouts through the winter:
    Week 1: Long intervals. The most common thing would be repeat miles.
Week 2: A two mile time trial (traditionally "Pub Night").
Week 3: Hills - for this we meet at the bottom of Tuck Drive Hill, by the Ledyard Bridge.
Week 4: Tempo Runs. 
Week 5: (Nov 30 & March 29) We don't have many 5th weeks this year. I'll try to figure out something unique.
Winter Coaching
I am looking for someone to step into and help with the coaching this winter. I have been doing this almost every week since pre-covid, and I am looking for someone who can promise to show up at TNT and launch the workout. 
If you can do this - even if it is only some of the time - please email me.
Track Marshall
One of my new things this year is that I have volunteered to be the head marshal for the Dartmouth home track meets. A marshal's main job is keeping spectators off the track during races. But the best thing about being a marshal is that it gives you a legitimate reason to be in the best position to see the meet. (yes - and you get in for free!).
The home meets are December 11 (probably Vermont, UNH, Maine) and Jan 8 & 9, (The Dartmouth Relays). If you are interested, or have more questions, please email me.
Dartmouth Relays
I've just been talking with one of the assistant coaches who is working on organizing the Dartmouth Relays. Because of Covid, the exact nature of the relays has not been determined. However, right now they are planning on a masters or open mile (or 1500?). There is also a chance that we may be able to get into other events! I think I remember hearing interest in a 800m, or a 3000m. Keep your ears open.
Conclusion
Winter is a time when I think about cross-training, (which for me is cross-country skiing) and recovery. But it is not a time to give up on your body. It is just a time to change how we do it.