November 2022 Newsletter
Note from the Editor
Sometimes you run every day and you stick to your training plan and feel like a real winner. But sometimes you may be barely able to show up to get those runs done. You do what you can. I'm not running right now, but the rest of my life is falling into the latter category. Yet, like running, there are seasons for being on top of everything and there are seasons where things will fall off a bit. The newsletter showed up this month and maybe that's enough! The photos and route descriptions this month are delightful. Thanks, everyone, for keeping me inspired and looking forward to my next season of running.
Editor
Article Collection
Member Submission
Another Couch to 5k Season Success!
By: Robert Jones
Congratulations to the finishers of the Fall 2022 Couch to 5k Program!
Our members began the 10-week program starting in late August and finished with the Tiger Run 5K. For some this was their first 5K, others had a goal of shaving off time, but no matter what the situation or goal you all should be proud of your accomplishments and for all the work you put in over the 10 weeks!
Thanks to Keri Niles for running and coaching the program and to all the volunteer coaches for your tireless support! 
We hope to see y'all again in the Spring!
The Fall 2022 Couch to 5k crew! Enthusiastic as always!
Social Events
TNT: Running at Occom Pond
By: Tim Smith
Tuesday Night Track is heading to Occom Pond after November 8th.  We will still do workout similar to what we would have done on the track until December.  But with the end of daylight savings, it will be very dark  on the track.
So Why Occom?
  Plowed all winter (tracks are never plowed)
Light traffic in the evening hours
Streetlight all the way around the pond
You can make left-hand turns and never cross traffic!
It is almost exactly a 1600 meters around (9 meters less then a mile)
Winter Coachs
I will be out of town (and in Alaska) from mid December to mid March.  Cara Baskin will be stepping up to fill the gap in this time. But Cara is looking for a back-up for the days she is out of town.  Anyone who might be able to help, please contact Cara and myself.
Where do we meet?
Most of the time we meet at the north end of the pond, near the DOC house.  There is a parking lot there, and we start our intervals under the streetlight. However once a month, on the third Tuesday, we meet at the bottom of Tuck Drive Hill, by the Ledyard Bridge, and do hills.
Winter Mode Workouts
In December we go into "winter mode", where TNT is of lower intensity.  But I am planning on keeping our quality up through the Turkey Trot season in the next few weeks. After Thanksgiving we will tend towards longer intervals and less speed.  It is several months until your next major race, so it is a good time to let your body relax a bit.  Still, a weekly burst is a good thing for the legs and lungs.  We have a monthly cycle of workouts through the winter:
Week 1: Long intervals.  The most common thing would be repeat miles.
Week 2: A two mile time trial (and traditionally "Pub Night" at Ramuntos!).
Week 3: Hills - for this we meet at the bottom of Tuck Drive Hill, by the Ledyard Bridge.
Week 4: Tempo Runs. 
Week 5: We don't have many 5th weeks - only January 30th this year. I'll try to figure out something unique.
Weather
Do we run in sleet? Ice? Snow? Sub-zero weather? You bet. Of course you are all adults and can make your decision on those foul weather nights.  
What to Wear?
Often I arrive with an extra layer, and then strip it off after a lap or two.  During the middle of a hard work-out, the fence next to where we start can be covered with discarded jackets, shells, gloves and other layers.
Be Visible
It is dark!  Find reflective things to wear.  Look for head lamps and various illuminated vest, etc.  It is true that we tend to out number the cars during the hour that we run. But cars are often driven by people who can not fathom the idea of running when it is night, with a picturesque snow and a mere +5 degrees. So they may not be looking for us.
Be flashy!
Member Submission
Chicago Race Report: Country mouse visits the big city!
By: Laurie Reed
On Columbus Day weekend my husband, I made the trek from the Upper Valley to big city Chicago to support our daughter in her first marathon. I had also signed up for the Abbott 5k the day before the marathon figuring "what the heck I'm in Chicago and might as well have fun racing with almost 10, 000 other runners"!
We arrived late on Friday and luckily my daughter was able to secure my race bib from the expo as it had closed by the time we arrived.
Race time was 7:30 am on Saturday so after a short sleep of about 5 hours we popped up and began the mile run/ walk to the start. It was a chilly but beautiful morning as we watched the sunrise over the lake. We knew we were going in the right directions as we saw runners converging from all angles toward Grant Park.
We were partitioned into corrals based on projected finish times which intimidatingly put me in corral A( I guessed 23:30). There were people everywhere making it hard to find a spot to run smoothly for warm up. My husband positioned himself at a pre determined spot so I could hand off my layers before the race.
After getting in the corral the announcements began letting us know of the famous runners who were with us that morning: Dena Kastor, Galen Rupp, Joan Benoit Samuelson among others. It was exciting to hear but honestly at that point I was shivering in the chilly and windy conditions and was ready for the gun to go off. I positioned myself near the back of the corral to make sure I wouldn't impede anyones race or go out too fast getting caught up in the excitement.
The race was a surreal experience running with people on all sides of me through the vacant streets of Chicago which had been blocked from traffic with the first light streaming through.
I saw the clock at the 1 mile mark at about 7:30 pace which I figured was about right. I never saw another clock & was scared to look at my watch and lose my balance with so many people close by. I just ran taking in the experience and wasn't even sure of my finish time. When I looked at my watch it said 23:30 with splits of: 7:30,7:06, 6:44! I had not run under 7:00 pace except for short intervals in a long time so that was pretty exciting. It had me running 3.30 miles which at first I thought the course was long but now I realize it was me zig zagging all over with so many people.
There was no awards ceremony but when I got back to the hotel I had a certificate emailed with my official time of 23:23 & 98/3644 women and 3/148 in my age group! I was feeling pleased and then I checked the winning time for my age group: 19 flat!
The next day was the marathon which was an amazing experience with 40,000 runners.
We walked all over the city to cheer our daughter at various points and honestly that 15 miles of walking was harder on my body than the 5k. Thankfully it was a beautiful day and we were so proud of Molly for finishing. She had hurt her knee in a 20 mile race on sept 18 and hadn't run since that race. She had a knee brace and through sheer will and determination finished in just over 5 hours! The energy and mood was electrifying with crowds, music and seeing such a mass of humanity just giving it their all.
All and all it was an amazing weekend that I will always treasure.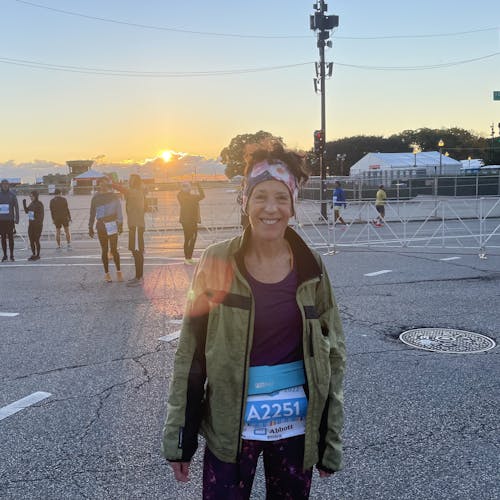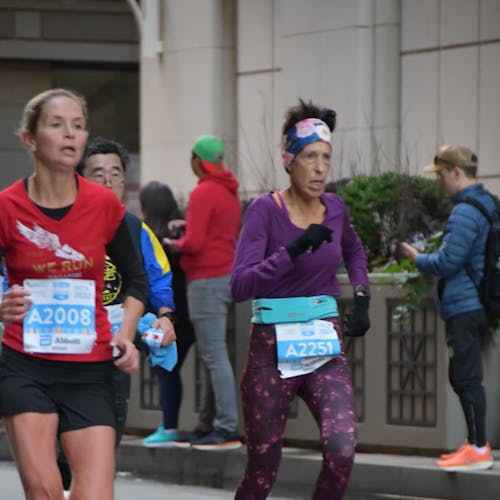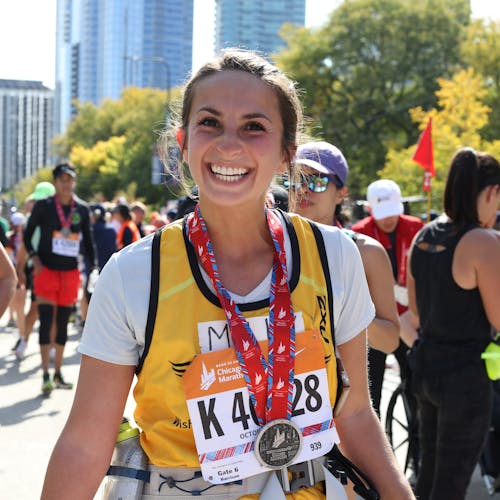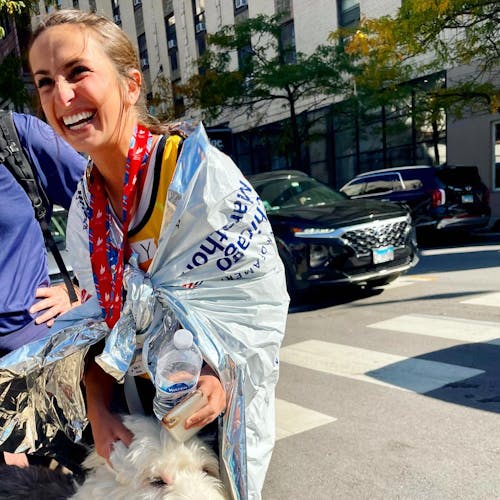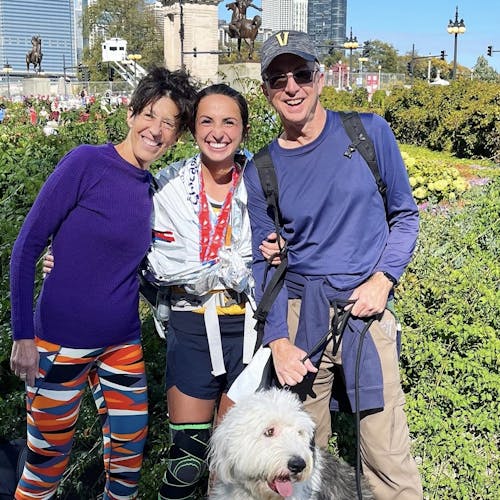 Member Submission
UVRC Member Fall Photos
Pine park is pretty spooky in the morning! From Bruce Atwood
You never know who you will run into when on a run with your dog! From Laura LaMontagne
Me and the pups out on a run! From Shelby Whittet
Member Submission
An AT point-to-point run
By: Sarah McBridge
I set a summer goal for myself to run from Lyme (where I live) to Hanover along the Appalachian Trail. I'm not sure why I came up with this goal, but it stuck in my head and I couldn't move past it. Summer flew by with lots of trail races through the Western NH Trail Running Series and some family obligations that kept my weekends full. I did several trail runs of 6-8 miles, but nothing approaching the 16-17 miles I'd need in order to complete the course. I kept telling myself that if I could just get one 10-12 mile run in, then I'd be ready to go with my plan.
That never happened. However, in true stubborn-runner fashion, once I realized that Labor Day was fast approaching, I decided to go for it anyway, despite my lack of preparation. My husband seemed skeptical of my plan and my lack of preparation...which provided even more fuel for my stubborn-runner fire!
I set off on the Saturday morning of Labor Day weekend, hitting the trailhead near the Dartmouth Skiway at 6:15 am. I decided to power-hike up the steep hills to save my legs.
The climb up and over Holt's Ledge is very familiar to me, and this portion of the run seemed to fly by. The morning sun was gorgeous and I was enjoying my time in the woods. Next up was Moose Mountain, a longer climb. At one point about halfway up to the North Peak, I started to feel like this was a really dumb idea! But then my watch clicked over to another mile, I shook off the negative thoughts, and I set my sights further up the trail. The view from the South Peak was stunning and my spirits were renewed as I made my way downhill.
The portion of the AT between Three-Mile Road and Etna Road is one I haven't hiked or run before. This piece was very runnable with rolling hills and decent footing. When I got to Trescott Road, I felt my spirits starting to sag again. I wondered if I should just text my husband to come pick me up, but my stubborn side won out and I carried on.
The hardest part of the journey was the final push from Trescott up the back side of Velvet Rocks. I hadn't been on this portion of the trail in at least 15 years, and I had forgotten what steep rocks are involved in the climb. The trail here was also very root-filled and rocky, which made it hard to make any decent time (or maybe I was just too tired to navigate the obstacles at this point). By this part of the run my quads were screaming at me and I was very sweaty and out of snacks (the worst of the tough conditions!). I felt like it took me forever to get through the last two miles.
Finally, I saw buildings below me and heard the noise of the Dartmouth practice fields. The Co-op was in sight! I took one last photo at the trailhead sign and shuffled to the parking lot where my ride was so kindly waiting for me.
In all, the journey took me just under 5 hours. I traveled just over 17 miles and over 4,200 feet of elevation gain. This was a fun solo (undertrained) adventure that I still think about frequently. I'm already dreaming up what goal I should set for myself next. Any ideas? I'm offering my story as a reminder that goal-setting doesn't have to involve specific pace times, race results, or massive accomplishments. Maybe there's some weird thing you've always wanted to do, but never felt quite ready. I say, go for it! I'll see you out there and can't wait to hear your story. 
From Lyme to Hanover via the Appalachian Trail
A beautiful day on Holts Ledge!
Route of the Month
The Unicorn Run
By: Robert Jones
My favorite local running route (since I live in Hanover) is called the Unicorn Run. Because if you track it on the map the shape looks like a Unicorn rising up on its haunches to kick some evildoer in the face.
You have to start by parking at the Dentist office by CRREL. This is very important because this is how you get the horn, otherwise you just have a horse which is not nearly as exciting. You can warm up in the former neighborhood across from the dentist office (I think it's called like Rivercrest). Head South down Lyme road until you get to the Co-Op and take a hard left to Reservoir road and take that until you can cross over right towards and down RIP road. Yes I know it is not actually RIP like the gravestone but I like to imagine that all the houses are haunted because I rarely see people there. When RIP hits Wheelock you have to cross Wheelock and take the first street to your left and snake through the neighborhood. I like this part because you get some very pleasant rolling hills. You'll loop around and down a hill because the road you're on deadends and you'll make your way back to Wheelock. Go up Wheelock towards campus, which is nice little hill challenge, until you get to the light and turn left. This will be a nice rewarding flat stretch as you head down Park street. Cross through the Ledyard bank (if I do this on my lunch break I like to grab some candy from the bank), and go back towards campus on Lebanon street. From here you take Lebanon street until you can cross underneath the Hood museum and get to the Dartmouth Green. Go diagonally across the green and down towards Occom, BUT you have to turn left down Webster in order to make the tail of the Unicorn! Take Webster until it almost deadends and take a right towards Occom. Go around Occom and back but turn left on Parkhurst or Clement (I can't remember which) until you get back to Lyme road. After that It is a straight shot back to where you started! I like this route a lot because it has a little bit of everything; flats, hills, and scenery and it is a good challenging distance too!
Check it out: https://www.strava.com/routes/2761287534149207528
A running unicorn battling the the blerch.