January 2021 Newsletter
Editor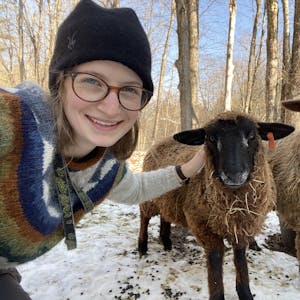 Amanda Kievet
Ultrarunner, web developer, knitter, quote unquote farmer.
Article Collection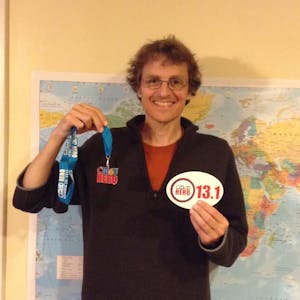 Geoff Dunbar
Former UVRC president, co newsletter editor, and UVRS coordinator.
Letter from a Board Member
Walking the Dog
By: Dorcas DenHartog
It had been a COVID-downer of a day. It was early September. I'd been in Zoom meetings all day, as our school planned to welcome students in-person for, we hoped but doubted, a day? A week? A couple of weeks would be a dream. If only we could get to know our students before we lost them again behind our screens. 
Our team at the Richmond Middle School is the best: my colleagues are positive, can-do, above and beyond, and there for our students and each other with a depth of caring that makes even a bad day ok. But it finally got to me. The fear, anxiety, tension. All I wanted to do was go home, curl up, and go numb. I had come to work with my bag of running clothes and shoes, planning to go for a run and clear my mind on the trails of Oak Hill after work. I left work with no spirit to put them on and headed home with the storm clouds of Mordor swirling around my head. 
Driving across Ledyard Bridge I knew once I got home these feelings would only tighten their grasp around my brain, my throat, my shoulders, and strangle me. Desperate but doubtful, I headed to the Ballard Trail.
It was a gray, muddy afternoon, to match my mood. Everyone's mood that day. I put on shorts and my running shoes, intending just to move my body, maybe clear my mind, untangle the figurative rope that had me tied in knots. 
It was odd to just walk. I had no distance or goal to reach, no time to push for, this was not part of some plan; I did not have the energy. I just tried putting one foot in front of the other, walking away from it all.
I had been up this trail countless times. It was a cool spot in the heat of a fall weekend with the xc running team, listening to them chat away as they effortlessly bounded over root and rock. It was a great day trip with kids from the Montshire summer program, distracting them from the effort by pointing out random lichen, flowers, the stripes on the striped maple's branches. A smile came briefly, but then the thoughts came back like a grumble of thunder. 'Be here now,' I tried to tell myself. 
I admired a rock with an intrusion of quartz. 
I watched and heard the brook's water babble and chuckle around the rocks and under fallen tree limbs. 
I smelled the early autumn pungence of soon to be decaying leaves under my feet. 
I took a sprig of hemlock and crushed it between my fingers and held it to my nose. 
And I thought of my dogs. If I was walking or running with my dog, she would have had her nose to the ground, taking astounding notes of every sensory detail and the news stories behind them. I could call her, or if on a leash, tug her to come, but she'd be so enthralled I would only be sound and fury to her, signifying nothing. I need to be more like my dog, I realized. And ignore the sound and fury made up by humans.
And so I walked. This time with my head up, looking side to side, taking in the changing tree ecosystems, the moss-draped ledges to the left, the brook to the right, recently set free from a dam upstream, the incredible stonework of stairs. The trail dipped down and through a small clearing and I let my legs roll forward into a trot before slowing to a step up the roots and rocks. The effort loosened my shoulders. The deep breaths relaxed my chest. The memories of Luna made me grin. 'Walk the dog', I thought to myself. 'Be here now.' 
 I was reminded of a favorite quote hanging by my classroom desk:
"
Let us first be as simple and well as nature ourselves, dispel the clouds which hang over our brows and take up a little life into our pores.
— Walden, Henry David Thoreau
"
Run, bike, ski, hike, or walk the dogs. This year, may you all be able to get out into nature, be as simple and well as nature yourselves, taking up a little life into your pores and dispel the clouds of the past year. 
Member Submission
From 5k to 50k
By: Chris Wolfe 
I have been an on/off runner since I was about 17 and trying to get fit for soccer season. I would try running once every couple of years, inevitably get injured or travel or something else came up and I'd stop without even realizing it. While active with rock climbing and hiking, running never really stuck. Until now.
In October 2018, I signed up for a work 5k to be held during my company's annual sales kickoff in January 2019. My only goal was to run the whole 5k and not die. On Dec. 10, 2018, I finally got motivated to start training. I could not even run 1 mile at that point. I kept at it and slowly worked up to 2 miles on the treadmill. In late December, I found out I was prediabetic – likely caused by a bad late night potato chip habit. On January 1, 2019, I committed to running an average of 1 mile a day in 2019, inspired by my cousin. I started with 2.6 miles on the treadmill at a 12:45 pace on January 2. That first 5k in January in Florida was more fun than I imagined it would be, even though running the whole distance was so hard. My time was 34:15 and I could not have been happier. I did the Shamrock Shuffle that March, with a time of 31:53 – a huge improvement - and also so much fun! My husband, Sean, started running shortly after I did, with the Skip Matthews race in 2019 being his first road race and our 1st together. I went on to run just over 1000 km in 2019, including 10 races and 2 half marathons – including the CHAD Half in October. I did the UVRC running series and met a lot of people in the local running community. I was looking forward to 1200 miles and 3 half marathons including the CBHM in 2020 and Sean thought he might run a fast 10k. Life in 2020 has been much different than we could have imagined. The races went virtual and the running goals changed. In the end, 3 half marathons became the Daisy-Methodist-Eastman-Storrs Hill run, then the Marine Corp Marathon, then a rail trail 50k. For Sean, that 10k became a sub-25 min 5k and then a sub 2 hour half marathon – all goals we completed. Lessons we learned along the way and more about our running journey are below.
5 Lessons Learned in 2019 – How to train and run
Consistency and ramping up slow and steady is key. I avoided injury and was able to become a runner this go-around because of the "dreadmill". I did not like running on it, so I just put in the time and ramped up very slowly, always on incline 2. I have continued to slowly add distance and mostly been successful in avoiding injury.
Everyone is running just as hard as you are. I learned this when racing. Everyone is working hard and doing their best. The race is really with yourself and maybe those around you in your personal race space or your local "rivals". "Comparison is the theft of joy" as they say on The Running Channel. Just run hard and have fun. Sometimes, you might place unexpectedly, especially when the race is small. This happened to me twice and Sean once ☺
"Finish lines, not finish times" or "It's not how fast, it's how far" -  Just completing a race or even a regular training run is an accomplishment. Measure improvement, against yourself, and not absolutes, especially the first time you run a new route or a longer distance. 
Running clothes and running shoes matter – Let's just say blisters and chafing are not fun. Athletic clothing and properly laced, tied and fitted running shoes matter. So does the right clothing and shoes for the conditions – for example when running in the snow in late December vs the hot of July. Also, wear your contacts in humid, cold, rainy, misty or any conditions other than sunny, really.  Your glasses will fog up. 
You can run along Rt. 120 and in many other places – There's more running options than the Rail Trail and the Mascoma Greenway, especially when they are frozen over in winter. Put on your bright clothes and lights, make sure you stay aware of the surroundings and can hear and get out there. You can find lots of places to run when on biz travel too (when it existed). And, sometimes you see fun cool things.
5 Lessons learned in 2020 – How to go farther and stay healthy
The weather is always fine. You can run at 0F, you just need a hat, a buff around your face and neck, a long-sleeved tee, a fleece, a light coat, 2 pairs of gloves, tights, cross country ski pants, wool socks, and your sneakers. You can also run at 80 F, just wait for the sun to set, bring water, and use electrolytes. 
Hydration – You need more water than you think. I actually learned this lesson in cold weather when I managed to severely dehydrate myself over the course of a week just not drinking enough and then a 10k on a sunny Friday evening in April. I l did it again on my first 16 mile run in June when preparing for my parts of the Virtual Gap Relay. Keep drinking, all the time, when running and when not. And don't forget the electrolytes because over-hydration is awful too, speaking from experience the day after that Friday evening dehydration in April.
Nutrition – What will your body like? Gels and high sugar options make me nauseous. After experimenting, a combination of Gatorade, water, Base Salt and granola bars works for me for up to a marathon. I need something different for longer runs and am exploring options, currently experimenting with Muir Energy. For good running nutrition, also eat as soon as you can when you are done running. This really impacts recovery, especially for longer distances. 
Cross-training is important. One personal consequence of COVID-19 shutdowns was closure of the Green Mountain Climbing Center in Quechee. I did not realize how much climbing helped my running, although I knew running fitness made me a better climber. Mid-2020 muscle imbalances lead to some niggles that I fortunately addressed with PT like exercises in time. Continued upper body muscle decline, hypermobile joints and new developing issues have me starting more cross-training late in 2020. 
Your limits are hard to find. For the virtual GAP Relay, I trained to run 16 miles one day, followed by 10.2 the next. I ran the Lebanon townlines from Plainfield to Hanover and back for 16 miles and from Enfield to Vermont for 10.2 miles. I was playing with distance in early September, training for 20 miles with 2500 feet of gain, when I decided to run the virtual Marine Corp Marathon to support my aunt (and uncle) in late October. That went better than I expected, although I learned some hard lessons about recovery. That race prompted me to think about 50k before I lost too much training. Then, we did the Daisy-Methodist-Eastman-Storrs Hill run (17.1 miles, with almost 2500 feet gain) on Thanksgiving Day, which went fine and got me thinking some more. Then, I saw Colin's Rail Trail 50k article in the December 2020 newsletter. So, on December 12, I decided just to see before the Rail Trail was covered with ice and snow and impassible for runners. Sean dropped me off in Andover and I ran 31.75 miles to Lebanon. Sean and my older son me at mile 18 with some Gatorade and Sean ran those last 4, very hard miles with me. About 3 hours after, I was feeling pretty good. Recovery was fine and now I am thinking about next year and longer runs. I already registered for the Runamuck 50k to help stay motivated. How far can I run in 2021?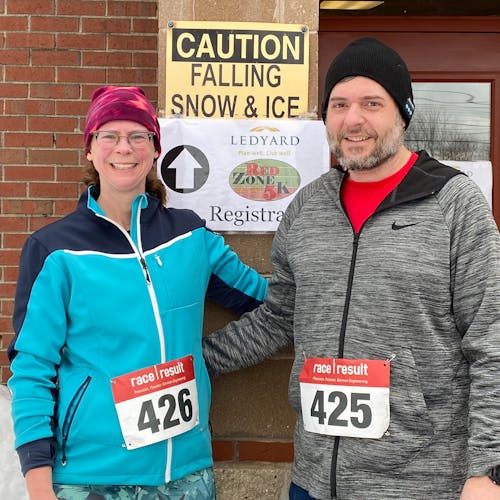 After the Red Zone 5k in Feb. 2020 where I (unexpectedly) placed 3rd in my age group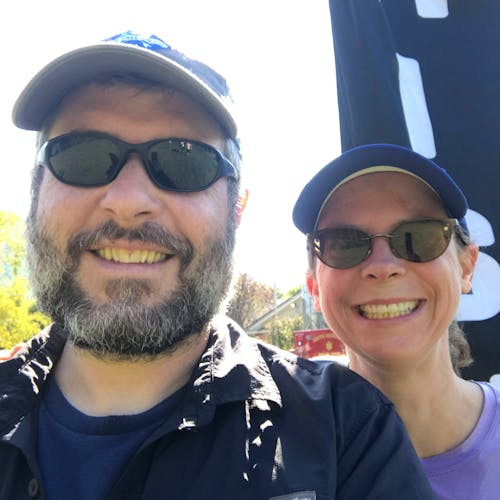 After the 2019 Sprouty – my first sub-60 10k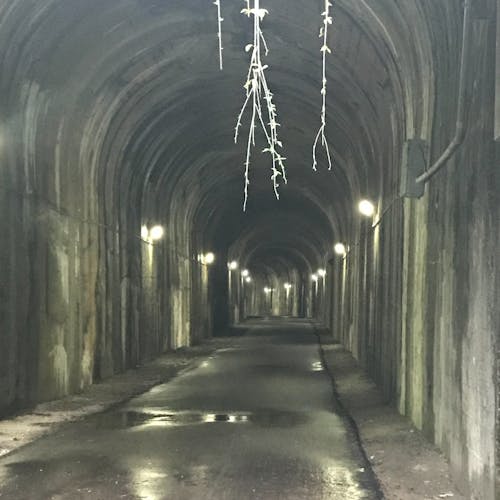 The inside of the National Tunnel on the Montour Trail in Canonsburg, PA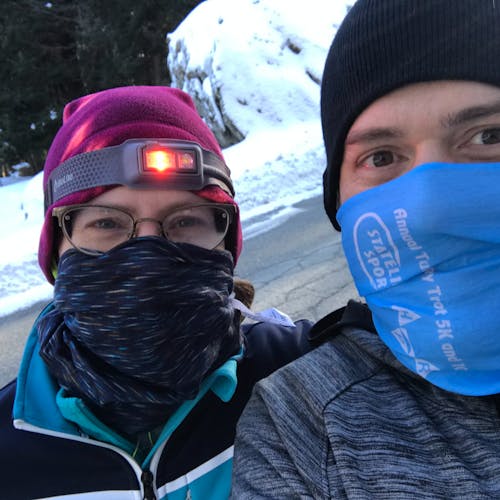 Dressed for the cold in Feb 2020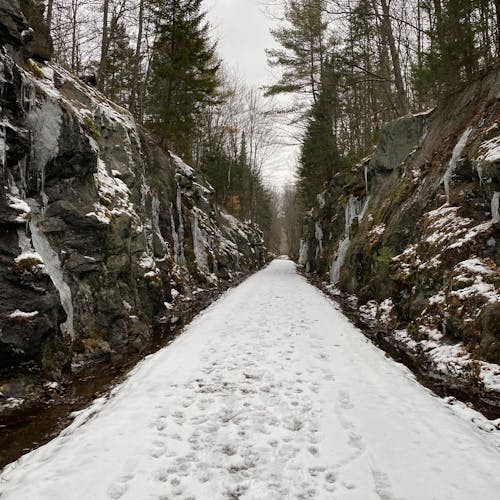 Near the "top" of the Rail Trail between Andover and Lebanon during my 50k on 12/12/2020
Hit the Trail
January 2021
By: Jennifer Hansen
This month's piece is longer than usual. Even before Coach Tim issued his Chain Run Challenge, I had been doing such a project, which conveniently finished in late November, just in time for me to add it to this month's newsletter. 
We are very fortunate to live in an area through which the Appalachian Trail passes, and some folks already use parts of it frequently for trail runs. Much of it works well for trail runs, since it's very well-marked, with many long, rolling spans, devoid of excessive rocks and roots, especially on the Vermont side.  But the NH side also has many long, rolling segments which are very runnable. I had hiked all of the larger mountains on the route on hikes at one time or another, but I was very interested in finding out what was in between. I tried it out one day, running from Hanover Center Rd to the top of Moose Mountain, a pleasantly rolling, almost 100% runnable 10 mile round trip, and I was hooked.  I decided to start from my home (conveniently situated 0.2 mi from the southern terminus of the Boston Lot/Landmark tract-which connects with Mink Brook trails and thus into Hanover), and run segments north along the Trail to Mt Moosilauke. Once I finished that, I decided to keep going; I started in Norwich and ran segments south to Killington Peak.
My project was completed in 14 trips over a period of from 8/14 to 11/24, so I doubled up some weeks and took others off. I say "completed," but I have so far avoided the road segment from Chase Fields in Hanover to the top of Elm Street in Norwich, and I missed about 2 miles along the Moose Mtn ridge in Hanover. The chain isn't officially complete. But I can go back and do those little bits when I have time, if I want. My shortest day, as I was pressed for time, was the 6 mile RT segment from Quinttown Rd in Orford to the summit of Mt Cube. The longest day was the 23.8-mile out and back from Vt 12 to Stony Brook in Bridgewater, made more challenging because I ran the 8.8 mi roundtrip from Pomfret Rd to Vt 12 the day before. The longer the day, the more I gave myself permission to hike the uphill portions. I ran almost all the downhills, except the snowy descent of Moosilauke along the Glencliff portion of the Trail.  Since I traveled alone the whole time, all of my segments were out-and-back; essentially, I ran this part of the AT twice, once going north, once south. My total mileage on the AT was 191 miles, and since the distance from Killington to Moosilauke on the AT is about 100 miles, the Hanover/Norwich road segment and Moose Mtn Ridge miles account for the discrepancy. 
To find where to park, I made extensive use of the very helpful Appalachian Trail Parking/Access website. It shows all of the places to park for section hiking, and a separate page shows pictures and gives more useful information. I contacted the Rohlands for permission and they encouraged me to let you know about the site.  They replied, "We'd really appreciate a link to our website. Getting the word out about our website is the hardest part of our job." So share it with your friends!
After I was done, I purchased 2 sets of AT maps from the Appalachian Trail Conservancy. I got by, just using the Rolhands' site, Google Maps, and occasionally AllTrails, but I missed a little bit, such as now I know that Moose Mountain has a north and south summit.  Mileages and elevation changes are clearly shown. I now own maps which cover the trail from its northern terminus in Maine to the Massachusetts border.  Because, who knows? 2021 might give me some time to travel further north and/or south on the trail. 
I have enjoyed hitting the high points in NH and VT - all the 4000 footers and other prominence peaks. But after running "our" AT, I see how it all fits together. I have felt in my body the difference between Vermont and NH terrain, I have discovered a number of lovely segments that are just fun to run on, and I've experienced this in all sorts of weather. It happened to snow on the days before I ran to the northern and southern terminuses of my project, and yet there was also that 70 degree week near the beginning of November that had me sweating in shorts and t-shirt. Also, it was interesting to explore the limits-- finding out how long of a run I would still enjoy, and how my body would handle really long trail runs. I seem to like long runs of 16-20 miles best, and only going that long once a week, with other shorter trail runs in between times. I found that packing enough food was really important. I always carried sufficient water in my Nathan hydration backpack, and found that one Builder's Bar, one Clif Blox sleeve, a small ziploc of almonds or peanuts, some sliced pepperoni and cheese, and then candy or a couple of cookies gave me enough nutrition and a diversion/treat every couple of hours. We all like different trail running shoes, I think, but I continue to be VERY happy with my Altras. I'm on my 4th or 5th pair. 
If you're interested to see exactly what I did each day, and even to see mostly selfies (sorry!) over the varied weather, terrain and colors of the fall, you can view my spreadsheet here.  I don't mind if no one else wants to see it. I found that planning, executing and tracking all these runs was very interesting and challenging, and the spreadsheet is a nice reminder of my 2020 AT project. 
Ask the Coaches
Cold Hands
I have a question for the coaches about what gloves to wear in winter. I have Raynaud's Syndrome and so I usually start wearing light gloves early in fall - sometimes even when I'm still wearing tank tops! I have more trouble in winter, though - most of the time, if I start with the right gloves or layers of gloves to not trigger the vasoconstriction, my hands are too hot by two miles in. So I'm left with sweats, too-warm hands, which, if it is cold enough, then freezes and makes my hands really cold, triggering a reaction. How do I find a happy medium so my hands are warm enough to start but not so warm that I trigger a reaction from frozen sweat? Coaches: Feel free to address the medical issue or not; perhaps that should be addressed by a medical professional, and not a running coach. However, the gloves question should be of general interest and pretty easy to answer.
— Anonymous
Carly Wynn
As Geoff has identified, there is both a medical and a wardrobe component to this question. I have a mild case of Primary Raynaud's, but it sounds like this runner is dealing with more severe symptoms. To clear my conscience before I address the wardrobe component, I will say that my understanding is that Primary Raynaud's is not dangerous and can be self-managed, whereas Secondary Raynaud's can be related to other underlying conditions, and should be evaluated by a doc. Assuming this reader is all set with their medical evaluations, here are my thoughts on gloves and layering;
It sounds like sweating is a primary issue here, as it so often is with thermoregulation. A pair of moisture-wicking gloves seems a good first step, whether a synthetic wicking material, or the classic warm-when-wet material: wool. Bringing along a second pair of gloves also strikes me as a possible solution: wear the heavy ones to start, and as soon as you start feeling too toasty, take them off and make the quick transfer to your medium-weight pair. In the winter, carrying an extra pair of gloves won't be too much of a pain, since jacket pockets will be readily available. Possibly even have a third pair nearby for post-run, so you can keep your hands in warm, dry gloves as your body cools off.
I've also found that core temp really matters for managing my cold extremities. I develop vasoconstriction most commonly after workouts, when my core has been super-heated by exercise, which I've now stopped, and my body hasn't yet figured out that it needs to start making its own heat again. That's when I'm really in danger of white and blue fingers. If you also find post-running to be a tricky time, I recommend excessive bundling of the core. So, off with all the wet clothes (sports bra included) and on with layer upon layer of wool and puffy things... pretty much as soon as your feet stop running.
I suspect cold skin anywhere on the body may signal the brain (or, specifically, the hypothalamus,) that we're cold! So perhaps if other parts of your body are cold, your brain is getting the message to shut down the blood flow to your hands, even if your hands aren't cold. Following this line of thinking, starting out plenty well layered, with wind-protection, may help halt the reaction before it begins. This is speculation. But if you don't already protect your limbs and face as well as your core, that could also be something to try. Face creams like Dermatone provide a buffer between the skin and the wind, and though they are slimy and unpleasant in texture, they do work well. I use them frequently when ski racing.
Good luck! As an aside, if you, reader, or anyone else with Raynaud's happens to be an xc skier as well as a runner, I would be interested to hear if you notice worse symptoms in one sport or the other. It's generally worse for me with running, and I have wondered if that has something to do with more dramatic arm movement/engagement in skiing, which keeps the blood flow greater and temp higher from the start. Follow up if you wish!