November 2021 Newsletter
Note from the Editor
Editor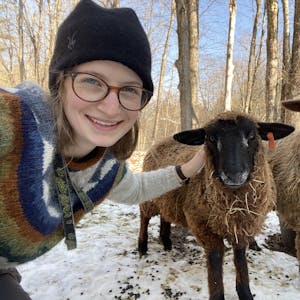 Amanda Kievet
Trail runner, wool mill owner, web developer, quote unquote farmer.
Article Collection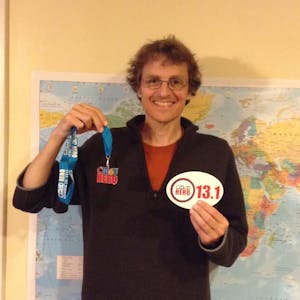 Geoff Dunbar
Former UVRC president, co newsletter editor, and UVRS coordinator.
Member Submission
Boston Marathon Race Report
By: Patrick Luckow
I didn't know what to expect going into the race. Everyone kept asking me how I felt and I just shrugged. I had a great half marathon in Charlotte VT in September, and successfully upped my mileage a bit from previous training cycles. But I had struggled to hit splits in my workouts, and long runs had been slower .I joined a local group run for my shakeout. I felt fine, dialed in and ready to go, and finished on Boylston street, staring down the finish line with a smile. Boston was back. 
Monday morning I took the T to the Boston Common to meet some friends and take the bus to Hopkinton. We arrived at the start, fiddled around for a few, and off we went with a shrug. Boston 2021 was a rolling start; it felt odd to just go, without the standard standing around in a crowd of thousands of our closest friends.
The first 10 miles flew by. It was a nice steady but fast pace that felt comfortable in a way unique to a marathon you've built up to over many months. I told my friend Matt I was going to dial it back a touch. He agreed that was probably prudent, and asked me to lead. Of course a few minutes later he took the lead again and I sat on his heels, unwilling to let him get away, even if it was a little faster than I wanted. Around this time I had my first Upper Valley sighting, as we passed my training buddy Kyle who was going at a smarter, slightly steadier pace. Shortly thereafter I veered across the road to high five my wife Cindy, who had made her way to Natick to cheer for me. This was pretty fun!
Around mile 11 we caught and passed Shalane Flanagan, who was having a quick chat with her pacer, immune to the cheers of support from the crowds. A little before the halfway point we went through the Wellesley Scream Tunnel.  I had ignored this feature the first time I ran Boston in 2019, sticking to the middle of the road, but this year I caved to the peer pressure of a friend in front of me and high fived as many of the screaming ladies as I could. Up another hill, and as things were starting to get uncomfortable I had my second Upper Valley sighting, Kyle and Sara cheering on the right side of the road.  I veered across for more high fives and a little boost of speed. As we went through the half the big sign said something like 1:20, which meant the pace was looking pretty good.
The Newton Hills were next, and as my pace slowed I feared this could be a breaking point. Over the highway, and a right on Comm Ave past the firehouse. Just get to the Somerville Road Runners cheer zone at 30K and look decent when you pass all your friends there, I told myself. We kept cruising, my friend Matt and I arriving together. The noise of the cheers gave me another boost of speed, high fives all around as I took a feed. Not particularly hungry, but I gulped down the maple syrup, hoping for a boost. Heartbreak Hill was hard, but I felt steadier than in 2019. Maybe all those Upper Valley hills are good for something! A giant cheer from my physical therapist, small child on her shoulders, gave me the boost I needed to get up and over. All downhill from here, sort of.
I was really hurting, but the noise was getting louder, almost deafening. I heard cheers for Shalane and understood. I held her off for a minute or two, feeding off the noise, until she passed me never to be seen again. Down into the city, things really hurt, but I just kept putting one foot in front of the other, not looking at my watch. It turns out my pace wasn't quite as slow as it felt; a testament to all the base miles over the summer. Before I knew it I was taking a right onto Hereford, gritting out the last stretch. Cindy was somewhere in the deafening crowd and later remarked that I looked worse than I ever had at the end of the race. Left onto Boylston. I knew this stretch was deceptively long and I was ready for it. I emptied the tank to finish strong, knowing I could collapse after the finish and be done. Before I knew it I was crossing the line.
My time of 2:40 was a touch slower than the last time I ran the race, but close enough to be happy with, and my overall placing a little higher. But I had forgotten just how amazing of a race Boston is. What feels like the whole state is out there cheering for you, and it was great to be back. 
Member Submission
Boston Marathon Report
By: Madeleine Bothe
What's blue and yellow and 26.2 miles? Yep, that's right, the Boston Marathon!
I found out last spring that the Boston Marathon was taking place in October for 2021 instead of the traditional Patriot's Day in April (due to Covid). The timing of this race was perfect for me not only because I wouldn't have to train through the winter which isn't impossible but would have been hard for me; but I was looking for an anniversary run since October 2020 was a time of tremendous grief for me when I found out that I would lose my son Oliver at 22 weeks pregnant. I wanted to run in his honor the following year and since Boston Children's Hospital was an important part of my pregnancy, it felt right to raise money for them throughout my training for the marathon. It was also an opportunity for me to run this iconic marathon without having to qualify which isn't something I have ever trained for. 
I have run one marathon before in what feels like a previous life when I lived in the UK and hoping over to Paris was as easy as getting on a train for the weekend. It was a spring marathon and although I had a fun experience, I didn't think it was a distance I ever needed to run again. However, running, as most of you can sympathize with, is a tool for overcoming stress, grief, and just about anything negative. Have a crappy day? Go run and you'll usually feel better. I realize that I'm preaching to the choir here. 
I grieved hard and took it out on the trails, roads, and miles. It makes the grief manageable most days. 
Okay, more about the race which I know a number of you have done before. 
It's enormous….especially after being in Vermont seclusion for the last year or so of Covid. I underestimated the size of this thing and there were some seriously fit people there. Plus Boston gets all dressed up for this event which was just awesome.
If I thought that Facebook group for runners was competitive, the atmosphere around the Marathon expo and the bus loading to Hopkinton was thick with competition. Everyone was super friendly but marathon runners have their rituals and mindsets (keep in mind I'm more of a trail and Upper Valley Running Series kind of gal). 
There were 7,500 volunteers and just over 15,000 runners on race day. That's almost 2 runners to every volunteer who were extraordinarily nice…like super nice. There were also thousands of police and security which made me feel incredibly safe…? 
I had an amazing fan club who came to cheer me on and I saw them all around mile 24 (ish). I got the impression from all the fans, including mine that watching this race is just as emotional as running it. Again, I'm not a regular marathon runner but it seemed like this was another special Boston Marathon thing like the Wellesley girls (who are also amazing)! 
The wide open four-lane roads of the course are just as challenging as the 4 "hills" between miles 16-21. I underestimated that after a summer of running on many narrow dirt roads. Heartbreak Hill is nothing compared to the hills we all run around here but at mile 20, it hurts and the downhill after that is only fun because of the cheering and not because it's downhill. 
Boston Children's Hospital raised $2.2 million from the 125th Boston Marathon and I'm really proud that some of you contributed to that effort through my fundraising. I'm so incredibly thankful for this opportunity and for you!
Member Submission
The Dartmouth 100
By: Joffrey Peters
This is not about a sanctioned Dartmouth 100-mile event, and indeed it has nothing really to do with the school. This is about my own journey to run the Dartmouth 50 route out and back, beginning and ending at the DOC on campus, following the Appalachian Trail, and turning around at the Ravine lodge.
When I moved to the Upper Valley 5 years ago, I wasn't really a runner. I had done some big runs in the mountains - mostly hiking - but I didn't run regularly or identify as a runner. When I began running more regularly, moving quickly through the mountains was still my inspiration, and running served as a means to that end. It is perhaps a surprise then that it was things like UVRC's Tuesday Night Track that drew me in and helped shape me as a regular runner. A "real runner" - or at least, someone who identifies as a runner. But the community kept me coming back, and as I learned, speed builds efficiency, and that's what I would need to travel long distances in the mountains.
The 100 mile distance is daunting, and the more experience I got going long in the mountains, the more respect I gained for it. It is a very long way. When I finally committed to trying it, I wanted the experience to be mine and to learn from it and grow from it as much as possible. So I selected something rather difficult: The Dartmouth 50 course as an out-and-back… but all by myself, without support or stashed food or supplies, filtering water and bringing everything else I might need from start to finish. The route is 102 miles with 30,000 ft of elevation gain. That's a lot, even by big mountain ultramarathon standards. This was a Big Scary Goal, but it excited me!
In all, things went about as well as one can hope for. During a 36-hour run, a lot can go wrong! After the first few miles, I settled into a maintainable effort, and was moving and eating fairly well. The terrain is steep and footing seldom smooth. Even those sections which are "runnable", I took quite easy, seldom surging past a trot, knowing I had a long way to go. This is the great part about ultra-distance runs: There often really isn't that much running! I hiked mostly, and trotted or jogged the downhills and precious few flats. Stopping for water and clothing shifts, etc, basically ate up any speed advantage from running and my net pace was that of a hike.
There is probably a better time of year to do this kind of thing, but as it worked out, I finished on my birthday, and the day before my son's birthday. Perhaps not particularly poetic, but it added to the meaning of the trip for me, and gave a good excuse to eat a lot of birthday cake!
Earlier in the year, I ran hard half-marathon, 5k, and track mile races and time trials. Very little about running 100 miles in the mountains feels like those events. At no point did I ever push hard during the Dartmouth 100. There was never the burn of legs and lungs. Any wind was the weather, not my own pace. The slow grind of it certainly wore on me, but I tried to smile at least once each mile. Smiling makes me feel better, even when I'm hurting, and it improves running economy. 
Going out on trails to travel 100 miles under my own power is a preposterous and privileged thing to do, and I tried to appreciate it. At one point, in the rain about 40 miles in, I was sulking and thinking about quitting. Two south-bound AT through-hikers passed me, smiling with cheery greetings. These folks have to put up with this stuff for weeks. Getting wet might mean a wet sleeping bag for days, or at least wet shoes and clothes for a while. And they are smiling! There was nothing to do but put on my rain jacket, try to smile, and keep going.
Some highlights of the trip include: seeing nobody on the summit of Mt. Moosilauke twice (really, in the clouds, I saw almost nothing at all up there), some really gorgeous leaves both on trees and on the ground, ridiculous hills covered in acorn ball bearings, an apple tree leaning over the trail, from which I snagged two delicious apples, and the encouraging words I occasionally received via text message on peaks with cell service. Several times on route, I thought about how I often don't hike Mt. Moosilauke because it feels far away, yet here I was running there and back!
It was a great adventure, and I had huge support from my wife letting me get out for two days while she was a solo parent, and from the trail running community who keep me company training, and help inspire me to silly, big ideas like this. Running has as many meanings and purposes as participants. Each of us can define our own goals and dreams. But make some of them big, and a little scary.