September 2021 Newsletter
Editor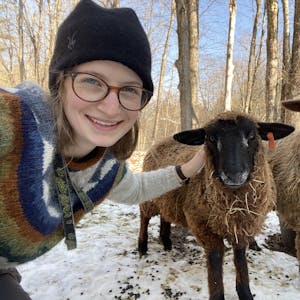 Amanda Kievet
Trail runner, wool mill owner, web developer, quote unquote farmer.
Article Collection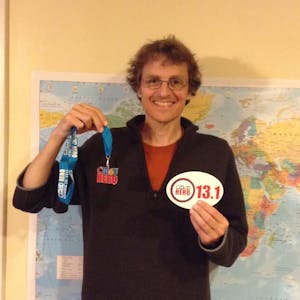 Geoff Dunbar
Former UVRC president, co newsletter editor, and UVRS coordinator.
Member Submission
Help!
By: Geoff Dunbar
Your current newsletter editors, myself and Amanda Kievet, are planning to step down at the end of this calendar year (December 2021). What will happen to the beloved UVRC newsletter? This is where you come in. We'd like to bring in some folks in the short term to help out and learn the ropes. Then, once the new editors feel comfortable, they can take over the whole operation.
There are two main tasks. One is collecting articles, which doesn't involve much technical skill; being able to do email is probably enough. Someone who is relatively social and present at club events is probably a good fit for this role. The other is actually putting together the newsletter; this person just needs to be a little savvy with a computer. Anyone who uses social media or any other web-based publishing platform could do it.
Anyone who is interested in helping out, email us at newsletter@uppervalleyrunningclub.org.
Member Submission
Couch To 5K
By: Keri
Spring 2021 Couch to 5k ended on July 31st with the Shamrock Shuffle. In my fourth season at the helm of the group, some highlights for of the season were:
Having three families participate together with their middle-school aged children
Several folks rebounding from early-season injuries to finish the season strong
Everyone's dedication to show up, twice a week, rain or shine!
And of course wrapping up every practice with music, bodyweight strength training, and stretching
We are getting ready to start up the Fall 2021 rendition of Couch to 5k with a few changes:
Practices will now be held on THURSDAYS and Saturdays
Saturday practices will return to the 8am time slot
We hope these small changes will allow some new volunteer coaches to join us on Thursdays, and will allow many of the Couch to 5k participants to join the TNT group for modified workouts at the track.
If this is something you've always wanted to try, but have had conflicts with TNT or the Saturday morning group, now is your chance. It's always a great group of folks from all backgrounds who work hard and earn their results. Please reach out to learn more! keriann.ketcham@gmail.com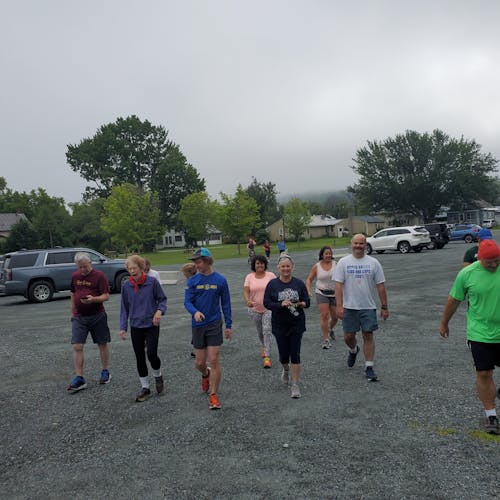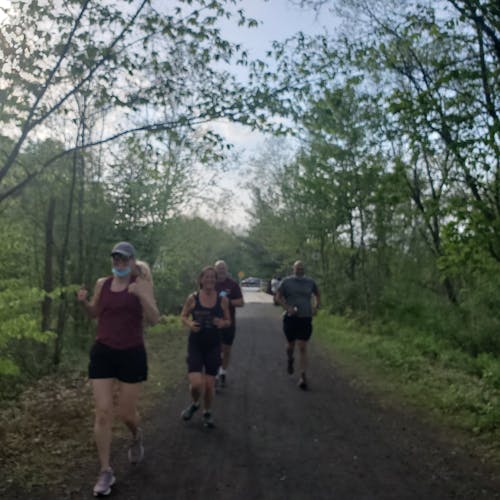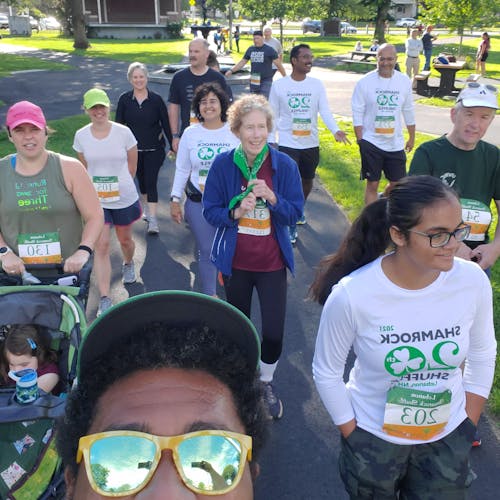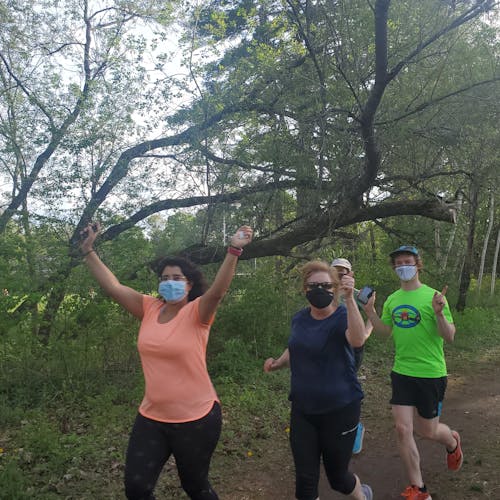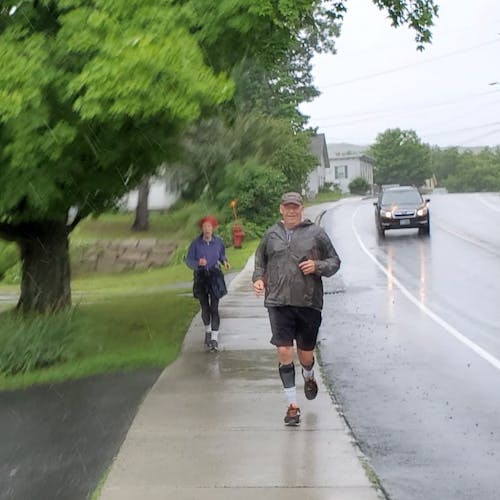 Member Submission
Vermont 50 Volunteers
By: Bill Young
Sunday September 26
The UVRC has staffed an early morning AID Station on the Vermont 50 K Route for years.
"Ralph's" opens early and closes early so there is time for a run, leaf peeping, supporting friends, hanging out or helping at the FINISH line.  
We have fun.  Perks include food at the station, a cool shirt and a BBQ ticket at the finish.
Please consider joining us.  Contact Amy to help with "Ralph's" or other jobs.
Race Direction Mike Silverman Adds: And we need tons of help throughout the weekend, so anyone who wants to help is greatly appreciated!  We especially need folks for the finish line - which is where all the excitement happens!
Amy Rusiecki, VT50 Volunteer Coordinator
Follow VT50 for race Updates:
Member Submission
UVRC - Who Are We?
By: Jim Burnett
In an effort to better define who we are as a running club, I sent out a survey to the UVRC membership asking six questions that will help to characterize the typical UVRC member. With in-person club activities and events coming back to life as COVID, hopefully, continues to recede and people get back to more normal routines, how have we changed? The results of the survey with 88 responders follows and afterward I offer some conclusions and the profile of the "typical" UVRC member. 
Question 1. What is your gender age group? 
(Responses are listed in order from most to least.)
13 – M40s
11 – M30s
11 – W40s
9 – W30s
9 – M60s
8 – M50s
8 – W60s
6 – W50s
5 – W<30
3 – M<30
3 – M70s
2 – W70s
0 – W80s
0 – M80s
0 – M90+
0 – W90+
Question 2. How long have you lived in the Upper Valley?
29 – more than 20 years
14 – 4 to 6 years
13 – 1 to 3 years
13 – 16 to 20 years
8 – 11 to 15 years
7 – 7 to 10 years
3 – less than 1 year
Question 3. How did you end up in the Upper Valley?
34 – Got a job here
19 – Came with or joined a friend or partner here
11 – Attended college or graduate school here and stayed or came back
7 – Born here
7 - Other
4 – Looking for a rural environment with four-season activities
3 – My parents moved here
1 – Looking for friends who likewise enjoy the great outdoors
0 – In search of hilly forestland and meadows, including clean air and water
0 – Looking for a place where things are less crowded and more quiet
Question 4. What is your favorite type of outdoor activity?
44 – Trail running with friends, dogs or alone
26 – Cross country skiing with friends, dogs or alone
18 – Mountain climbing with friends, dogs or alone
17 – Road biking with friends or alone
17 – Completing a new running challenge
16 – Other
15 – Saturday Group Runs followed by refreshments with friends at Lucky's Garage Café
15 – Swimming with friends or alone
14 – Training/Tuesday Night Track (TNT) 
13 – Backpacking with friends, dogs or alone
11 – NH Grand Prix Series racing
10 – Mountain biking with friends or alone 
9 – Snowshoeing with friends, dogs or alone
2 – Rock climbing with friends or alone
Question 5 - Most importantly, I run to...
46 – improve my physical and mental health and wellness
18 – Improve my overall fitness and quality of life
5 – challenge myself
5 – to relieve stress
4 – live longer and better
3 – lose/maintain body weight
2 – commune with nature
1 – socialize with like-minded runners
1 – explore nature
1 – set new personal records (PRs)
1 – take control of my life
1 – other
Question 6.  How would you describe your eating habits?
47 – Omnivore
14 – Vegetarian
8 – Other
7 – Flexitarian
5 – Avoid simple carbs like refine sugars and junk food
3 – Meat lover
2 – Low-carb, low saturated fat
1 – Whole food plant based
1 – Vegan
CONCLUSIONS: You may interpret them differently.
Question 1. In terms of age groups for both women and men, UVRC runners tend to cluster around the 30-something and 40-something age groups.
Question 2. How long ago did we arrive in the UV? 37 of the 88 respondents arrived within the past 10 years and 50 others more than 10 years ago. 29 (1/3rd) of us have lived in the UV for more than 20 years.
Question 3. Why did we come to the UV? A little more than 1/3rd of us (34 of 88) came to the UV for a job. About 22% came with a friend and 1/8th came for college or came back after college. 7 were born in the UV and stayed or came back.
Question 4. The top three favorite activities are trail running (50%), cross country skiing (30%) and mountain climbing (20%).
Question 5. As to why we run 73% run for physical and mental health and wellness of to improve overall fitness.
Question 6. What do we eat? More than 50% of us are omnivores and 16% are vegetarians.  
So, The typical UVRC runner is now 40+/- years old, having come to the UV for a job more than 20 years ago, likes to run trails with friends and eat a variety of good foods in order to improve their overall fitness and physical and mental health and wellness. Sounds good to me. GO UVRC!!!
Hit the Trail
The Pemi Loop, Lincoln Woods Trailhead, NH
By: Jennifer Hansen
Route: The Pemi Loop, Lincoln Woods Trailhead, NH
Percentage Runnable: 60%?
Distance: around 30 miles 
Elevation change: around 10,000 feet
You can read a lot of trip reports on this increasingly-popular one-day effort. I like this one the best: https://notchhostel.com/blog/the-single-day-pemi-loop/  
On Aug 3 I ran a solo Pemi Loop. I had done it twice before with others, and was looking forward to being out on my own for the long day. I decided to  go counter-clockwise, and this enabled me to really enjoy the Bonds early in the day, and to run the most boring, flat 4 miles at the beginning of the day, leaving the shorter, flat run segment for the end of the day. 
At this time of year, the trail is quite busy with backpackers, AT through-hikers, and folks doing sections of the trail (especially the Franconia Ridge). I played tag with two other parties going the same direction as I, and passed a couple folks going in the other direction. I prefer to do this loop as a run, instead of a hike, as there are several miles at the beginning and end. Many of the middle miles are challenging hiking trail, and while I always see some folks really running up and down the most technical portions, I usually hike them fast instead, for my own safety and energy management. The main difference between a hike and a run is which backpack I wear. The hydration backpack enables me to run easily when I feel safe doing so. 
The weather on August 3 was cool and comfortable, with low humidity, so I just wore shorts and a t-shirt and brought my raincoat and headlamp just in case. I brought plenty of lightweight calories and refilled my water bladder at the Galehead hut, which is pretty close to the halfway point. I also had my water filter in case I needed more water later in the day (which I didn't). For this year's Loop, I tried doing a strenuous hike the day before on Mt Washington to see how my body would tolerate back-to-back challenging days, and I might have been OK if I had slept better in between them. As it was, I only got about 4 hours of sleep, so I battled nausea on the second half of the Pemi day, which made my run less enjoyable and certainly slowed me down as the day went on. I also might have consumed too much water early on, and not balanced it with enough salt, although I did have plenty of electrolytes and sugar. 
I started at 4:40 AM and finished up about 7PM-so around 14.5 hours. I ran the last 1/2 mile or so with a fellow who was coming in just under 12 hours for his day. If I want to go faster the next time, maybe I'll rest the day before. But it was a good day, an enjoyable solo challenge. Next time, I hope to go with someone who would enjoy trying to do it in 12-13 hours. Maybe it will be you - let me know!
Mt Lafayette from Mt Garfield, courtesy of another day-looper, 8/3/21
Runner Profile
Runner Profile: Sara Vannah
By: Matt Sherman
Name:
Sara Vannah
Town:
White River Junction, VT
What do you do professionally?
I'm working on a physics PhD at Dartmouth. I study how we can use statistics more effectively to learn about how the universe formed.
How long have you been running? 
12 years
How long have you been running competitively?
Also 12 years! I started with high school cross country.
Why do you run?
So many reasons! I use running to clear my head and calm myself down the rest of the day. I love the social & community aspects of running. I'm also a pretty competitive person (mostly with myself) and running gives me a healthy outlet for that. 
Favorite post run treat? 
My stomach's usually upset immediately after runs so I have a hard time getting fuel in (open to anyone's suggestions about this!), but I love bloodshots at Lucky's. It's blood orange San Pellegrino with a shot of espresso.
Any notable streaks or other unusual running events?
I love weird running challenges, so I've done a ton! One favorite was a Ben & Jerry's 4 x mile relay where each of us had to eat a pint (with a 1000 calorie minimum - no light ice creams!) and run a mile before tagging the next person. Several people ate their pints in under a minute then ran a sub-6 mile. I also ran a 5:49 mile in Crocs last year, which is embarrassingly close to my mile PR. Possibly time to switch out my spikes for Crocs?
Ever run in a costume? 
I've run a few races in a hot dog costume. 
Morning or evening runner? 
Evening all the way! I envy people who can do morning runs but after sitting at a computer all day I love having the post-work run to look forward to. I also hate running when I'm hungry, tired, and dehydrated which seems unavoidable in the mornings.
What is your diet like?
I eat a ton! I'm vegetarian with a bit of a vegan bent for ethical reasons, but I'm a big fan of intuitive eating and the "no bad foods" philosophy. 
Aside from running, what are your hobbies?
Not really outside running, but I am a massive running/track fan. I'm a big fan of running culture and the professional circuit, but I also get really excited about "everyday" runners. One of my favorite parts of UVRC is following everyone's races, goals, training, killer comebacks, and incredible performances. I am so impressed and excited by everyone! 
What question would you like to ask in next month's Runner Profile? And what is your answer to the question?
What's your favorite workout and why?
I love tempo mile repeats! I usually do something like 4 by mile at tempo pace with 1-2 minutes rest. Breaking up the tempo makes it so you can feel fantastic while running surprisingly fast; it's a fantastic confidence builder before a big race. 
Member Submission
What Motivates the UVRC to Run?
By: Jim Burnett
The results from "What Motivates You to Run" (survey)?
1. What are your running motivation-boosters?
        Just because you enjoy it                                                       23 (10%)
        To relieve stress                                                                       22 (9%)
        To meet people and socialize                                            20 (9%)
        For health reason                                                               19 (8%)
        To lose/maintain weight                                                 18 (8%)
        To give you more energy                                                 17 (7%)
        To race                                                                         17 (7%)
        Because it makes you feel good/To get the "runner's high"       14 (6%)
        Finding new routes and trails/exploring                                 12 (5%)
        To boost self-esteem                                                            11 (5%)
        Because you are competitive in your age group                   11 (5%)
        Communing with nature                                                   10 (4%)
        Because it's a shared activity with your partner/family           9 (4%)
        Sharing runs on social media - Strava, FaceBook, etc.             8 (3%)
        It's an excuse to eat and drink more, guilt-free                          8 (3%)
        To travel and see new places                                              6 (3%)
        To raise money for charity                                                        4 (2%)
        Because you are interested in improving your stats                4 (2%)
        233 responses from 31 responders
2. What are your running motivation-sappers?
        Aching muscles and joints/niggling injuries                             17 (17%)
        Lack of energy                                                                  14 (14%)
        Struggling to find the time to train                                    13 (13%)
        Winter weather                                                                  12 (12%)
        Hitting a plateau/Not seeing improvement                                11 (11%)
        Not seeing the weight come off                                            7 (7%)
        Boredom                                                                           6 (6%)
        Knowing it's a speedwork day                                              3 (3%)
        Failing to hit a speedwork goal                                           3 (3%)
        The intimidation of racing next to younger or faster runners      3 (3%)
        Lack of support of family and friends                                     3 (3%)
        Getting heckled or threatened while running                               2 (2%)
        Knowing it's a hill's day                                                         1 (1%)
        Running interferes with social life/no beers night before races   1 (1%)
        Expense of running shoes, gear and races                                  1 (1%)
        Not feeling safe from wild or domestic animals while running      1 (1%)
        98 responses from 31 responders
Thank you for responding to my surveys and keep running…