October 2020 Newsletter
Note from the Editor
Editor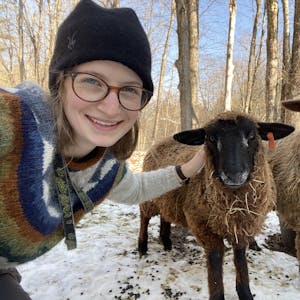 Amanda Kievet
Trail runner, wool mill owner, web developer, quote unquote farmer.
Article Collection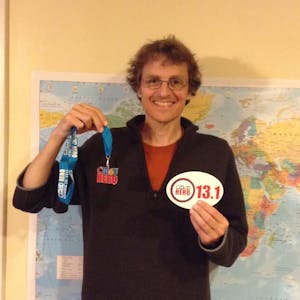 Geoff Dunbar
Former UVRC president, co newsletter editor, and UVRS coordinator.
Member Submission
George Sheehan's Running & Being: The Total Experience
By: Tim Smith
"
Shakespeare was wrong. To play or not to play: that is the real question. Anyone with a sense of humor can see that life is a joke, not a tragedy. It is also a riddle and, like all riddles, has an obvious answer: play, not suicide.
"
A few months ago I saw a posting from a fellow runner (I can't remember who) which showed a pile of books, including George Sheehan's "Running & Being".  I remembered that I had a copy of that book, but hadn't read it in ages.  So I searched my library and found it wedged between "Forest and Craig" and "How to build a Skin and Frame Kayak": there are organizational principles at work which defeat my reasoning.  I've been slowly reading it since then.
For those of you who don't know about George Sheehan, he was a writer/runner from the 1970's and 80's was considered a bit of a guru. He was in fact an accomplished senior athlete (the first over 50 year old to break the five minute mile), and as a doctor he wrote about the physical side of running ("Dr. George Sheehan's Medical Advice for Runners" (1978), and more).  But is was "Running & Being: The Total Experience", where he really left his mark: the book was #1 on the New York Times list. 
A Philosopher-Runner?  At one point he says that he could no more stop writing than stop running. But most of the time Sheehan would say he was first and foremost a Runner, who did a bit of philosophizing on the side.  He was a runner before he was a doctor or husband or father; but perhaps not before he was a child.  He tells us that he had lost his way after college, and forgot about his body and his running.  But at some point in his late 40's he rediscovered his body, his running, and his passion.  He was a born-again Runner.
Once Sheehan was asked by a reporter in Anchorage if running was a religion.  Sheehan had hinted that it was religious-like. But after consideration he replied to the reporter, "Running is like Alaska. Running is not a religion, it is a place."
When I was in college Sheehan came to speak at my school and I found my ticket stuffed in my copy of Running & Being, so I can tell you the time, date and location with great precision.  I remember someone asking him why his book relies upon so many quotes.  To this he replied, "If somebody else has said it so well, who am I to try to re-state it?"
With that precedent, I'll quote heavily and without restraint.
"
Is running an art and the runner an artist? The best answer is that of Picasso. When asked , "What is art?" he replied, "What is not?"
So running is an art, along with everything else we do.  When I run, I know this to be true.  Running is an art and I am an artist, however ordinary my performance. Running for me is what the dance is for others. The oldest and highest of arts. My ancestors ran before they danced. And it is running, not dance, that gives me perfect conformity of form and matter.
"
Are these really the words of a 59 year old Brooklyn born, Irish cardiologist?  Sometimes I sense a bit of the self-help mantra of the 1970's, but still . . .
When I set out to write this piece I consulted my former college teammates (we have an email list) to see if any of them remembered Sheehan's talk, it has been 40 years. I was surprised at the scraps of memories they sent me.  
My old coach, Rich Ceronie, wrote that he fetched Sheehan from the airport, "I remember he spent a lot of time speaking in the car about how he didn't believe in showering as sweat didn't have any odor. And I remember I was sitting right next to him and thinking........I'm not quite sure that is accurate:) He was truly an interesting fellow."
I also remember Sheehan talking about how after a midday run he would just towel down and go back to work.  Right now I'll just say he was a runner - and so perhaps a bit eccentric about a few things.
Joel added, "I was on that car ride with you, Coach! I soaked up his early books — back then distance running, outdoors, for fun, was considered a novelty, and people who liked to run were considered a bit "off." (A lot to be said for that point of view, maybe). Then Sheehan, Frank Shorter and Bill Rodgers changed all that."
To which Ceronie replied, "Haha, yes most folks thought we were all crazy doing that "distance" stuff."
Andy remembered that Sheehan often quoted the philosopher Jose Ortega y Gasset and that Rich Firth was confused because he only associated Ortega with tacos.  
But Brenden (the same guy who raced me with the Remote Race in the summer) was delighted that running was "play", and that play is important.
"
I spent the next four decades with these feelings of being unworthy and incomplete and inferior. Combating my own nature. Trying to become someone I was not. Concealing the real me under layer after layer of coping and adjusting and compensating.  All the while refusing to believe that the person I had initially rejected was the real me. All the while trying to pass as a normal member of a normal society.
Then I discovered running and the long road back.  Running made me free.  It rid me of concerns for the opinion of others.  Dispensed me from rules and regulations imposed from outside.  Running let me start from scratch.
It stripped off those layers of programmed activity and thinking.  Developed new priorities about eating and sleeping and what to do with leisure time. Running changed my attitude about work and play. About whom I really liked and who really liked me.  Running let me see my twenty-four-hour day in a new light and my lifestyle from a different point of view, from the inside instead of out.  
Running was discovery, a return to the past, a proof that life did come full cycle and the child was the father of the man.  Because the person I found, the self I discovered, was the person I was in my youth.
— Running & Being (page 27)
"
When I read his book now, on one hand it seems a little dated, the language is 1970's, part of the self help movement.  But there is also some timeless commentary on this running life.  
"
When I am ill I become skeptic. What has hitherto been certain becomes perhaps; what was perhaps becomes maybe; and what was maybe becomes probably not.
— Running & Being
"
Two of the themes he comes back too again and again are: You are what your body is and your body is who you are. And, play is more important than just about anything else in your life.  How you play is how you are.
While composing this article I remembered that ages ago, it must have been 1983-4, because I was living in  Eugene, Oregon, I kept a notebook where I copied out quotes from things I was reading.  I found this notebook in a box that I should have tossed decades ago.  So I'll close this article with some quotes which left an impression on me at that time.
"
For the runner, less is better. The life that is his work of art is understated. His needs are little, his wants few: one friend, few clothes, a meal now and then, some change in his pockets, and for his enjoyment his thoughts and the elements.
I see this simplicity as my perfection.  In the eyes of the observer, however, it appears completely different. My success in removing myself from things and people, from ordinary ambition and desires, is seen as lack of caring, proof of un-involvement and failure to contribute.
So be it. A larger view of the world might include the possibility that such people are necessary. The runner who is burning with a tiny flame on some lonely road does somehow contribute.  A world composed solely of runners might be unworkable, but a world without them would be unlivable. 
— Dr. Sheehan On Running (page 42)
"
I have quoted that last line often and used it to justify a lot of my idiosyncrasies.  Finally,
"
"We are happy", writes David Cole Gordon, "when however briefly we become one with ourselves, others and the world of nature." Sports certainly provides such moments.  The fact that they mostly defy description may cause outsiders and observers to doubt their existence. But all athletes know the truth of "I play, therefore I am."
. . .
What happened to our play on our way to becoming adults? Downgraded by the intellectuals, dismissed by economists, put aside by the psychologists . . .
Play, of course, says otherwise. You may already have found that out.  If you are doing something you would do for nothing, then you are on your way to salvation. And if while you are doing it you are transported into another existence, there is no need for you to worry about the future.
— Dr. Sheehan On Running (page 189-90)
"
I can understand being transported to that "Running Place."
Member Submission
Running Streak September 2020  
By: Julia Neily
This month's running streak has been hard. Today (9/30/20) was day 85.  Pouring rain, but I was excited to wear my new rain pants and rain coat.  The hardest day so far, yet most rewarding was when I went to Boston to help my uncle who was at Mass General for a cardiac procedure.  I wore running clothes so I'd have no excuse.  I brought clean clothes to change into with soap and a towel to clean up.  I waited until after the doctors explained the choices and my uncle was resting.  I ran through Government Center where my father used to work.  There is a coffee shop with a huge teapot outside that we used to go to when I'd occasionally go to work with him.  I also ran by the Aquarium where I visited with my girls.  It was a sunny warm day.  
I got back refreshed, cleaned up and changed my clothes. I know I wouldn't have run that day if not for my streak.  Looking forward to my next target of 100 days.  
Member Submission
Going to an in-person race
By: Nadia Lafrenière
When I joined the UVRC in January, I knew running would not become my best sport. I had been a casual runner for many years but had never been very dedicated to it. However, I knew what I wanted out of the club: to meet active people in the Upper Valley and improve the running leg for my first Olympic triathlon, to come later in 2020. I had my eye on the Sunapee triathlon scheduled for September 19.
With the club meetings canceled, I tried having a regular running pal (my best option, until he moved to another country), Tim's remote racer app (a virtual community is better than no community), and running by myself (despite struggling with my lack of motivation). The perspective of eventually racing against other athletes, even strangers, was by far the best motivation I had to train for all three sports.
Like everyone, I doubted it would happen, or that I would do it if it did. I made my decision when the organizers released the safety guidelines about a month before the event. Instead of having a massive departure where participants fight each other in the water, the race would be a time trial; there would be plenty of space in the transition area so people could stay 6 feet apart; instead of being two laps around a small loop, the running course would be one big loop, so fast runners don't need to pass slower ones; and, of course, masks would be mandatory when not competing. Drafting, or riding behind another participant, was already prohibited. After taking part in the race, I can admit things worked well, since I did not spend more than a couple seconds within 6 feet of anyone.
There are a few things the pandemic did not change, like the boost of energy you get being around others who are gearing up, warming up and actively racing. Friends, family, and local residents still showed up to cheer on the athletes. Combined with the lack of events in our lives nowadays, the excitement of attending a race was very high.
I've heard some triathletes saying a socially distant triathlon simply works best. I doubt many of us enjoy fighting in the water to take the lead in the swimming event. Nor do we get pleasure from using the least amount of space possible in the transition zone. Hopefully, some changes will be here to stay.
Route of the Month
Union Village – River Road Loop
By: Laura Petto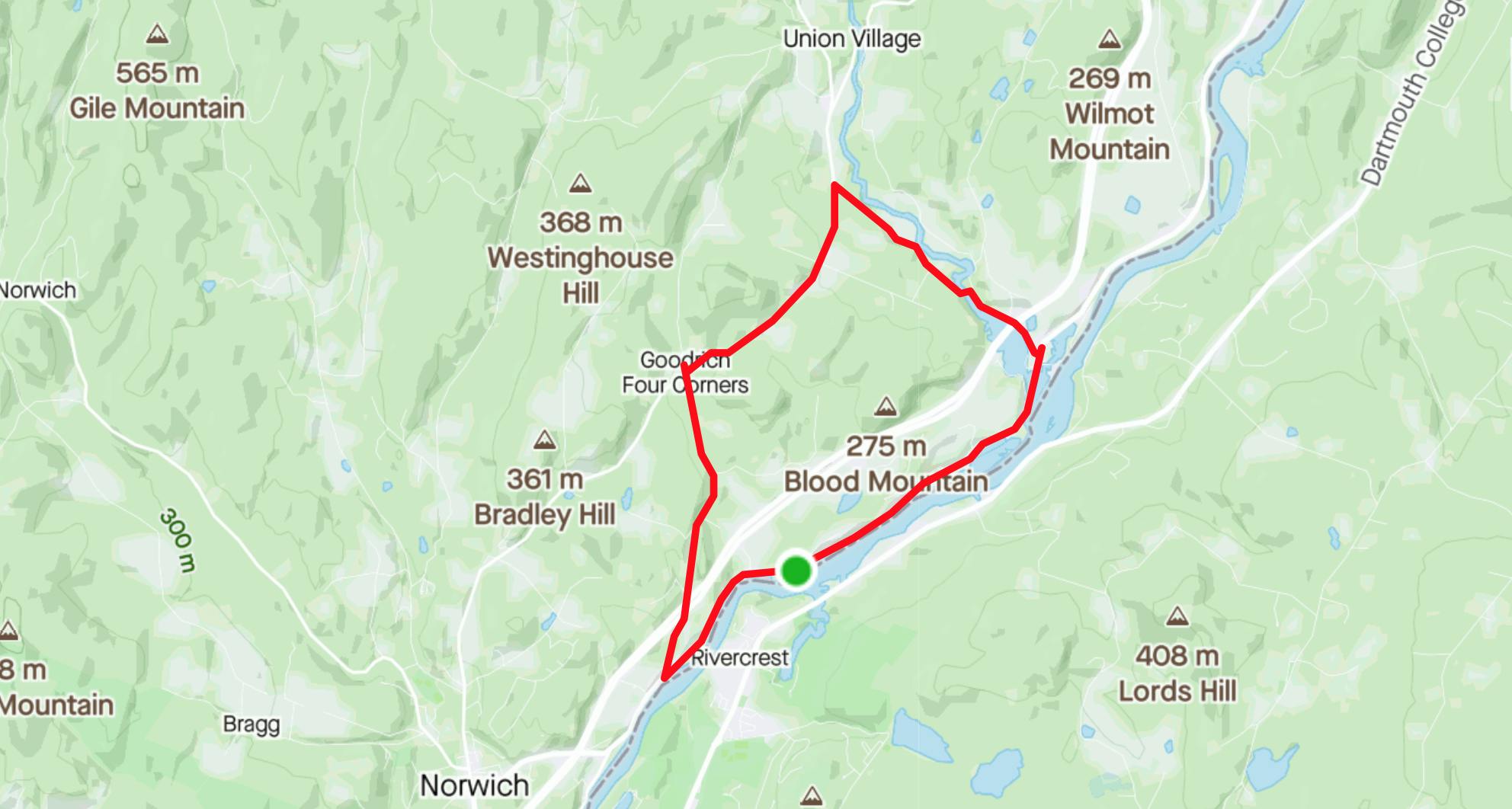 Route Name: Union Village – River Road Loop
Strava Link: Here
Route Distance: ~10 miles
Elevation: 735 feet
Terrain Type: 90% paved, 10% dirt
Description: It's me again, so you know I'm most likely going to be writing up something hilly! However, this is a nice loop which doesn't feel too hilly. You do get a fair amount of elevation gain, but it is almost all low grade. I plan most of my routes so I front load the gain as much as possible, so most of the hills are in the first 5 miles. There's one small hill at the end, which isn't that bad, but it certainly is a struggle to have it in the last 500 ft! The first part is gentle uphills with some paved and some dirt, mainly covered by trees for shade. There are a few peaks of the horizon over farms, which is beautiful. Then, you get to Goodrich four corners, where there are lots of chickens and spotted sheep! I actually thought they were goats, but another runner told me they're a special breed of sheep! I usually stop here to take lots of photos. ☺ Then onto some hilly switchbacks on Union Village, but with some seriously rewarding view. You can see multiple mountain ridges, particularly gorgeous at sunrise. Or sunset, I suppose, but I'm a morning only runner! ☺ Cars go fast on this road, so be careful! Then you're on flats running along the Pompanoosuc -so flat, haunting reflections. The last bit is my least favorite – running along the river without a great view of it. If you run before November, you may see some scullers, though! Overall, this is a nice, new loop for me that gives my legs a break from serious hills AND it has fantastic views. 
Variations: Take a right on Waterman Hill Road, then left on Bowen. This reduces total route distance and increase the percentage of dirt roads.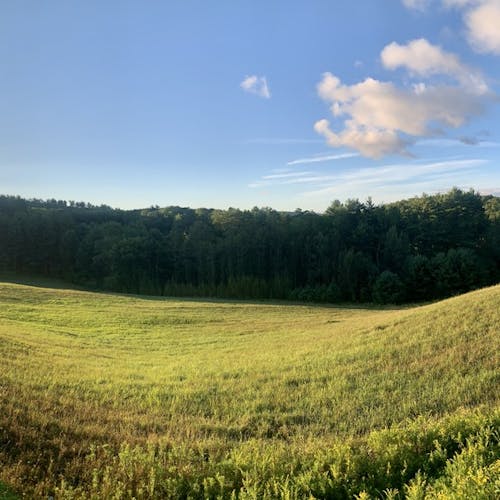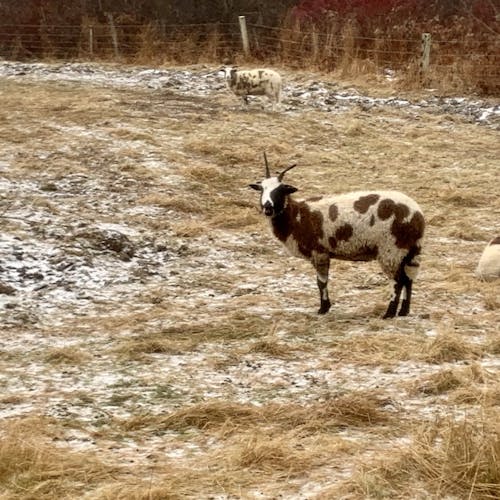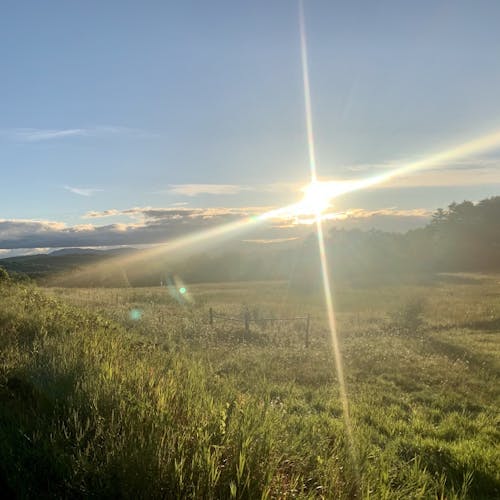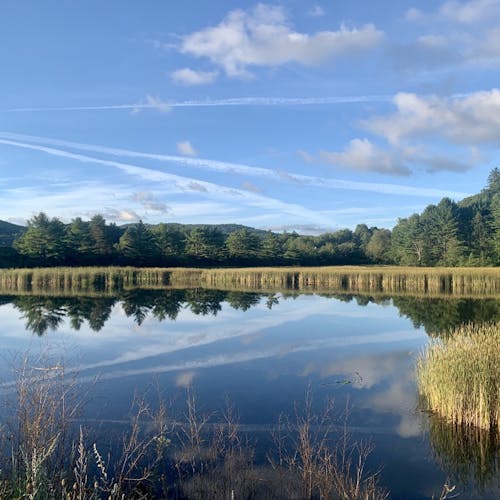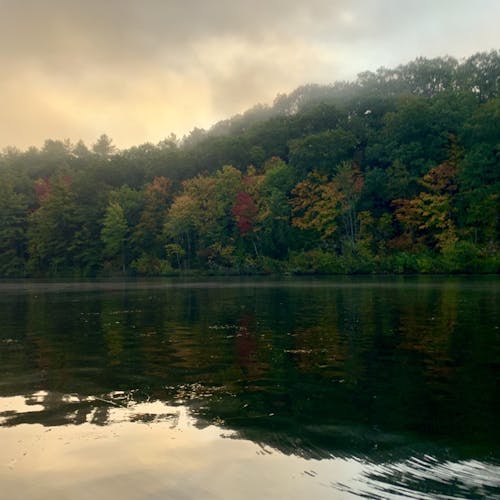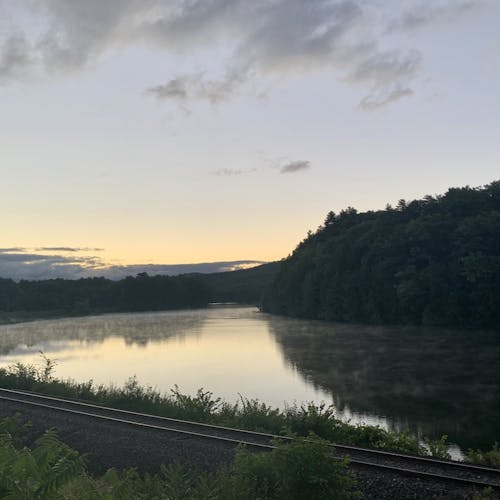 Hit the Trail
Hit the Trail: Zealand
By: Jennifer Hansen
New Column: Hit the trail! Each month, Jennifer Hansen will profile one local or one not-so-local trail run. If you have a run you want her to profile, please send her a note at jennifer.carol.hansen@gmail.com
 Zealand Trail to Thoreau Falls, Jefferson NH
 Route: Zealand Trail 2.5, Ethan Pond Trail 2.1, Thoreau Falls Trail 0.1 — and back
Trail surface: Large rocks at the beginning quickly give way to an easy gravel trail with occasional rocky segments. 
Percentage runnable: 100%
Elevation change: almost flat
Distances: Out and back 9.4 miles
Ease of Navigation: Well-blazed and signed trails throughout.
Parking: Zealand Trail Head, almost 2 hours from Lebanon
Website/Map: White Mountain National Forest (WMNF) guidebook. 
This trip report has a nice map, and my route is the second half of their hike.
Other users: Many hikers, some dogs
I have enjoyed running this trail twice so far this year, and I expect to do it many more times. It's  a nice shakeout run before or after a more strenuous hike or run (my first time on it was to stretch out the day after a Presidential Traverse). The gravel flats and boardwalks through the Zealand Ponds area, the striking beauty of Zealand Notch, and lovely Thoreau falls at the turnaround point make it really interesting and pretty. 
 Next Month: Closer to home...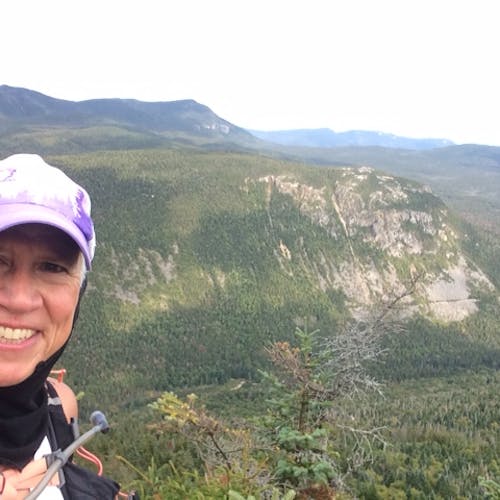 Looking down to Zealand Notch from Zeacliff - you can see the straight line of the trail below, cutting through the white section of the cliff (Zeacliff trail is a possible out-and-back, steep, 2.8 addition; only about 10% runnable)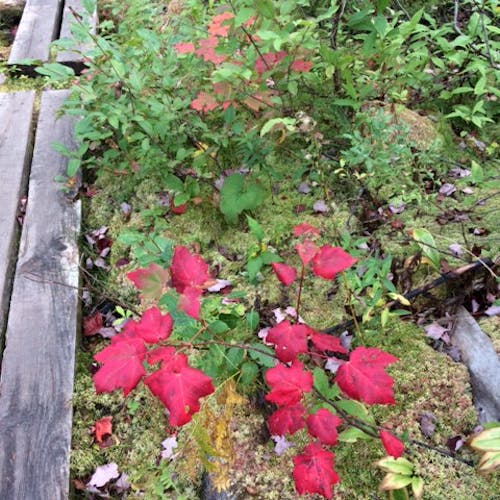 Pretty leaves next to Zealand Trail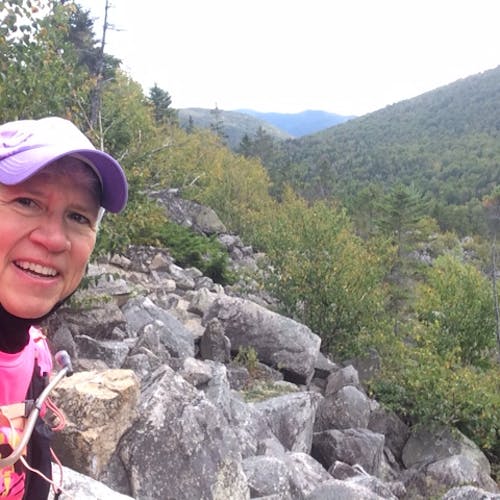 Ethan Pond trail through Zealand Notch
Member Submission
Last Legs , A Runner's Blog — Week 6: The Soak
By: Jim Burnett
The rising sun rested and, in that moment, smiled happily on the shoulder of Cardigan Mountain and the lake below as soft gray clouds drifted slowly by. Her fire reflected on the lake's surface in front of me, transformed into jittering red-hot stepping stones on the backs of tiny ripples. As my chin rested on the lake's surface, the sun warmed my eyes. From the neck down my body soaked in the chilly pool. Rodney Yee had told me, "Breathe in and expand your chest, breathe out and extend your spine, let your body float within its frame…" and now I understood as I sat cross-legged on the soft muddy bottom of the lake near the small wooden dock.
The day before, Mookie and I climbed 3,320 feet to the top of Mt Moosilauke. As I geared-up standing next to the Jeep, the door like an open clam shell around me, Mookie sniffed the tires of the other car in the trail head parking lot, then stood at attention in the gap next to the green gate that marked the beginning of Glencliff Trail. Three miles or so up the trail, the north peak was shrouded in early-morning clouds. I nodded and Mookie turned and bolted up the rocky path that led to the top. We greeted twenty-five hikers and six dogs along the way. At 100 pounds, Mookie the Labra-doodle is a force of nature. His joyful exuberance has no bounds (sometimes at the expense of unsuspecting fellow hikers). It was windy at the summit and when we started down, all of a sudden, Mookie took off across the windswept grassland toward the low hanging clouds to the west and disappeared over the short horizon…..one, two, three, four, five…..no Mookie. But, of course as he always does, he came bounding back tongue and tail wagging.
Coming back down below the tree line, we focused on the large rocks and boulders that offered themselves as stair steps - tap, tap, tap…thump, thump, thump... At first I felt strong and agile, tip-toeing my way from point to point and occasionally reaching out to plant my poles and swing my weight down softly. But, eventually my quads tired and the easy upbeat rhythm I enjoyed early on became a bit painful. So, I slowed down. Soon enough we were on the softer, gentler slope and, though my body was tired, I enjoyed a warm feeling of satisfaction as we arrived back at the Jeep. 
Mookie is my hiking buddy. From the moment I roll out of bed, step onto the wooden floor and feel my way across the dark room to where his soft furry black and white body awaits the signal to get up and get going, we are a team, ready to tackle the next outdoor adventure. As I soaked in the chilly lake the morning after the climb I thought to myself, "I hope I come back as an oversized Labra-doodle."
Runner Profile
Nancy Dunbar
Name: Nancy Dunbar
Town: Hanover, NH
Where are you from originally and what brought you to this area? 
I grew up in the Mountain West living in Colorado, New Mexico and Arizona as a child. After graduating from college, we lived in the Bay Area for a few years and then Seattle for almost 15 years. We came to New Hampshire when I took a job at Dartmouth-Hitchcock Medical Center. 
What do you do professionally?
I am a physician and the Medical Director of the Blood Bank at DHMC. 
How long have you been running? 
I started running in middle school. The school held an "Olympics" type competition and I won the "marathon" which was actually a 4-mile run. 
How long have you been running competitively?
I ran middle school track and have been running competitively ever since then. 
Why do you run?
I enjoy running to relieve stress and stay fit. 
Recent memorable moment while running?
This summer I have been exploring the trails in Boston Lot. I managed get lost one time exploring a new route home and found myself at the quarry. It turns out I was heading in exactly the wrong direction! I guess that is why we call it "Lost A Lot". 
Best athletic accomplishment and why?
The year we moved to New Hampshire I ran the Mt. Desert Island marathon. The race was perfect in every respect. I ran it smart and finished strong with a new PR. Marathons are notorious for being very humbling so when you do one right, it is a real achievement. 
If you like to race, favorite race distance? Why? 
My favorite distance is the 5K. It is short and sweet and the suffering is brief. 
If you like to race, notable race moment? OR most memorable race?
My most memorable race moment was the Arizona state cross-country championship my junior year in high school. I was not favored to win but felt great that day. I realized I had a chance to win near the finish when I found myself in second place about 200 meters behind the leader. As we approached the finish, she kept looking back at me. That motivated me to sprint and I passed her in the chute just before the finish line. Since then my racing mantra is "never look back"!
Training partners?
I enjoy running with my husband Geoff Dunbar. He is a bit faster but always adjusts his plans to include me so that we can spend time together. 
Cross training activities? 
In the past couple of years we have taken up road biking. It is a great way to maintain fitness and not run every day. 
Favorite local running route?
I love running in Boston Lot. My current favorite route is DHMC trailhead -> Mainline -> Spiny -> Otherside -> Southside -> around the lake and then to Sachem Village along the Stonewalls trail. On Strava, I am the current "Local Legend" on Half Spiny. I think that just means very few people run there!
Favorite post run treat? 
Beer
Strangest place ever run?
I always go exploring when I travel. I remember running along a drainage canal in Orlando, Florida with one of my travel friends. We both realized that there might be alligators and that we probably should not have left the sidewalk. We ran extra fast that day. 
Any notable streaks or other unusual running events?
I did once participate in a 24-hour relay, which meant running a mile every couple of hours for a fundraiser. It is actually much harder than it sounds! 
What made you start running?
I found something I enjoyed and it turns out I was also good at it. 
Who is your running "idol"? 
I'm not sure I really have an idol but I do have running in my blood. My grandfather was a competitive miler in college. 
Why did you join UVRC? 
We had enjoyed our running club in the Bay Area and wanted to connect with other runners when we moved to the area in 2010. This led to the formation of UVRC.
Ever run in a costume? 
No, not that I can recall.
The only running shoe for me is ______________________. 
Something that fits and feels comfortable. Unfortunately, every time I find a shoe that I like the manufacturer changes it! I currently run in Topo.
Ever been injured? How did it happen?
Thankfully, I have been relatively sturdy thus far. I have had issues in the past with piriformis syndrome and metatarsalgia but have been able to get through it with rest and cross training.
Hot or cold weather runner?
Hot, any day!  I grew up in Arizona so I love the heat. Winter is rough for me. 
Morning or evening runner? 
Evening. I am not a morning person. 
What is your motivation?
I run to stay healthy and sane. I also love to eat!
I run therefore I ______________________.
…stay healthy, am tolerable to be around, and do not feel guilty about occasionally indulging in junk food. 
How did you become interested in running?
I started doing 5Ks in middle school and enjoyed pushing myself and placing in my age group. I have been running ever since. 
What is your favorite race?
I have a weird fascination with the Manchester (NH) Marathon. It is a very difficult marathon in every respect- difficult course, not particularly scenic, not a lot of crowd support, etc. but it is the only marathon I have run more than once. 
Favorite running book/film?
Chariots of Fire
What does your daily workout consist of?
I usually run home through the woods 3-5 miles 3 times per week and do a longer run on the weekends. On off days I either rest or bike. 
How about favorite work out?
I love 400 repeats on the track. 
What is your diet like?
My diet is decent but I am not a paragon of virtue. I love junk food! 
If you could run with anyone, who would be the person? 
I love running with my husband Geoff. It is so great to be able to share this hobby together. 
Additional input or comments? People to mention?
I am so thankful for UVRC and the friends I have made through the club. It is amazing that a community this small can have this opportunity. 
What else should the club know about you?
I am learning Italian and would love to find a running friend willing to run and speak in Italian with me. 
Aside from running, what are your hobbies?
I love to travel, cook and garden. I have gotten good at making both Kombucha and Limoncello these past few months.