November 2020 Newsletter
Note from the Editor
Editor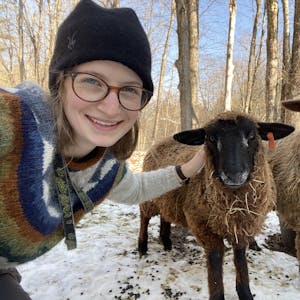 Amanda Kievet
Trail runner, wool mill owner, web developer, quote unquote farmer.
Article Collection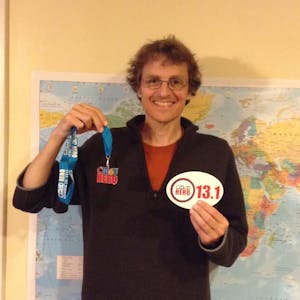 Geoff Dunbar
Former UVRC president, co newsletter editor, and UVRS coordinator.
Letter from a Board Member
Letter from Kristine Flythe
By: Kristine Flythe
Hello UVRC,
My name is Kristine Flythe, and most often folks in the Upper Valley call me Krissy. I have been in my official capacity as Recreation Coordinator with Lebanon Recreation & Parks since April of 2010, and prior to that time I was in a seasonal position with the summer Day Camp program Camp Kaleidoscope starting back in 2006. 
I've had the pleasure to sit in on the UVRC board while Paul Coats was on sabbatical.  In my time with UVRC board for the last year having only known folks by name and some familiarity I am highly impressed.  Each member brings their A game and accomplishes with great pride quite a bit for the members of the UVRC and the running community. 
Now Geoff asked me to write a letter in September.  He shared he could help with a topic if I needed it.  I decided to just wing it and hope that I can share something about myself and my family that is relatable and interesting.  
First and foremost, there is no doubt I've lost my sense of time. I shared in the previous paragraph that Geoff asked me in September to write something.  It's now October and well I've had plenty of time to write something, right?!  Prior to COVID the struggle of work-life balance was real.  However, when your work-life balance turns into work-life-home balance all together it makes the balance even more REAL!
A perfect example while I write this piece.  I've had to stop because as my two boys, Avery who is 3 and August who is 6, decided they would race after a stuffed animal.  Keep in mind they had their lunch on the table which included an open smoothie.  Can you guess what happens next? Yes, the smoothie did spill.  However, it wasn't just the small knock over on the table.  It was an epic spray of smoothie all over the couch, on to the carpet, covering the 3-year-old in smoothie, and holding time in a stand still as me (mom) cleaned up all the things. Truly I understand this is not awful, but it is a test of patience while also trying to work remotely and keep August who's on a school schedule at home to eat lunch, have recess, and make his next remote meeting.
It's the REAL version of the Game of Life almost.  Take out some plastic pieces, and you've got to choose adventures, a career, an awesome vacation, and of course someone spins to win instant wealth and fortune. Yet we all live our life for all those choices and more.  To know if you've spun your way to the right balance would be a personal satisfaction at the end of each day and a bit of gratitude as they say. 
Have I had adventure? In college I had the opportunity to study in Florence, Italy for a minor in Italian Studies. With a side of student loans that I'm still paying back.
Do I have a career? For a long time I thought I would be in higher education.  However now I'm in the Recreation field as well as manage my own small business as an Independent Senior Consultant with Thirty-One Gifts, and if anyone is holiday shopping feel free to take a look www.mythirtyone.com/kfly. 
Have I gone on an awesome vacation? Yes, my husband and I were lucky to have gone on a cruise to the Bahamas, and spend a week out in Sonoma Valley, California for our honeymoon.  All before kids of course! 
Do I have wealth & fortune? Yes we have our fur family too which includes 3 Shiba Inu dogs (Jasper, Lily, and Rowley).  We LOVE our home and continue to make improvements on it.  My husband, Alan that does so much for all of us,  and my 2 loving little boys as well as miscarriage to remember how fortunate we are. While the above is a quick glimpse into my life it is ALWAYS a work in progress and I wouldn't have it any other way.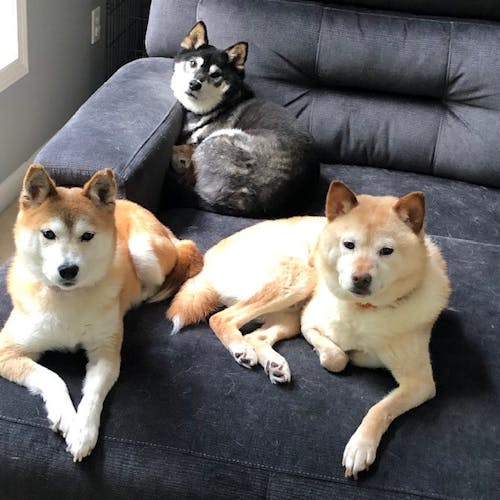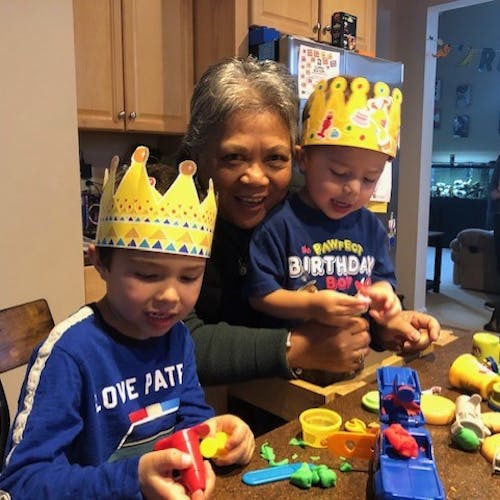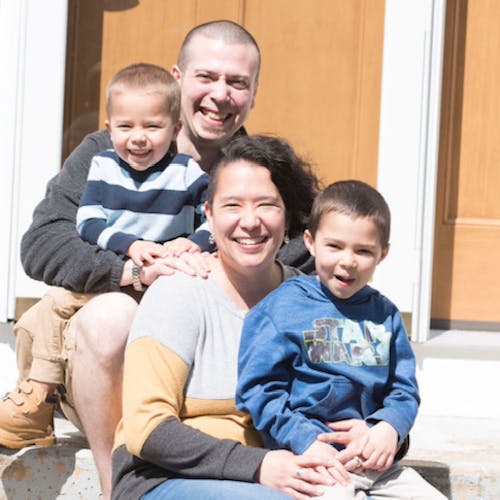 Member Submission
Tuesday Night Track & Lone Runner Challenges Update
By: Tim Smith
Tuesday Night Track - Winter Version
Normally in the winter we dial back the intensity of TNT and go into a kind of jogging hibernation.  But that year we can't real "dial back" since we have been in a low-intensity holding pattern since - I don't remember.  Still, we change the pattern.  I post a month long cycle of works.  You will hear from me every week, but it will follow the the sequence;
Week 1: Long intervals.  The most common thing would be repeat miles.
Week 2: "Two Beer Tuesday".  A two mile time trial.
Week 3: Hills.
Week 4: Tempo Runs. 
Week 5: (Dec 29 & March 30) We don't have many 5th weeks this year.  I'll try to figure out sometime unique.
And please remember head lamps, reflector vest and all your other means of being visible.
Lone Runner Challenges
With the COVID numbers on the rise, the UVRC board has put in-person Saturday runs on the back burner.  So the "Lone Runner Challenge" is back again.  
What makes this work is not really the challenges, but rather when people post their responses to the challenges.  I see a few postings in the last two weeks, and I collect them into an article for next month's newsletter.  
By the way, if you have ideas for a new challenge, or there was a challenge in the Spring which you think is worth repeating, please email me.
Yes, we are all suffering from COVID fatigue.  But I know you guys are made of tough stuff - I've seen the way you run and race.  So hang in there and post your runs to entertain us.  And I am looking forward to running in your sweat filled presences in the Spring/Summer.
Member Submission
John's marathon: A First timer's approach in the time of COVID
By: John Saroyan
Like many of us in the Upper Valley Running Club, I deleted all the 2020 races I had placed on my calendar by the end of March. I decided to hold my own marathon, kind of but not quite like my ultramarathoner friend Larry Schlueter who used to run as many miles as he was old in the 90's and early 0's around a 2 mile loop in New Orleans' Audubon Park.
Date: October 18, 2020
Start: 6:58 am
Course: 13 loops in Norwich (counterclockwise around Main, Turnpike, Moore and Beaver Meadow) + Church to Carpenter to Lary Lane
Total time: 4:19:55 (for splits see photo)
Fun factor: super high
T-shirt by: Joe (12) and Mark (9 ½)
Running friends: Kristin Fauci, Lisa Colgan, Kate Leiser, Emily Muse, Tony Gemignani
Most proud of: fun factor; friends and family support (on and off course—thank you UVRC for all the supportive messages!)
Next time: more strength training, more planning and attention to post-race recovery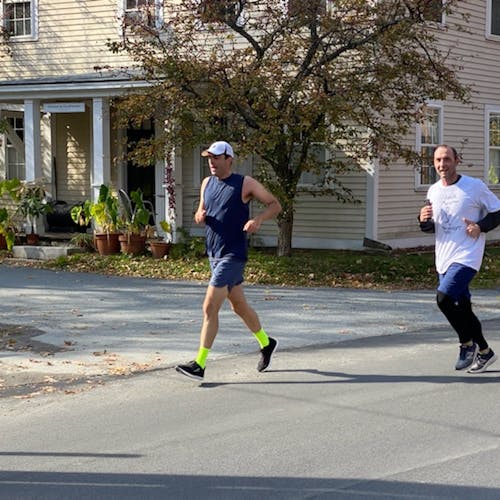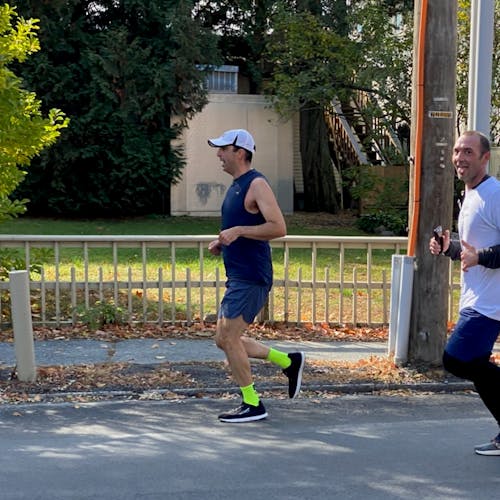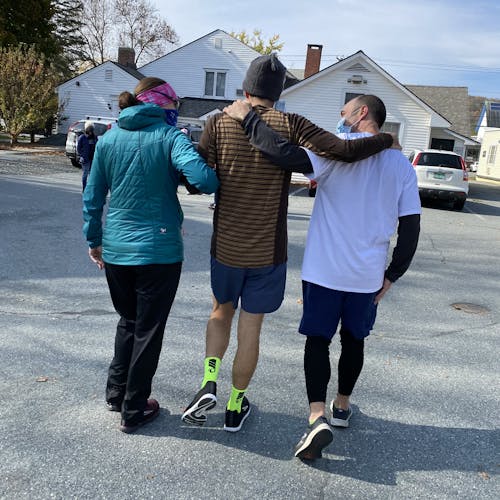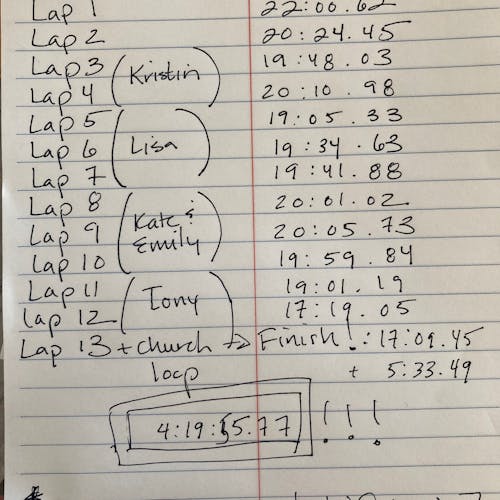 Hit the Trail
Farnum Hill Reserve
By: Jennifer Hansen
New Column: Hit the trail! Each month, Jennifer Hansen will profile one local or one not-so-local trail run. If you have a run you want her to profile, please send her a note at jennifer.carol.hansen@gmail.com
Trail surface:
Mostly pine needles, some prominent rocks and roots
Percentage runnable:
100%
Elevation change:
lots — a few steep sections;  much of it is more gentle
Distances:
officially 7 miles of trail; 1 extra mile available via unmarked trails
Finding your way around:
Well-marked trails in the system; a couple of well-trodden "herd-path" trails can add more distance
Parking:
5 trailheads provide easy access to the trails as well as at least ten different possible routes, for variety.
Website/Map:
https://lebanonnh.gov/Facilities/Facility/Details/Farnum-Hill-Reserve-26
Other users:
Mostly walkers, some with dogs. Lightly used. 
Wooden map kiosk - several in the Reserve
The Aspinwall Ridge Trail provides a lot of varied terrain with gradual and steeper hills and visual interest and is an excellent trail system for those newer to trail running. There are several viewpoints, most noticeably going under the power line where you can see Ascutney looking southwest  and downtown Lebanon looking northeast. There are several wooden map kiosks at trailheads and important junctions, and trails are well-marked with blue-and-white blazes.
Out-and-back along the Ridge Trail is a great route for starters, and then check out the side trails to create loops or add more out-and-back distance - Ron Bailey, Robert Leavitt, Old King's Highway, Foliage View, and Slayton Hill. Two additional loops are possible via unmarked trails:
Take the grassy, orchard access road uphill from the intersection of the Class VI "Old King's Highway" with the top Farnum Hill Rd. Just before you reach the orchard, turn right and follow the well-worn trail as it goes steeply uphill to its intersection with the Ridge Trail. 
Near the Marie's Way parking area, on the trail spur called "Slayton Hill," there is a hand painted sign for Marie's Way (photo). If you turn the back to the sign, you can see and easily follow another well-worn trail as it goes steeply uphill to its intersection with the Ridge Trail , less than 0.1 mi south of the northern intersection of the Ridge Trail and the Robert Leavitt Trail.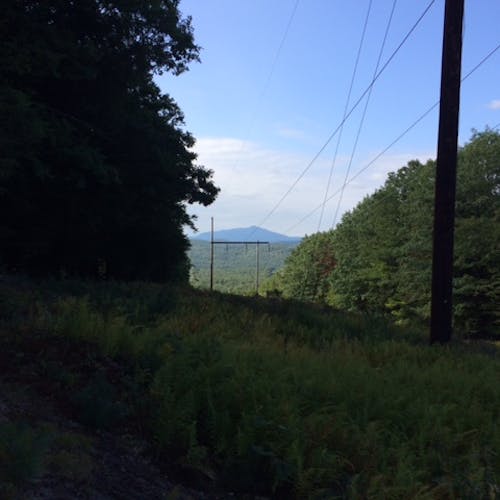 Ascutney view from power line crossing on Ridge Trail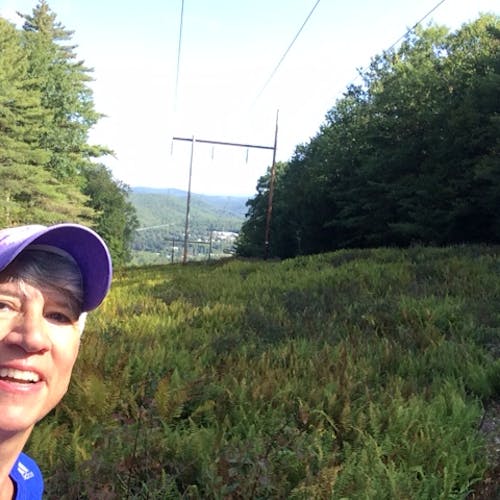 View of Lebanon from power line crossing on Ridge Trail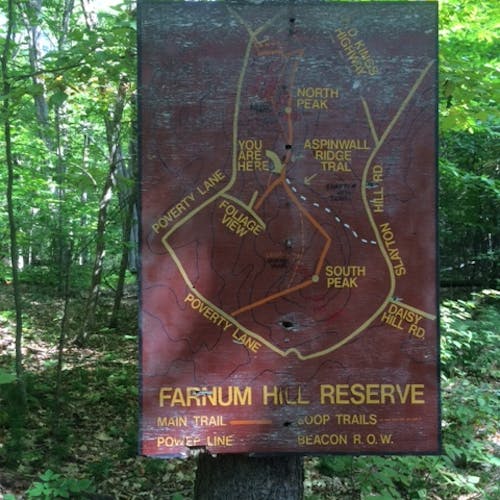 Wooden map kiosk - several in the Reserve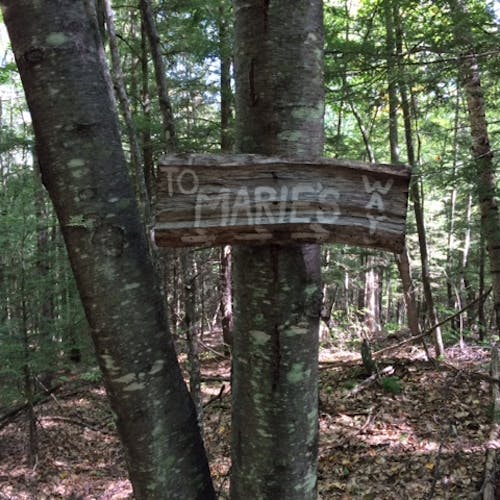 Marie's way sign on Slayton Hill Trail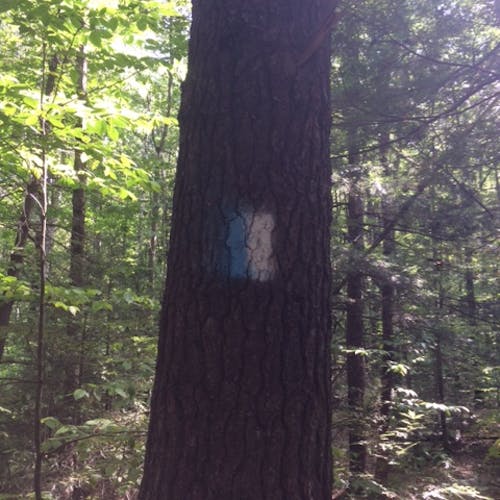 Blue and white blazes mark the trails
Runner Profile
Ravina Handa
By: Scott King
Name: Ravina Handa
Town: Lebanon, NH
Where are you from originally and what brought you to this area? 
I was born and raised in Nairobi, Kenya.  I left for the UK when I was 16 to study and work. I spent 15 years in the UK and a year in Singapore before I made the big move to the USA in 2016 to join my husband who works at Dartmouth College. I fell under the Upper Valley's spell when I came to visit him. It took a few years but I finally made it here. 
 What do you do professionally?
I am a Solicitor of England and Wales and an US licensed attorney. Currently, I am in-house counsel for a software company. I negotiate data privacy contracts and keep us compliant with international law.  I started my career in a shipping law firm in London and later took on offshore oil rig litigation. I absolutely loved it. 
 My first job in the US involved drafting contracts to purchase, sell and transport oil and gas around and out of US. It was so interesting but it was in Connecticut and the commute wore me down. There aren't many ships or much oil in New Hampshire so I gradually shifted my career to find a job locally. 
 How long have you been running? 
All my life. In Kenya, I ran for the joy of it. I ran before school with my dog and plenty at school. In the UK, I ran for the bus and the trains constantly to get to work on time. In New Hampshire, I run to keep my heart young and my body invigorated. 
 How long have you been running competitively?
 Running is not competitive for me. 
 Why do you run?
I run to feel invigorated. I love feeling myself propelled by my own power and momentum. Nowadays, I run at a slow and steady pace to keep injury at bay. I still sprint occasionally and when I do, I am always amazed at the energy and power my body can (still) generate. After a few sprints, I feel like all the rust on my joints has been shaken off and I am renewed. 
I run to keep my heart and mind healthy and with C25K, I run to see my friends. It's a nice way to catch up on the week's events. I am a chatty runner. 
Recent memorable moment while running?
I really enjoy crossing the finish line on any race with my running buddy, Erin. At the last race we ran, we had unicorn and rainbow tattoos on our faces which brightened our run. We crossed the finish line holding hands (pre-covid stuff). 
Best athletic accomplishment and why?
Every student had to run the annual cross country race at my school. The course went around the cricket field, through the forest, along a cemetery and back to the cricket field. In those days, running in warm sunshine at noon was normal. One year, I felt like sprinting the course.  I took great big strides as I do when I am sprinting and enjoyed the feeling of leaping rapidly along. I didn't intend to beat anyone but I was amazed to find out I came in third in the whole school.  I felt proud to have beaten all the boys in my class.
If you like to race, favorite race distance? Why? 
5ks are a comfortable distance for me, it allows me to chat and run at a leisurely pace. 
If you like to race, notable race moment? OR most memorable race?
I ran the Chad in 2018 with Janet and Sally. It felt good to run with friends and they encouraged me to run my C25k personal best. Janet and I crossed the finish line together hand in hand before I almost collapsed and she stuck an orange slice in my mouth. It's a good memory!
Training partners?
 The C25K runners. 
Cross training activities? 
I hike often. I climbed Mt Kenya in December 2019. I can't say that hiking helped me run better but I think running made me persevere up that mountain.
Favorite local running route?
The rail trail.
 Favorite post run treat? 
I run so I can feel virtuous and deserving of my breakfast meal at Lucky's coffee garage with friends. 
Strangest place ever run?
Part way through my first C25K, I travelled to Norway on vacation. One Saturday morning, I had Mary, our coach, in my mind and slipped out of our cabin for a run. I ran along a road heading to the horizon with high mountain peaks capped with snow on either side and fields of dandelions and grass between me and the mountains. The sky was blue, the air was clean. It felt heavenly. 
What made you start running?
I never stopped running, I was just hindered by shin splints.  Kristin and Paul Coats taught me a few exercises at C25K to help my ankles and calves loosen up. Their knowledge and willingness to share it has made all the difference between me struggling to run and me running consistently for 2.5 years. 
 Why did you join UVRC? 
Running had become a painful experience marred by shin splints and I wanted to overcome that problem so I could run free of injury. 
 Ever run in a costume? 
No but I have run with a unicorn face tattoo. 
The only running shoe for me is Oasics. 
Ever been injured? How did it happen?
No. I run slowly so I can avoid injury. 
 Hot or cold weather runner? 
Oh I love both. My favourite memories are of running in the dead of winter in 2018-2019, when the pavement was icy and the rail trail was filled with snow. The C25K group got out and ran every wintery Saturday morning. I always felt like such a stud muffin for running at 20-30F and extra deserving of those Lucky's breakfast sandwiches. I hope we keep running through winter again this year. 
Morning or evening runner?
Morning, please. I have lots of energy and motivation for a hearty breakfast. 
What is your motivation?
I run therefore I am healthy. 
Favorite running book/film?
My favorite film is Forrest Gump. I adore how he got up and started running. He just kept on going because he felt like it. He saw the country, propelled on his own two feet. What a gorgeous idea. 
What does your daily workout consist of?
General strength training and regular walking.
How about favorite work out?
Swimming is my most enjoyable work out. 
What is your diet like?
A little bit of everything in moderation. 
 If you could run with anyone, who would be the person? 
Barack Obama, provided he could share all his top secret information with me on our run. I would have 101 questions for him on his experience of running this country and being a leader of the world. 
Aside from running, what are your hobbies?
I love to cook. I sit and plan meals constantly. I often analyze meals after and make notes on what I could do differently the next time. In these troubled times, I think we're so fortunate to eat delicious and often elaborate meals at home. My husband remains well fed and content so I must be doing something right. 
We purchased our apartment this year. I am thoroughly enjoying refurbishing it through DIY projects. Currently I am deliberately between flamboyant wall paper choices for our cozy apartment. Neither of us grew up with any handy skills so youtube and all our friends with tools have been invaluable. 
Member Submission
Last Legs, A Runner's Blog: Week 10: Cutler Coast Trail
By: Jim Burnett
Mookie Looking over the cliff
I had been hoping for a good overlook along the trail and now, halfway around the loop as I peered over the edge of a 60-foot drop off to the rocky beach below, I got what I was looking for. Squinting into the stiff onshore breeze, I could see huge waves rumbling in and crashing on the jagged shoreline. The Cutler Coast Trail is 25 miles off US Rte 1 near Machias, Maine. The ten-mile trail takes you along the rugged coastline, then loops back inland through the woods. There are spliced log planks over muddy patches, rocks and roots jutting out of the ground everywhere and a few stretches along the rocky shoreline where you hop from boulder-point, to granite slab, to boulder-point. On top of that there is a thousand feet of elevation gain that adds to the workload. For Mookie, my super-size Labradoodle hiking companion, the trail is a playground. Strong, fit and agile, he bounds full bore on ahead of me scrambling up steep and daunting technical pitches to the tops of piles of boulders, then looks back down to see what is taking me so long. In a flash, as I peer over the edge of the cliff, it occurs to me that Mookie, in his tongue-dangling frenzy, might try to leap onto the tiny overlook with me, a landing pad of perhaps one square foot. Slightly dizzied by my eager climb up to the overlook and teetering on its edge, I think, "What if Mookie bumps me over the edge?"
The fog that had blanketed the Downeast coastline overnight was now, on this chilly October morning, slowly burning away and each view of the ocean from high up on the cliff or from down on the rocks below was more vivid and spectacular than the last. The combination of the powerful and relentless wind, the thundering surf and the bright rays of sunlight reflecting off the tops of the whitecaps was stunning. This out-of-the-way trail along the coast is very special indeed. Exhilarated, Mookie and I continued.
At Fairy Point the trail turns inland and, as we entered the forest, all became quiet. The roar of the siege upon the coast was replaced by the soft sweet smells of balsam fir bows and the rich aroma of decaying plant life. Irish-green mosses and blanched lichen trimmed the trail edge, highlighted by flecks of sunlight, while thick roots snaked their way over, under and around everything in their path. The tangles of roots unearthed by thousands of foot falls, and now draped over rocks and streaming down crumbling embankments, looked like a human body opened wide for autopsy – veins twisted around bones, organs and muscle tissue. Mookie slowed his pace and trailed behind me sniffing every leaf and stick on both sides of the path. We encountered a few groups of hikers during our five-hour trek, but, for the most part, we were happily alone in each other's company. The solitude and silence provided by the forest, combined with our growing fatigue, conjured up an aura around us, at once warm and satisfying. We were both tired, "good" tired, and only a few more miles lay ahead. We were in no hurry and marched happily on.
Looking back on the many hikes Mookie and I have shared recently, the Cutler Coast Trail tops the list and we will never forget it. It was an awesome, and I really mean awesome, morning hike along the coast of Maine.