May 2022 Newsletter
Note from the Editor
A veritable smorgasbord of articles this month! Enjoy some recipes from our members and lots of race updates from Geoff. I hope to see many of you at our local races as the season picks up. May you have a fueled and fulfilling month!
Editor
Article Collection
Letter from a Board Member
Letter from a Board Member: Thoughts on Sustainability
By: Matt Sherman
Hello UVRC!
My name is Matt Sherman and I'm on the Board and just wanted to say hello to all members! For this month's newsletter, I wanted to get into something that I get really excited about and that's how I can be more sustainable and reduce my footprint. I think about this in my everyday life and how I can combine my love of running with being a more sustainable human!
I hope many of these ideas sound familiar to you and you've considered them, but I'm also hoping to provide some inspiration! The list below is not meant to be comprehensive but a starting point based on my own research and musing thoughts. (Disclaimer: Most of these ideas are compiled from the many resources of the wide webs of the internet and not directly from the brain of this author.)
Bring a reusable water bottle (or bladder) on runs or to races, ditch the plastic bottle!
Think about the end of life for your running shoes: If they're lightly worn, consider giving them to a friend or finding an organization that accepts donations (try Soles4Souls). If they've outlived their running life but still have some miles in them, use them for gardening or yard work. If you've run them into the ground (pun intended), try a recycling program like TerraCycle or Nike's Reuse-a-Shoe Program.
Run-commute to work if that's an option for you. Or take a run over to the store while running errands (yes, that pun was also intended).
Bring a small bag with you and pick up some trash while you're out for your run.
Send your old racing medals to get recycled with a program like Sports Medal Recycling.
Love to race and you have more t-shirts than you know what to do with? Donate them! Or if you're looking for an art project, try to turn your old race t-shirts into a quilt! Or if you're like me and not as inclined to follow through on a project, check out a company like Project Repat. Turn them into a reusable bag, here's a video. I'm pretty sure I could even manage to do this, so there's no excuses out there. And if you're feeling particularly passionate about having enough t-shirts and want to reach out to your favorite races, there's a great program called Trees not Tees. I haven't run a race yet where I've seen this an option, but I think it's a wonderful idea and would love to see this more widely available.
Speaking of races, what do I do with all of those race bibs I can't seem to get rid of? Get a frame and create a custom art piece to remember all your favorite races. Hang it proudly for all to see!
Have you ever considered making your own alternatives to Goo and that single use packaging? I hadn't before but here's a fun article: https://www.nomeatathlete.com/homemade-running-fuel/ And in order to stick to this month's theme of food, I'm going to add in one I've enjoyed in the past (I'll note that this may not be the *exact* same recipe I've used before and could vouch for, but close enough they say). Homemade Fig Newtons Recipe. These can be enjoyed before, during or after a run for some extra energy and fiber.
Thanks for reading! If you have your own wonderful suggestions (running and non-running ideas accepted!), send them my way or tell me about it at a workout as I'm always looking to learn more! Hope to see you out on the road, track or trails soon!
Social Events
UVRC Racing News
By: Geoff Dunbar & Laurie Reed
First up, we have singlets! All sizes available. See the last newsletter article for details. If you are a NHGP racer, get in touch with me (see the mailing list for my email), and I can set you up. Otherwise check the Leb Rec site and you can order one.
Second, New Hampshire Grand Prix. UVRC had a good showing at the Nashua Soup Kitchen 10K (Photos by Laurie Reed); see the NHGP website (https://www.nhgp.org/) for the results. However, we're going to need to crush it at the next race and take advantage of our home race. It's Skip's Run! A lovely 4 miler on Father's Day June 19. Every UVRC runner should be there!
Third, the Upper Valley Running Series is about to kick off! The first race is the Race Around the Lake 10K in Barnard on May 22. Full info about our local running series is linked here.
Go Wooly Syrup Chuggers!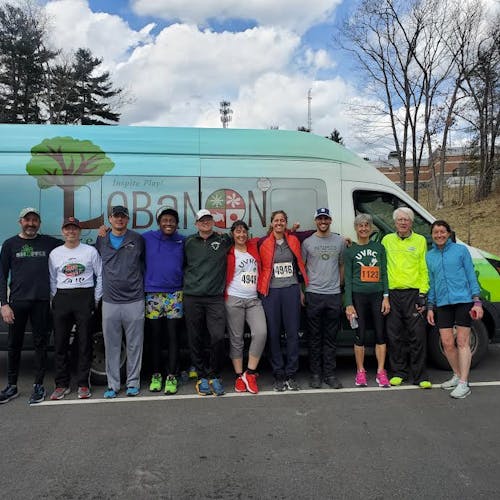 A group of UVRC runners standing in front of a Lebanon Recreation van.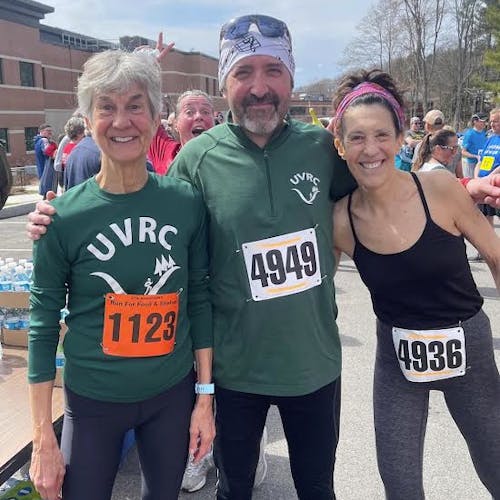 Three runners in UVRC shirts and race numbers hugging at a race.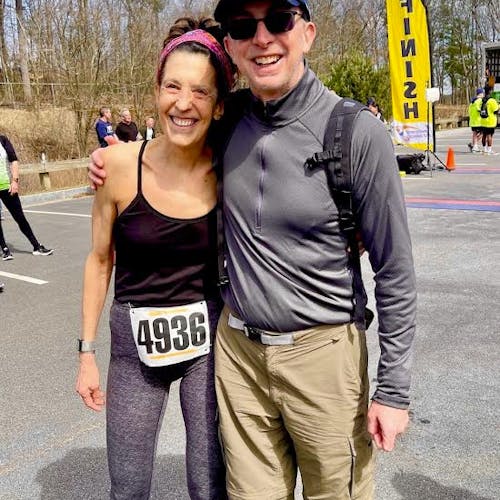 Two runners hugging at the end of a race.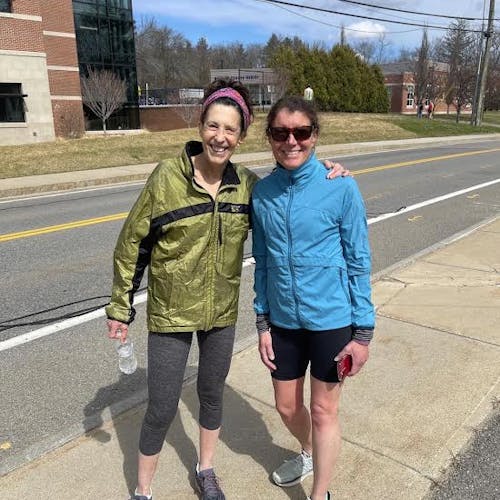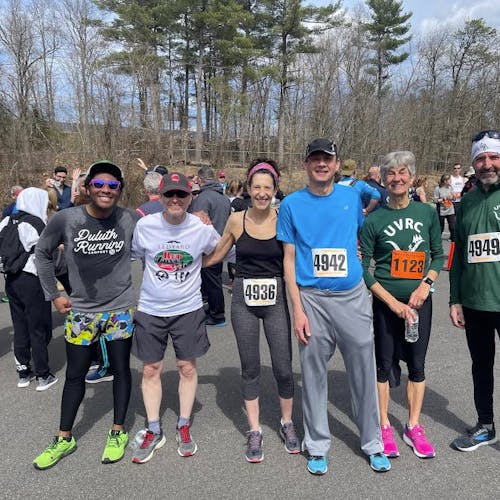 A group of UVRC runners sweaty and smiling after a great race
Social Events
CHaD Half Returns
By: Geoff Dubar
CHaD is BaCK!
The CHaD committee passes along that the race is a go for 2022! The race date is Sunday, October 9, and you can register starting April 28.
The website is http://chadhalf.org/ .
Here is a little bit of CHaD info from their website:
"The CHaD HERO is the premier fundraising and athletic event benefiting Dartmouth Health Children's and the Children's Hospital at Dartmouth Hitchcock Medical Center (CHaD). Starting in 2006 as just a half marathon run, it has grown to also include a competitive 5K run, Cam's Course 1 Mile Fun Run, 5K walk, and a virtual option where participants can complete their own unique activity and support Dartmouth Health Children's and CHaD from anywhere in the world. There is something for everyone, everywhere!
A HERO'S work is never done. We hope you'll lace up your shoes and help us reach our goal of raising $650,000 to ensure that all kids have the opportunity to lead their healthiest, happiest lives."
Some of these people look familiar...
Member Submission
Miso, Tangerine & Tofu Salad
By: Anne Farrell
The other day I ate cinnamon toast crunch for breakfast and then I crashed completely during my midmorning run. Later that night I enjoyed this salad which made me feel much more satisfied, and was equally delicious. It's copied directly from Sprouted Kitchen.
For the tofu
1 Tbsp. of rice wine vinegar
2 Tbsp. of coconut aminos
1 Tbsp. of maple syrup
1 Tbsp. of neutral oil
1 tsp. of toasted sesame oil
2 tsp. of grated ginger
3 cloves of garlic - minced
2 tsp. of white miso paste
1 pinch of red pepper flakes
1 pinch of sea salt
14 oz. of extra-firm tofu
For the dressing
2 Tbsp. of fresh lime juice
1 Tbsp. of rice wine vinegar
2 Tbsp. of avocado oil
1 Tbsp. of white miso paste
1 Tbsp. of toasted sesame oil
1 clove of garlic
1 tsp. of grated ginger
1 tsp. of oranges or tangerine zest
2 tsp. of soy sauce
1 pinch of everything bagel seasoning (or sub salt & sesame seeds)
2 scallions - trimmed & finely chopped
For the salad
2 bunches of Lacinato kale - deribbed & julienned
2 cups of finely shredded red cabbage
2 cups of butter lettuce
1/4 cup of drained pickled onions - or pickled radish
3 tangerines, segmented
1/2 cup of torn mint
sea salt
1/4 cup slivered almonds (optional)
everything bagel seasoning (or sesames + salt and pepper)
1 avocado
Directions
Line a baking sheet with parchment paper and set aside.
In a medium bowl, whisk together rice wine vinegar, coconut aminos, maple syrup, avocado oil, ginger, garlic, miso paste, chili flakes, and a pinch of salt. Whisk well. Toss in the tofu chunks (gently) and coat to combine. Marinate for at least 1 hour - preferably overnight.
Preheat the oven to 425°F.
Drain the tofu from the marinade. Coat the baking sheet with cooking oil spray. Transfer the tofu to the sheet and spread out well. See headnote if you want them to get extra crisp. Transfer to the oven on the middle rack. Roast for 25-30 minutes depending on how crisp you want them - flipping halfway through.
While the tofu is roasting, in a mason jar or small bowl, and really shake up the dressing. With the miso paste, you want it to totally get it smooth. Taste and adjust as needed. Depending on the salinity of the coconut aminos and miso, you may need to add a pinch of salt.
In a large bowl, add the kale, cabbage, half of the sprouts, half of the pickled onions (or radishes). Add about 2-3 Tbsp. of dressing and begin to massage. Toss in the remaining sprouts, onions, butter lettuce, tangerines, scallions, and mint. Gently toss just to coat.
To serve, scoop into bowls and top with tofu, almonds, a sprinkle of seasoning and a sprinkle of avocado.
Member Submission
Easy and Delicious Granola
By: Laurie Reed
Fueling my workouts:
4 cups Regular or GF ( not quick) Rolled Oats
1.5 cups Coarsely chopped Pecans
1 cup Raw Cashews
1/2 cup Pumpkin seeds
1/2 cup Avocado oil
1/2 cup Maple Syrup
1 Teaspoon kosher salt 
Stir dry ingredients together then mix in oil& syrup. Spread on a large rimmed baking sheet. Bake at 325°F for 45 minutes, stirring every 15 minutes. Stores well in airtight containers.
You can use any kind of nuts you like but these are my favorite.
I love to sprinkle this granola on top of my oatmeal for an added treat!
Bon Appetit!
Cashews and pecans! Because we wear shoes and and we can!
Member Submission
Mom's Healthy Oatmeal Cookies
By: Donna Smyers
My Mom came up with these as an afternoon pick me up that is more healthy than some cookies and energy bars. They are good for refueling or lower intensity training too. These are a really good replacement for a Cliff Bar, or whatever energy snack you need for some enduring energy. Not too sweet with good fiber and protein, so I wouldn't take them in a race, but I do eat them on long bike rides or hikes.
1 c butter
1 c sugar-3/4 white 1/4 brown
2 eggs
1 c w. wheat flour
1/2 tsp soda
1/2 tsp salt
1 T cinnamon
1/2 c flax
3 c oatmeal
1 c raisins
1 c walnuts
Cream butter and sugar, then add eggs. Combine flour, flax, soda, salt and cinnamon. Stir them into the 1st mixture. Stir in the oatmeal, raisins and walnuts. Use a 1/8 cup measure for cookies. Bake 10-12 minutes at 375°F.
Member Submission
RJ's De-stressin' Buttered-up Pretzels
By: Robert Jones
This, in my humble opinion, is a great pretzel recipe that I have shamelessly adapted from KAF. It doesn't require anything fancy, is very forgiving, could be further modified with other ingredients, and can be topped with soooooo many things. But the base is good too and really hits that salty carby comfort food craving that I desire. This will require you to knead and if you do not know how to knead, WORRY NOT for I will teach you
Ingredients
Dough
2.5 cups of All Purpose Flour (keep an extra ¼ cup around in case you need to add more)
1 teaspoon salt
1 teaspoon granulated sugar
2ish teaspoons instant yeast
1 cup of warm water (think the temp you'd like to wash your face with without hurting it)
Soak
1 cup warm water
2 teaspoons granulated sugar
Topping
Coarse kosher salt
3 tablespoons of butter
Clove of minced garlic (if you're feeling adventurous)
Directions
First things first, get your warm water and yeast ready. If your instant yeast was in the fridge, take it out and let it get to room temp. Give it about 10 minutes or so to wake up, your yeastyboys will do better if they have time to adjust. When your yeast is just about warmed up, take your cup of warm water and add a few pinches of sugar to it and dissolve them, this will let your yeast know that there is nutrients available and its time to get to work.
Add your yeast to the warm water and stir until it dissolves and breaks up. Now leave it be for a bit while we get everything else ready. Note this is also a check to see if your yeast is active. If you come back to the water yeast mixture and don't see some bubbles and foam on top after 5-10 minutes, your poor yeastyboys may be too wimpy to make good dough. You can add more yeast or they just may need longer than usual.
While the yeast is getting activated, whisk your flour, salt, and sugar in a large bowl. You can also sprinkle flour a surface to knead the dough on OR it is much easier to knead it directly in the bowl which is what I do. In either case, once the flour is mixed go ahead and dump all the yeast water mixture into the flour mixture. Use a spatula to get everything combined, the dough should be fairly sticky at this point, it'll be better to be too wet than too dry. If it ends up being too dry, slowly add water (1 tablespoon at a time) and work it into the dough until it feels more flexible.
Now it is time to get to work and knead some gluten into this thing. Using the ¼ cup of flour you set aside, powder you hands and sprinkle it on the dough. Now listen, there *is* a technique to kneading in regards to efficiency, however the dough doesn't know that and this isn't about looking good or efficiency we just want some dang pretzels. So here's what you do, raise your dominant hand up, curl your fingers in like you are about to do a palmheel strike into someone's nose, now pretend your hand is an airplane, the landing gear is the base of your palm and the dough is the runway. You want to come in kind of hard "landing gear" aka bottom of palm first, then apply more force as you go forward dragging and stretching the dough out as you go until the front of your hand plane touches down. Reform the dough into a rough sphere, and then do that again. You're basically smearing the dough lengthwise again and again. That's it, that's kneading.
This recipe requires you to knead for 5 minutes, so I always throw on a good five minute song and just go to town. "September" by St. Lucia is a good one. Smack the dough, stretch the dough, punch the dough; put your feelings into the dough and it will happily transform them into gluten. As you're doing this feel free to sprinkle more flour on to toughen it up, you'll know you're good when the dough doesn't really stick to anything anymore. You're done kneading when you can roll the dough into a ball, give it a little poke, and the dimple you make with your finger starts filling itself back in. it should be "springy".
When you're satisfied kneading put the dough into an oiled bowl, cover the bowl with a slightly damp towel, and put it somewhere warm and undisturbed for 30 minutes so your yeastyboys can do their job.  While they are working you can do some relaxing, try a 15 minute yoga video on youtube, sit down and focus on your breathing for 5 minutes, take a quick walk around the block, whatever helps you lower your heartrate.
After the 30 minutes is up, check on your dough, it should start smelling more like bread and the dough should have ballooned up in size. If neither of those things are true it may need more time/more warmth. But assuming that they are true, flop your dough out onto a floured surface and gently break it into 8 pieces. A pastry knife does the job or a really dull butterknife.
After you separate them, leave them alone for about 5 minutes so some of the air in the dough can be remade by the yeastyboys. But do preheat your oven to 475 while you wait.
Now we can prepare the soak. Take your warm water and sugar mixture and put it into a shallow dish. The dish should be big enough to fit a pretzel so roughly fist sized.
After the 5 minutes is up, you can roll and twist the dough into the traditional pretzel shape but honestly it is much easier to roll each piece of dough into about a 12inch log, fold it in half, and then twist it making a simple pretzel braid. Once your pretzels are all braided or twisted, simply bellyflop each side into the sugar water mixture and then place them on a slightly oiled baking sheet to be put into the oven (parchment paper also helps a bunch). Let them sit for 10 minutes, but while they are waiting sprinkle them with the coarse kosher salt (BE LIBERAL WITH IT!).
After 10 minutes, toss them in the oven and bake for 8-10 minutes. They should be a beautiful golden brown on the outside. DO NOT WALK AWAY FROM THEM! They can go from beautiful golden brown to embarrassingly burnt in moments. Take a peek at 6 minutes and see what's up. And trust your nose, if they smell and look good, they are done. Also be sure to say a work of thanks for all the yeast that sacrificed themselves. Godspeed yeastyboys.
Anyway, once they are done, take the baking sheet out of the oven and onto a heatproof surface. Melt down the butter with the minced garlic and slather all of it, yes, ALL OF IT, on the pretzels with a pastry brush or drizzle with a spoon while they are still hot.
That's it! Please wait for them to cool down before you dive it, I know it's tempting. While they are hot you can also put some shredded cheese on top if you so choose. They go great with mustard. Enjoy!
Member Submission
LHS Track Renovation Fundraising
By: Amy Olson
The track at Lebanon High School is going to be entirely rebuilt starting at the end of May. The Friends of Lebanon Recreation & Parks and the Lebanon High School Track Rebuild Committee have partnered together for the "Bring Back the Track Campaign." If you would like to contribute to the track fund, you can donate at https://friendsoflebrec.networkforgood.com/projects/154428-bring-back-the-track