May 2021 Newsletter
Editor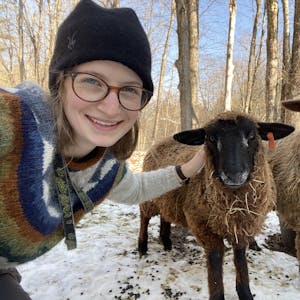 Amanda Kievet
Trail runner, wool mill owner, web developer, quote unquote farmer.
Article Collection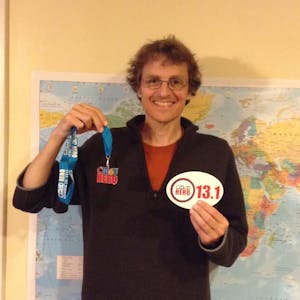 Geoff Dunbar
Former UVRC president, co newsletter editor, and UVRS coordinator.
Letter from a Board Member
Up the Pace
By: Tim Smith
I think we are almost ready to start a transition back towards normal life.  
Boy does that first sentence sound guarded and tentative, with phrases like "I think", "almost ready", "to starting", "towards".  But I watch the numbers the CDC, and the State's health department, publish every day and we really might be headed towards the end of this pandemic.  We (UVRC) are planning on Saturday runs starting in June, and TNT a few weeks after that.  And the New Hampshire Grand Prix is starting with a virtual race in May-June, and in person races in July!
Which means the end of the Lone Runner Challenge!
Yes, I have enjoyed getting email from dozens of you over this past year,  but I am looking forward to track-side conversions instead.  Admittedly LRC had its good challenges ("Cross that Bridge" generated the most responses), and a few which will remain unnamed.  But now, one last month:
Up the Miles / Up the Pace
I expect that most of us have fallen off what we were doing in 2019.  Our mileage is down, our pace has dropped, we don't tear into the hill climbs like we should.  So, the challenge for May is to build your mileage back.  Or if your mileage is fine, quicken your pace to where it should be.
The general rule-of-thumb for upping mileage to increase by about 10-15% per week, usually cited as the "10% rule".  But there are all sorts of caveats with this.  This is assuming you are starting with some reasonable base and just trying to increase mileage.  For example, if you are at 30 miles per week and would like to be at 40 miles - you should step it up over about three weeks.
The 10% rule clearly doesn't address if you start at zero, or a small number.  If you are running 2 miles a day, twice a week, you should not be thinking about 0.4 miles, rather you should be thinking about adding a third day. Which means a 33% increase! - but that is okay!
Also, the 10% rule doesn't really account for short low milage periods.  If you were at 40 miles a week, you had the flu and ran 10 miles one week, now what?  Some people will ramp back to 40 over a week or two, some people can do it right away.
If you have a long climb to your mileage goal you should also consider inserting "break weeks".  Maybe once a month you run a week without any additional mileage, you just let your body catch up with your expectations.  
When I stopped cross-country skiing a few weeks ago I realized that my running mileage was way down and so I crept it up for a month - about halfway to my ultimate goal, and then I let it level off for a few weeks.  Without doing anything else it was fun to watch my pace increase during these break weeks.  But now I am climbing the miles again.
What about if you are already at your goal mileage?  Then think about pace.  Throw in a few quicker miles each week.  Plan on "Thursday is Tempo Day," (or whatever fits your schedule).  In general, however, avoid adding significant mileage the same weeks you are making a concentrated effort to up your pace.
Personally, I am not rushing into this season.  Yes, there is a Grand Prix race in May-June (a virtual 5k), and then in-person races start in July.  But I expect people to be finding their feet and rediscovering race-pace.  I think real competition will get rolling in the late summer and fall.  I am still building my base - just a lot more of it!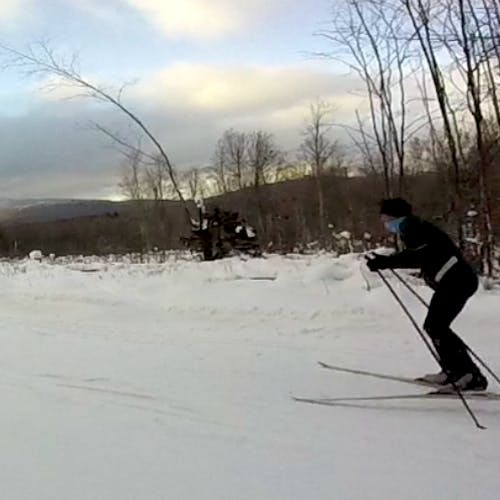 Member Submission
Racing Update
By: Geoff Dunbar
Can it be… a return to racing? We're cautiously optimistic about things in the Fall. Here's an update on the local racing series.
New Hampshire Grand Prix
The New Hampshire Grand Prix (NHGP) is a series where the NH running clubs compete against each other, in races around the state. UVRC came in second last year, and has won the series twice. New Hampshire being a relatively small state, the competition is pretty low-key, and all UVRC members are encouraged to participate. The NHGP is trying out a new scoring system for 2021, in which _every_ club member who participates in a race scores points for the team, so we'd love to see you out there!
The series this year:
Virtual Track 5K – Any track, May 1 through July 1st.
Bill Luti 5M – Concord, NH, July 17.
Sandown 5M – Sandown, NH, August 7. 
Rail Trail 10K – Lebanon, NH. September 25th.
Manchester Half Marathon – Manchester, NH, November 7.
(Full information: https://www.nhgp.org/)
Note that you can participate in the first race, the track 5K, starting right now! We're still working out the exact time-reporting system, but run a 5K (on a track) and store your time, and we'll submit it. Every UVRC member should do this; every runner counts. We're also tentatively planning to do a "5K Night" near the end of June where we do a (socially distanced) collective 5K. Stay tuned for details.
Beyond that, the schedule is above. So get to training!
Upper Valley Running Series
The Upper Valley Running Series (UVRC) is our local series of road races. The emphasis is on participation; come out and run with your friends! We do track age group standings as well, if you are of a competitive bent. We're currently in the planning stages; look for a series announcement in May.
Member Submission
Saturday morning group runs to resume soon
By: Hannah Taska
I am excited to announce a tentative start date for Saturday morning group runs of June 12! I will be resuming my role as Saturday morning run organizer at that point. At our last board meeting we discussed how with vaccines recently available to both NH and VT residents, we will likely by at some point in June be reaching a point where many if not most people in this area have had a chance to be fully vaccinated. Additionally, while Covid case numbers were at that time near a recent spike in NH and VT, those numbers have since been dropping, and the numbers of deaths from Covid remain very low in both states. 
As the exact trajectory of Covid remains uncertain, however, as a board we will continue to monitor the situation as June approaches, and will reach out to club members shortly before June 12 with a final decision about whether to start on that date or to postpone if necessary.
When we start up with Saturday morning group runs again, the current plan is to follow similar safety precautions as when small groups were meeting last summer. More details on this will follow soon. 
I look forward to seeing everyone soon for group runs!
Hannah
Member Submission
UVRC Instagram
By: Robert (RJ) Jones
In our efforts to connect and showcase our awesome community of runners, I am pleased to announce that the Upper Valley Running Club has a club Instagram! 
Follow us at: https://www.instagram.com/uppervalleyrunningclub/
This is meant to be an Instagram that represents our community so what we really want is to hear from and see you! Please @ us ( @uppervalleyrunningclub or #uppervalleyrunningclub) with stories and photos of what you love about running and being active! Things like your favorite local running trails, hidden gems, tips and things you've learned, or even things like gear you stand by (I'm a shoe man myself), post run foods and snacks, or how you maintain your fitness outside of running. Basically we want to know more about our community!
The UVRC board will also be posting our running stories and posting tips and advice and running news!
Please check out our club communication policy before interacting with the Instagram (https://uppervalleyrunningclub.org/communication-policy). We are a proudly diverse community with many perspectives and values, so please always consider how your content may be perceived and be mindful of others. 
Other than that we look forward to seeing your stories! And hope this can serve as an additional method to connect our community!
Member Submission
UVRC Committee Membership
By: Matt Sherman
Hello UVRC!
Are you interested in getting more involved with the running club? Have you ever wondered what sort of opportunities there are to do so? I know when I first joined the club I was curious what happened "behind the curtain" after I started running more at TNT and the Saturday morning runs. I enjoyed running with all the wonderful members of the club, but wanted to see if there was more I could do.
The short answer to these questions is that yes, there are a number of committees within the UVRC that support the goals and initiatives of the club! We are always looking for enthusiastic and engaged runners to support these groups.
And what exactly are these groups and what do they do?! The committees range from a social committee to a volunteer committee that engage the running community to groups that help organize the newsletter, the website and the Upper Valley Running Series. See below for some more details!
Social Committee
The Social Committee organizes events such as Pub Night, the Annual Picnic and Annual Banquet, and the Jingle Bell Run.
Volunteer Committee
The Volunteer Committee organizes club volunteers for events such as VT50, CBHM, MWRR, and the UVRS.
Upper Valley Running Series (UVRS)
The UVRS Committee organizes our local road running series.
New Hampshire Grand Prix (NHGP)
The NHGP committee represents the UVRS in the  planning and coordinating of races involved in the state wide racing series and engages club participation.
Couch to 5k
This group consists of a coach and members that support by joining the walking, run/walking or running groups participating in the Couch to 5k.
Mount Washington Road Race (MWRR)
The MWRR committee coordinates the volunteers and bypass numbers for the race.
Pacing 
The Pacing Committee organizes the pacers for the Covered Bridges Half Marathon and CHaD.
Some of the other areas that committees and groups within the club work on are as follows!
Newsletter
Website
UVRC Apparel
Saturday Morning Runs
UVRC Public Relations and Community Outreach
Running Shoe Recycling
Dartmouth Track and Field Officials

If you have any interest in joining any of these committees and groups or would just like to learn more, send a message to contact@uppervalleyrunningclub.org
Member Submission
Virtual Fun Run for the Upper Valley Haven
By: Michael Del Sesto
Since 1980 the Upper Valley Haven has provided temporary shelter and educational programming for homeless families and adults as well as food to anyone in need.
The Dartmouth College and Geisel Medical School Medicine in Motion chapters want to thank the Upper Valley Haven for supporting the Hanover community during the COVID 19 pandemic. Join us in raising awareness around mental and physical wellbeing while supporting the Upper Valley Haven in our upcoming Virtual 5K.
Join us May 8th, 9th, 15th, or 16th for our fun run for Upper Valley Haven
How can you help?
Sign up for the run and ask friends and family to pledge money for each mile you run.
Sign up for the run and make a small donation yourself.
Sign up for the run to simply raise awareness about physical and mental wellness!
Those who are interested should fill out this form | Learn More
Member Submission
Welcome Hannah Taska to the UVRC Board
By: Jim Burnett & Hannah Taska
Hannah, center in magenta shirt, and UVRC friends at Lucky's Garage Cafe after a Saturday group run, 2019
The UVRC Board is thrilled to announce its newest member, HANNAH TASKA!
Interview questions from Jim Burnett and Hannah's inspiring answers follow.
When did you start running and what motivated you to do so? 
I was a fast runner in the context of the other sports I played in middle school, and also enjoyed time trials with my brother on the swamps and roads near my house. My parents have always been active and inspired in me a love of hiking, running, and other sports. As a homeschooler, I joined sports teams in high school for the physical enjoyment, sense of accomplishment and confidence, and the social connections (in fact it was my primary way of connecting with peers at the time). 
After a year break from sports teams my freshman year of high school, and a soccer and basketball season, I joined track sophomore spring, likely because I was relatively good at running and track appealed to me most out of the available sports. I also shifted to nordic skiing junior year and cross-country senior year, motivated by the friendly team-mates, personable coaches, co-ed environment, and the excitement and satisfaction of training and of competing. My dad also encouraged me and trained with me on week-ends and in the summer.
I joined the cross-country and track teams at Colby College for some similar and some different reasons. I liked the coach and my team-mates, appreciated the structure and stress relief of the daily runs, and enjoyed the excitement of the work-outs and competitions. 
In addition to the benefits I mentioned before, running energizes, uplifts and relaxes me. Going for a run helps me feel satisfied with my day and in a positive mood for my other life activities. I also enjoy the chance to explore the Upper Valley and other places through running, whether on my own or with running friends.
How did you hear about UVRC and what prompted you to want to join the club?
I heard about UVRC through my boyfriend at the time, who was working at Omer and Bob's, where UVRC runners gathered every Saturday morning. He recommended the club to me, I think because he knew I liked to run and he wanted to help me find social connections (I had recently moved to the area to be with him). I think that I also was looking for ways to meet new people, and as soon as I got involved in the club, I found UVRC runners to be a friendly and welcoming bunch.
Which club activities - race series, workouts, group runs and social events do you most enjoy?
I would say I most enjoy our Saturday group runs, when I have the chance for longer conversations with running friends or with someone new, and our Tuesday Night Track (TNT) runs, for the excitement and camaraderie of keeping pace with those near my speed. I do also enjoy getting treats at Lucky's or pizza at Ramunto's after runs, and the novelty and bonding experience of travelling to away races with the club!
What made you decide to qualify for the Boston Marathon? Did you enjoy the experience? What is most memorable about the experience?
My dad had run Boston and other marathons multiple times and it seemed to me that many runners viewed it as somewhat of a shared lifetime goal to run Boston at least once. I decided to try to qualify for Boston at Philadelphia because I too wanted to meet this goal of running the Boston Marathon, for the excitement and challenge of it and the camaraderie with other runners who have shared this experience. Having run both the Burlington, VT and Philadelphia marathons, I also had gained some confidence and the sense that I wanted to pursue some improvement in the marathon.
I had an exciting though also challenging experience with the Boston Marathon in 2018; overall I would say I enjoyed it, even though my body wasn't enjoying it so much at times during the race. I appreciated the chance for the experience, and it was definitely an exciting and satisfying challenge. At the same time, one of the most memorable parts is that it was a cool and rainy day, which contributed to tight hamstrings for me and an alright but not outstanding time. Nonetheless, the dramatic conditions added to the excitement in a way, and there was still an impressive number of people cheering us on despite the weather. Another memorable part of the experience was sharing it with my dad, who came along to support me for the week-end, including cheering me on in the rain and taking me out to lunch afterwards in a warm cafe with a family friend.
You are now what I would call a serious and committed runner. What is your long-term running goal? 
Many of my longterm running goals are ongoing. I would like to continue to build friendships and other social connections through running and to inspire others to do the same. I want to continue to find emotional benefit, stress relief and inspiration in running. I would like to continue to run as long as it is healthy and possible for me to do so. I aspire to be a future Jim Burnett or Betsy Gonnerman! I also want to find more ways for running at a serious level to be consistently compatible with my gardening work and cross-training activities.
As for specific running goals...those are evolving, but currently include breaking 3:00 in the marathon (with 3:10 as a backup plan) and perhaps 1:25 in the half marathon. I would like to run the Mt. Washington Road Race. I also think it would be exciting to run a Tough Mudder or similar obstacle course race at some point in my life. 
Please include anything else you would like to say about joining UVRC.
Being in UVRC has helped me connect with a community of enthusiastic runners of all ages, including forming strong friendships. I feel at home in the company of UVRC runners and know I can count on my team-mates to help me get through tough runs, to engage in friendly and fascinating conversations, and to keep coming back for more work-outs. Joining UVRC also has encouraged me to think more about all the reasons why I run and to think about running as an important part of my life. 
I am happy to have been invited and welcomed to the board recently. I joined the board because I wanted to be part of discussions about a variety of ways our club can benefit its members and other runners in the community. As a board member I would like to inspire and help others to become involved in and stick with running and have it enhance their lives as it has enhanced mine. I look forward to being even more involved in the club that has given me so much!
Runner Profile
Profile: Colin Smith
By: Matt Sherman
Name: Colin Smith
Town: Lebanon
Where are you from originally and what brought you to this area? Adlington, England (about 20 miles northwest of Manchester). My wife Alyssa is from Chicago and we moved to the Upper Valley in 2003 for work, and to start a family, after a few years in and around London and a brief spell back in Chicago. 
What do you do professionally?
Transportation planning at RSG in White River Junction
How long have you been running?
On and off since I was in school, when I first did track, so about 30 years
How long have you been running competitively? 
I was reasonably competitive on the track at school (mostly 100m and 200m as well as long jump, and occasionally 400m), but most running I did later was cross training for soccer and rugby and then later for mountain bike and cyclocross racing. It wasn't until I moved to Lebanon that I started doing road races regularly, although I did do several of the London Universities cross country races when I was in college there (it is a series of 8k races in the parks in London such as Parliament Hill, Richmond Park and Wimbledon Common).
Why do you run? 
I like being active, being outside, and I enjoy competing in races.
Best athletic accomplishment and why? 
I finished the 50K at the VT50 in September 2019. It's a race I did twice on a mountain bike in 2004 and 2006, and always wanted to get in good enough shape to run it. It took 13 years around having kids, a knee surgery, and a bit of a running hiatus after the surgery, so I was very happy to be able to run reasonably well and finish it. I didn't exactly pace it well -- I ran with a fast moving group in the top 10 for about the first 30K and then paid for that towards the end of the race, but I think that is all part of the first ultra experience.
If you like to race, favorite race distance? Why? 
I really like the half marathon road race distance (or trail races of a similar length by time, say 75 to 90 minutes). It's long enough to be an endurance effort but short enough to race it and recover reasonably quickly. Plus, the halves I've done most often (Covered Bridges in Woodstock and the Seacoast Half in Portsmouth) are both great races that I like going back to.
If you like to race, notable race moment? OR most memorable race? There is a fell (hill) running race near to where I grew up, the Rivington Pike Fell Race, which is a roughly 5K race up (about 800ft) and down a local hill. I didn't run it growing up and wasn't aware that it was such a well known race. In 2008 we were home visiting my parents over Easter (the race is on Easter Saturday) so I did it. I got a sense for how competitive it would be when I recognized the national fell running champion, Rob Hope, on the start line, as well as another ex-national champion, Ian Holmes. Anyway, I did okay (I ran a half marathon PR at Covered Bridges a few weeks later so I was in good shape) but I finished a long, long way back from the leaders. Definitely the most stacked race I've ever run in, and not the little local race I was expecting.
Training partners? 
I've been doing regular weekend long runs with Rob Frost for the last year and a half, along with Laura Hagley, Joe Burnett and others. I've known Paul Coats pretty much since I moved to Lebanon and have run with him a lot over the years.
Cross training activities? 
Biking (far less than I used to, but that is changing again now that my kids are getting faster on bikes and run/biking with them isn't working as well), and hiking.
Favorite local running route? 
I probably run on the rail trail and Mascoma River Greenway more than anywhere else, but the trails in Boston Lot are my favorite place to run. I couldn't tell you my favorite route in there as I don't know that I have ever managed to do the same route twice, it is more like constant exploration.
Favorite post run treat? 
Anything made of chocolate, or homemade cookies, or freshly baked bread. Erm, etc., etc.
Any notable streaks or other unusual running events? 
My longest streak was last year, I ran every day during 2020. 
What made you start running? 
My transition from sporadic or cross training only running to regular running and racing happened when I moved here in 2003. There was a lunchtime running group at work and we trained for the 5K at the Harpoon Oktoberfest.
Who is your running "idol"? 
I liked watching track and field on TV when I was a kid. Steve Cram was the big star at the time for British middle distance running, so he was an idol when I was younger. These days it is ultra runners and fell runners like Nicky Spinks (a British fell runner).  I'd like to do some of the mountain rounds that Nicky Spinks has held records on like the Bob Graham Round in the Lake District. Her commitment and ability to slog through those incredibly demanding runs is inspirational.
Why did you join UVRC? 
The club is a great way to connect with the local running community 
Ever run in a costume? 
No
The only running shoe for me is... 
Brooks Ghost. (at least right now, they seem to work well for me on the road. Plenty of drop which is easy on my achilles) 
Ever been injured? How did it happen? 
I had Osgood-Schlatter disease in my right knee when I was a teenager (which I blame on too much cricket -- impact on the right knee during the delivery stride for a left arm bowler) and the bony lump on my tibia from that disintegrated in 2011, requiring surgery at DHMC. 
I got doored while cycling in London, just before the student national time trial championships, which was a four man team time trial. Me and another guy from the University of London team were out for a final training ride and gear check a couple of days before the race and a driver opened their door as we rode past, just down the street from Hampton Court Palace. I was in hospital for almost a week, and still have metal plates in my face. I wasn't off the bike for long but couldn't run (or even walk) without pain in my face and head for months. 
More recently I injured my achilles doing sprint starts while helping coach the Granite State youth track program in Lebanon. 
Hot or cold weather runner? 
I like running in all weather conditions but don't seem to do well with the combination of heat and high humidity. I always appreciate breezy, 45F, overcast, and drizzle as it reminds me of every day back home.
Morning or evening runner?
I'd like to run in the morning more but seem to be stuck cramming weekday runs in between work and dinner at the moment. Last year I did a lot of 9 or 10pm runs after kid bedtime to keep the streak going.
What is your motivation? 
Right now it is getting in good enough shape to try some ultra races and long mountain runs/fast hikes, like the VT50 again, Hanover to Moosilauke on the AT, Presi traverse in the Whites, the Bob Graham Round in the Lake District, and CCC in the Alps.
What is your favorite race? 
One of Shamrock Shuffle, Covered Bridges HM, or the VT 50. 
What does your daily workout consist of? 
Junk miles on the MRG or rail trail
How about favorite work out? 
I can't say I'm a fan of track workouts, but I don't mind hill repeats. Probably my favorite work out is hard long "progression" runs: 15-20 miles a bit faster than I should do long runs with Rob, Laura, Joe et al, along a rolling, mostly dirt road route in Norwich or Lyme or Canaan, closing out with a couple of miles at sub 6:45 pace chasing Laura. I guess they are really long runs but feel like a workout.
What is your diet like? 
This year it has deteriorated due to a lot of snacking while working at home, supplemented with kid leftovers.
If you could run with anyone, who would be the person? 
It would have to be Nicky Spinks and she would be pacing me on the Bob Graham Round. 
What else should the club know about you? 
I am chair of the Lebanon Pedestrian and Bicyclist Advisory Committee, an advisory committee to the City Council. If anyone in the club has any questions, concerns, or ideas about any pedestrian or bicyclists issues in Lebanon, they can let me know.
Aside from running, what are your hobbies? 
Other outdoor sports like biking, hiking, skiing (XC and downhill), all preferably with my kids. I especially like downhill skiing with them, usually at Whaleback as they zip around and jump off things. I took a cabinet making class at Ava Gallery and have been doing a lot of carpentry the last couple of years as we fix up our house. 
Ask the Coaches
How to stay motivated
I'll be candid… COVID has definitely limited my moving around. I'm active with my kids, but I want to be more committed to moving/exercising every day. I'm reaching out to you all to see how did you build in running, walking, stretching (whatever it is) into your daily routine, or in some case build it BACK INTO your routine so it is not looked at is in… Uggh I have to run, but YES I get to go out and enjoy the fresh air AND move my body. Just thinking I may not be the only UVRC member that has slowed down on the moving side of things.
— Krissy
Tim Smith
I think that is THE MOST IMPORTANT question in running.
I think the answer has two parts;
First, "Why"
You need to convince yourself "you are important". Your physical and mental wellbeing is important.  They are also important to you family and your job.
Taking time to take care of your wellbeing is a legitimate thing to do
You then need to convince yourself that running helps you do this.

Second, "How" 
(This is what I use)
Start the week with a plan.  "I will run Sun, Tues, Thur, Sat". Weekend early, weekdays late (an actual time/hour is best)
Plans that are the same every week are easiest to maintain.
Have alternative.  "If I miss Tuesday, I can also run Wednesday"
Keep a Simple log. My most successful log was a calendar where I just wrote "R" on days I ran.  If I missed days, it was clear on my calendar.  I could also see patterns of days missed, and adjust my plan.
When dealing with family obligations, share your plan with your spouse and get them to buy into it too.  Your running is important to both of you, and it will probably affect who picks up the kids and when dinner gets started.
But this all starts with "you are important", and "running helps you be your best."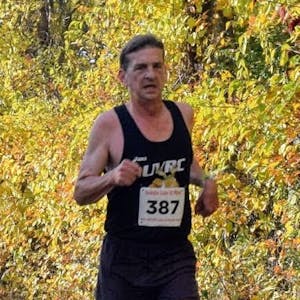 Tim Smith
Tim Smith is the former two-time president of the UVRC, and coaches winter TNT for UVRC.
Dorcas DenHartog
Well said, Tim! 
Sharing your plan, your goal with your family is a terrific way to get their support and encouragement. There will be days when your spouse says, 'Honey, you need to/ did you get your run in today, and you'll be like, "!!!! It's MY life and I'll run if and when I D***well please!" Warn them to not take it personally!  Try to just walk out the door telling yourself you'll just go for a walk. Most of us end up breaking into a jog once the house and life's to do list is out of sight. Go gal! 
Dorcas DenHartog
Dorcas DenHartog coaches cross country running at Hanover High School and summer track for UVRC
Carly Wynn
Yes! Agree with all. Make a (flexible) plan with realistic reference to your schedule, keep a (simple) training log, and tell your friends. Better yet, invite your friends! 
A medium-term goal might also help you set your plan. Exercise feels less arbitrary when it's leading up to a particular goal. Maybe that's a race, maybe it's being able to touch your toes, maybe it's a big hike. Anything goes. If you're fired up about a goal for later in the summer, consider how your training between now and then supports that goal.
On the other hand, sometimes "training" is more fun when it's not in service of anything other than your own happiness and well-being, which, as Tim has so rightly pointed out, should always be the first thought in considering your exercise plans! If your goal is to be happy and to prioritize yourself for a period of time each day, then call that to mind when it's time to go out: "I'm doing this in service of offering myself a nice treat!"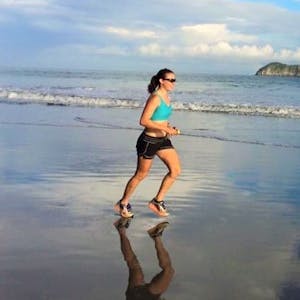 Member Submission
A Journey From The Upper Valley to The Treasure Valley
By: Mary Mancuso
Last year I sadly said goodbye to my New Hampshire home, friends, and running club to travel across the country to Boise, Idaho. It was hard to get torn out by the roots, but if I had to leave, at least it's to a milder climate and a different type of spectacular natural beauty.
Boise lies on the old Oregon Trail, along both sides of the beautiful Boise River. It sits in a perfect sweeping valley, protected from extreme cold by mountains to the north and west. It is dry here. Many people refer to the climate as "high desert". At 2,700 ft., it's not as high as Denver or Santa Fe, but there is enough altitude to make an old runner like me short of breath on the hills. The burning lungs went away after a short time, but I still claim it as an excuse for my slow plodding runs.
Moving in the middle of a pandemic wasn't something we had planned, but before everything came undone last spring we had put all the pieces into place with no choice but to follow through. I might have gone crazy through extreme social isolation were it not for my new running community. It's a funny thing about runners. We are everywhere, and we welcome strangers with open arms and grueling repeats.
The Boise Area Runners (BAR) hold several group runs every week, including trail runs, a track workout, and Greenbelt runs. Every run has a social component afterward, whether at a coffee shop (morning) or a brewery (evening). As I've been here this year and the local meeting restrictions have eased, there are more and more runners showing up for each run. There is almost always someone of similar pace, but if not, no matter, you'll still get as much social time afterward as you need. There are several other running groups in The Treasure Valley, but BAR is the biggest and most diverse in its purpose. 
The Treasure Valley, as I mentioned earlier, is a place of spectacular beauty in a dry, deserty kind of way. There are big rivers and lots of water for irrigation, but it doesn't rain much all summer long. Beautiful foothills abut the city, and you can run for miles and miles on the sandy trails. After a short distance you are up above the city and scenic views abound. Or, there is the Greenbelt, a 25+ mile paved path along both sides of the Boise River, open to runners, bicycles, skateboards, scooters, etc. It can get crowded around the downtown sections on weekends and lunch hour, but once you get out of town it's pretty much clear sailing.
The Boise area hosts many races, one of which is billed as "The Toughest Half in the Northwest."  That would be the Race to Robie Creek, which starts in Boise, goes up over a gap in the foothills and down the other side to finish at the eponymous Robie creek. Like Covered Bridges, people come from miles around to run, but the field is limited to a few thousand, so it fills up fast. I was able to run it as a virtual race last week, and true to its billing, it was the toughest half I've ever experienced. The course goes steadily up for 8.5 miles, and gets very steep (think Mount Ascutney steep) by the end, and then goes down down down until the finish. If the uphill doesn't trash you, the downhill will.
Now it is spring again, and hopefully there will be more races this year, both in New Hampshire and here in Idaho. But wherever a runner ends up, it's nice to know there will always be a running community, large or small, here or there, to give a warm welcome.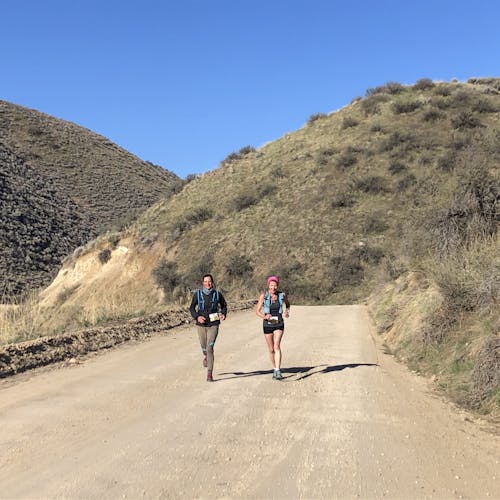 Race to Robie Creek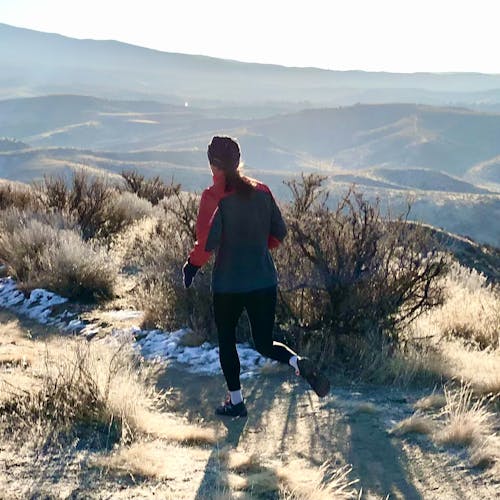 Polecat Loop in the Boise Foothills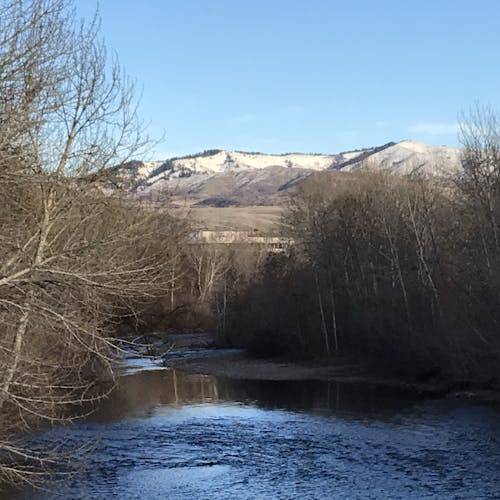 View from a bridge over the Boise River along the Greenbelt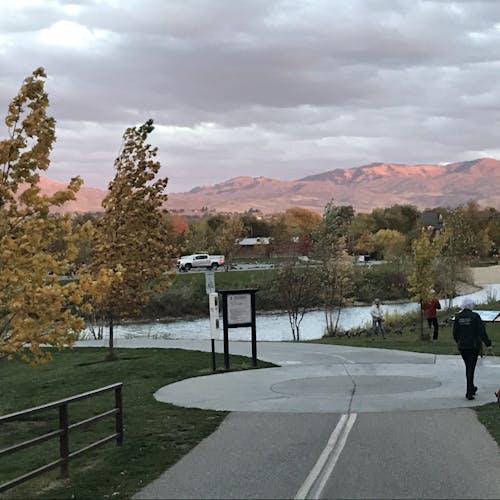 The Boise Greenbelt with foothills in the background
Member Submission
Gloves for Raynaud Runners
By: Dorcas DenHartog
Paul Carlson used these gloves to xc ski. They have a small battery that keeps filaments in the fabric warm. I saw them and was reminded of one of the Ask the Coaches questions this winter.  He said he found them on, of course, Amazon. (Barchi Heat Gloves)