July 2021 Newsletter
Editor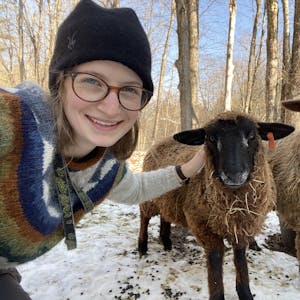 Amanda Kievet
Trail runner, wool mill owner, web developer, quote unquote farmer.
Article Collection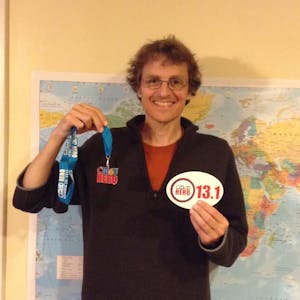 Geoff Dunbar
Former UVRC president, co newsletter editor, and UVRS coordinator.
Letter from a Board Member
Looking for a New Newsletter Crew
By: Geoff Dunbar
The UVRC newsletter has a long and proud history. On the website we go back to issue 3, March 2012: https://uppervalleyrunningclub.org/march-2012-newsletter I actually have issues 1 and 2 here on my hard drive; I must upload those sometime when I get a chance. Issue 1 is dated January, 2012, about one year after we started the club. The original editors were myself and Steve Andrews (who has since moved out of the area).
We haven't managed to publish continuously since then. Newsletter editors have come and go, and while it isn't an all-consuming task, it does take a fair amount of timely consistency and effort. It's a job best shared amongst a few folks. Looking back on the old issues, as well as generating reading material for us club members, I see that it provides a great history of the club and what we've done over the years.
Your current editors are myself and Amanda Kievet. We've both been working on the newsletter for quite a few years now, and leading into the pandemic we were feeling a little stale in the role. It was important to the club to keep the newsletter going through the tough times of the last year, but now that we're getting through the socially distant times, it's time to bring some new folks in. I can't speak for Amanda, but I would like to step down as newsletter editor at the end of this calendar year (December 2021). I'm involved in quite a few aspects of the club, and while I enjoy them all, it is important to maintain some balance and also allow other folks to be involved.
So with that, we need help! Anyone who is interested in helping out can email us at newsletter@uppervalleyrunningclub.org. There are two main tasks. One is collecting articles, which doesn't involve much technical skill; being able to do email is probably enough. Someone who is relatively social and present at club events is probably a good fit for this role. The other is actually putting together the newsletter, which requires that you be able to log in to the website and edit text with light HTML; some technical aptitude is needed but nothing too exotic. Either way, this is a great opportunity to give back to the club and get involved.
That gives us 6 months to bring in some new folks; let's do it and keep the newsletter going!
A note from the editor, the aforementioned Amanda:
Yes, I would also love to pass along this torch! And you really don't need to know any HTML to do it, just be a little savvy with a computer. Anyone who uses social media or any other web-based publishing platform could do it.
Member Submission
Mt. Washington Volunteers
By: Rebecca Stanfield McCown
We had a great weekend at Mount Washington. Volunteering was fun and easy and in full sunshine.
We'll be back next year!
Member Submission
Restoration and Renewal
By: Judy Phillips
Restoration 
I set a major challenge for myself for the end of August, my birthday weekend. Four months ago I devised a regimen aimed at reversing some of the effects of last year. After breaking both wrists on the way/during the Gate River Run in March, I was dealing with severe pain. When your hands hurt, it's much as when a foot is injured: the pain is difficult to ignore, because you're constantly using them. I got discouraged and, for the first time in my life, didn't exercise. 
I began exercising a minimum 75 minutes daily, a mix of light running and machines. I had some setbacks in the Spring, got really sick, and then "adulting" meant skipping some races to attend to house issues. 
So we've only done a handful of races this year, nothing like previous years. Some races are still not being held in-person, but we have some scheduled next month. We did a favorite four miler this past Sunday in Maine. Traditionally, this race attracts a tiny field and there were just a handful of runners this year. I was guaranteed to be last - by a lot. I did not disappoint. I checked at registration to see if they'd keep the finish up for me, and they assured me they would. 
In May, after our last 5k, I developed an odd, nagging pain about the right knee. I say "about" because I've been unable to localize the pain. I've only done shorter runs just to keep moving and because I miss running, but nothing like the longer distances required to train for my big goals. The first three quarters of a mile of Sunday's race I was running at a pace over four minutes faster, much like my younger years. It was effortless. Then the knee got barky and my pace gradually slowed. I know the course, having run it 6 times in the past, so I didn't worry about getting lost as I could no longer see the runners in front of me. The pain became progressively more intense. But I pushed through, running each step, albeit incredibly slowly.  I persisted. I just didn't want to give in to the pain. As an older runner, it just makes me think that that will be it for me. I was very happy and grateful at the finish….then went immediately to Walgreens for a knee brace and an ointment or two.
I decided that in addition to cross-training on the bike and elliptical, and weight training twice weekly to regain strength in my legs and core, I should add yoga to the mix to increase flexibility. I have done Pilates for over 15 years and love it, but my teacher suspended her work during Covid. I'm currently looking into other studios, particularly as I begin to travel again. I've never been much of a yoga practitioner, but one of my goals which I've been working on is to set up a "home studio", as well as to start attending classes. So the past few days I've attended vinyasa classes, which were excellent, but I thought vinyasa was "flow" yoga, less rigorous than these classes. But I loved the challenge, and the teachers were kind and welcoming, and affirmed my adaptations to accommodate my pain issues. 
Renewal
This new regimen has me feeling energized and more optimistic about the future. I can see the results in terms of improved tone and upper body strength. A stronger core improves running performance, and I'm working on strengthening my arms and core. 
It does take longer to heal and regain fitness as you get older. I resisted this theory into my late 40's. I do feel grateful that the first 20+ years or so of my running were injury-free. Most of my injuries are not overuse or running-related, but due to the car accident or the two falls last year. I had two "athletic" injuries over the past 20 years - a stress fracture and torn meniscus. 
So for decades I got away with running races well, including my only marathon, with little or no training (my work schedule did not allow time for serious training). It's much harder to get away with that in recent years. I've been injured badly over the last ten years, so I'm often running through pain. Sometimes the pain is a showstopper, and I've had to say "uncle". In 2019, back pain from injuries sustained in the car accident ten years before caused me to quit over a half dozen halfs at the 7-8 mile mark. That November, after several PT sessions, I was able to complete my first half that year. 
It's been a very long time since I've done a run over 6 miles….but I'm beginning to have confidence that, despite my age and pain issues, I will. I'm determined to meet this birthday challenge. 
"The heat is on".
Hit the Trail
Smith Pond Shaker Forest, Enfield
By: Jennifer Hansen
Route: Smith Pond Shaker Forest, Enfield
Percentage runnable: 95% with a steep section or two 
Elevation change: 800'+/-
Ease of Navigation: The trail is lovingly maintained (see photo of one of the many nice bridges) and very well-marked with blue blazes and several kiosks with maps. Trail surface is even; the least pleasant section is the west third of the loop, which is mostly tall grasses and a few muddy spots. Tick repellent is a must.
Parking areas: I park at the lot on Smith Pond Rd, I-89 exit 15, a mere 10 min. from downtown Lebanon, but there is also a parking area on 4-A by Lake Mascoma (see map).
This is an easily accessible, hidden gem. From the lot on Smith Pond Rd, it's 0.2 downhill to the 4.6-mile loop. I like going clockwise 1.4 mi. down to the next junction,  then up all the way 2.1 mi to the pond. You can take a quick dip or a long swim in the pond, but you will get a bit sweaty and dirty again running 1.3 mi back out to the car. You could also add the 1.6 (3.2 out and back) to Half Mile Pond, which I did as a snowshoe this winter (second photo, looking down on Smith Pond). There is greater elevation change on that portion. I don't know if Half Mile Pond is also swimmable.