April 2020 Newsletter
Note from the Editor
Welcome to the April 2020 edition of the Upper Valley Running Club newsletter, and what a wild month it's been. Keep your submissions coming — email newsletter@uppervalleyrunningclub.org.
Keep calm and run on!
Editor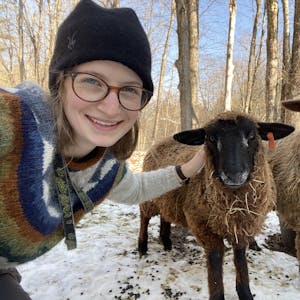 Amanda Kievet
Trail runner, wool mill owner, web developer, quote unquote farmer.
Article Collection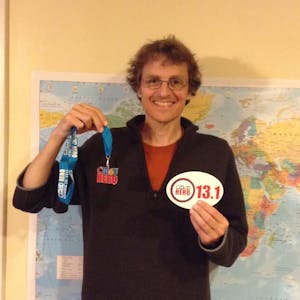 Geoff Dunbar
Former UVRC president, co newsletter editor, and UVRS coordinator.
Letter from a Board Member
Quarantine Distractions
By: Amanda Kievet
I don't have a lot to say about running right now. While I'm so grateful to have running as an outlet to relieve stress and as a way to get out of the house, I've been spending most of my time frantically gathering up new hobbies quicker than I can manage to keep myself distracted from the pandemic. So, given it's my turn to write some words as a Board Member, I thought I'd share some of those with you now.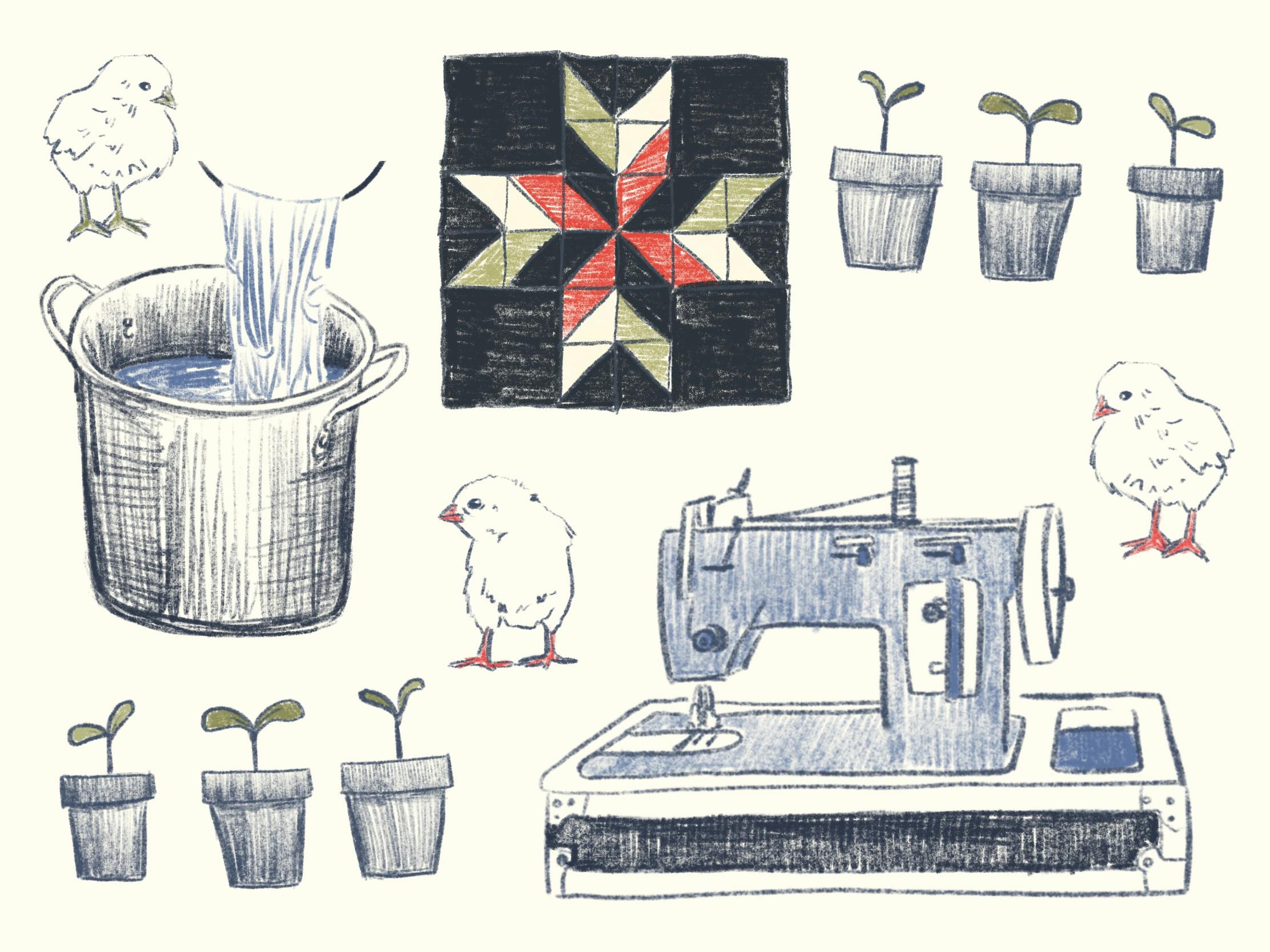 New Quarantine Hobby #1: Chickens
We live on about 4.5 acres which is just enough space to play farmer and so this year we're adding chicks to the "farm" which currently has two beehives, two sheep and a handful of garden beds, and a dog afraid of all of the above. The chicks arrive in May and in the meantime I'm gathering up supplies, researching coop designs, and asking myself daily if eight chicks will be enough…
New Quarantine Hobby #2: Sewing Clothes
I really like to make things myself and I've been meaning to make myself some new pants for a while. I have ordered at least four sewing patterns since This began, and enough fabric to sew a pair of each. While I was at it, I cracked open a book I got for Christmas on…
New Quarantine Hobby #3: Quilting
Well, I had the book, so might as well? They look so cozy and pretty, and I found someone on the internet making them all sorts of colors with dyes she created from plants foraged from her land which leads me to…
New Quarantine Hobby #4: Natural Dyeing
This is the art of extracting color from plants and minerals and getting them permanently color fiber. Since I already had the undyed cotton fabric for the quilts, might as well also experiment with some linens and wool. And maybe knit a multi-colored sweater knit from all my experiments. But wouldn't it be really awesome to have some "farm"-grown indigo blue jeans…
New Quarantine Hobby #5: Growing Dye Plants
Yep, indigo seeds in the mail along with about 10 other dye plants. Some of them need to get a head start on our short growing window so let me go ahead and also get into…
New Quarantine Hobby #6: Starting Seeds Inside
Thankfully Garderners' Supply has curbside pickup. I'll get a start on my veggies while I'm at it.
And the list goes on. I've been baking cookies out of foraged pine needles from trees we cleared to make room for even more garden beds. I learned how to make bagels from scratch. I have a running prioritised list of what I want to watch on Netflix, HBO, etc just in case nothing jumps out at me when I settle into screen time on the couch. I'm halfway through reading War and Peace and I seem to add another book to the to-read pile everyday. Oh, and as someone who always works on the Internet from home, I still have my normal work to do.
Now I wonder while I feel so frantic and stressed out? For that, the cure is running (and dancing around in my kitchen while I'm waiting on my homemade broth to reduce). Hope everyone is finding their own ways to make it through this chaotic time. And if anyone wants to talk about any of the non-running hobbies I mentioned above, feel free to reach out — akievet@gmail.com.
Member Submission
CORONAVIRUS COVID-19 UPDATE, March 30th, 2020
By: Jim Burnett
Members of the Upper Valley Running Club,
The health and safety of UVRC runners is our top priority. Due to the coronavirus (COVID-19) pandemic and consistent with the guidance we have received from New Hampshire and Vermont government offices and the US Center for Disease Control and Prevention (CDC), including restrictions on large public gatherings, UVRC has canceled (or in some cases postponed) all in-person UVRC events and activities, including those in association with the Lebanon Parks and Recreation Department, thorough April 30th. UVRC cancellations, postponements and guidelines will be updated again on or before May 1st.
The Shamrock Shuffle 5K, scheduled for last Saturday, March 14th, is now tentatively postponed until September 19th. Also, the Runners Expo scheduled for April 4th at Cioffredi's Associates is canceled. Our weekly TNT, Saturday Group Runs and Pub Nights are canceled through April 30th. The UVRC Couch to 5K Program kickoff meeting scheduled for April 14th has been postponed, TBA.
Announcements about any future changes, cancellations or postponements regarding 2020 Upper Valley Running Series and 2020 NH Grand Prix Series races will be announced as they become known. The next NHGP race, Nashua Soup Kitchen 5K, scheduled for April 5th, and the has been postponed (TBA) and the next UVRS race, Springfield Dam 4 Miler, is scheduled for April 25th. The 2020 Covered Bridges Half Marathon has been postponed to June 6, 2021. The Mt Washington RR is scheduled for June 20th for the time being. Stay tuned for more updates on cancellations and postponements.
Together as a running community, we can stay active while avoiding large groups and following social distancing while running.
Your understanding and cooperation as we navigate this unprecedented situation is greatly appreciated.
Jim Burnett
President UVRC
Member Submission
The Lone Runner Challenge
By: Tim Smith
You know the back story, you have been living it. In order to slow the spread of coronavirus, to flatten the curve, we must maintain social distance. Yet here is the conundrum; when facing a challenge we always do better when we have a community to help us.
Running maybe is only a small part of your life when measured in hours each week, and your running club even a smaller part. But running is what keeps many of us sane and releases stress. It is the happy moments of the day. And when I run with teammates is when I laugh.
Running has always been an odd combination of being together and being apart. Most of our miles are run alone, yet we run our hardest and best miles together. In normal times it is your running partner who talks you into the extra mile, or pushes the pace when you're feeling lazy. But now?
The "Lone Runner Challenge" is an attempt to fill this gap. It gives you a reason to get outside and trot a few miles. And it gives you a reason to tell the rest of us about your adventures.
WHAT IS IT?
The Lone Runner Challenge is a series of challenges that Alex Hall and I will be posting each week. The Challenges are designed to be achievable by runners of all levels. We have sketched out a number future challenges and I find they fall into three categories.
Exploration runs. For example the first week's challenge was to run a road rarely trod upon according to the Strava Heat Map. In the future we will have you looking for hills, or trails or Class IV roads you have always meant to run but haven't.
Hard Work. Some challenges will be hard. Last week's hill running comes to mind here. In the future we are going to have long runs with negative splits, and short runs with lots of loops. But in all these cases the hills are not Everest, rather the hills and the paces need only challenge you.
Funny and Goofy Challenges. Muddy season is upon us and I am sure we can make some sort of splash with that!
HOW DOES IT WORK?
We will send out an email every Thursday with a challenge. So far most people have used Friday to figure out what they will do and then actually run the challenge over the weekend.
We also post the challenge on the UVRC Strava page: https://www.strava.com/clubs/upper-valley-running-club and then look under the "post" tab. There you will find the challenges posted and people are encouraged to tell us about their run under the "comment". (Comments can be added by clicking on the button with the squarish speaking-bubble).
In a Strava account a run, or a bike ride or a hike or whatever is called an "activity". When I finish a challenge I'll add comments and photos to that activity. It is easy to post an activity to FaceBook. You can also go to the challenge's posting and add a comments which includes a link to your activity (I have not figured how to do this smoothly, so I copy the URL of the activity's page and paste it in my comment.)
And then we can comment on your comments, and so on . . .
SOME FAQ's
WHAT IF I DON'T HAVE A STRAVA ACCOUNT?
The Basic Strava account is free, and simple. But if you don't want to deal with that, you can still do the challenge, and then share any way you want. You can describe it on FaceBook, send long emails to your friends, or write it on parchment, stuff it in a bottle and float it down the Connecticut River to your friends in the flatlands.
But the important thing is to do the run and then share it with the rest of us.
MY RUNS ARE NOT "WORTHY" OF POSTING
Who says!? You are out there working up a bit of honest sweat while family and neighbors are watching re-runs of "I Love Lucy". You're a hero! You ran the hill, those miles, that trail. You're the first one to notice that the fiddleheads are pushing their way up through the duff on the forest floor. You're the one who was chased by a dog, so when you tell us it was half-wolf, we will never know that it was also three-quarters-chihuahua.
Some of the simplest runs are blessed with the best stories.
MY SISTER-IN-LAW IS NOT IN THE CLUB (NOT EVEN IN THE UPPER VALLEY), CAN SHE PARTICIPATE?
She wouldn't get our Thursday emails, but you most certainly can share the challenges. I would love to see how other people solve these challenges. And she can even post photos of those hills in Florida – if she can find one.
I SEE THAT I MISSED A GREAT CHALLENGE, CAN I STILL DO IT?
To most people I would say no. The prizes are too vast and the competition is too stiff. But for you I will make an exception. Yes, feel free to try some of the past challenges. However, most eyes will be focused on the most recent ones.
SO FAR
The first challenge was the "Road Less Run" (#LRC1 #RoadLessRun). I didn't know that Chapel Hill and Turnpike, in eastern Norwich connected (thanks Andrew). Sara tells us that both ends of Bliss Rd in Quechee are not connected – which apparently makes it even better. And donkeys are blocking Alex's exploration of Bradford. But for the most distant posting Paul tells us about Bearclaw Poppy Trail, near St. Georges in Utah.
The second challenge was the "Great Hill" (#LRC2 #GreatHillRun). Even before the ink was dry on the announcement Laura had posted a Beaver Meadow/Bragg Hill run. I have heard that the Bragg Hill section is sometimes referred to as the "Sound of Music Run", and Laura confirmed that Maria von Trapp/Julie Andrews was still singing in the meadows. Geoff and Nancy were also alive in the hills of Norwich. Alex elevated himself over a thousand feet in Thetford. Rob logged a UVRC classic, climbing Sunset Rock. I labored up King Hill in Etna, only to find two other UVRC runners doing it the same weekend, only faster and better. And Pam found a loop around Eastman Lake which looks more like a roller coaster than a run. But perhaps best of all, Sara ran up the Dartmouth Skiway and then sledded back down!
FUTURE?
I am a runner who hopes the finish line is a round the corner, but knows it is a long ways off and plans my pace accordingly. I expect it will be a long time until we gather together and run the rail trail side-by-side. But I am not willing to let you slip from my thoughts. So every week, expect a challenge, and please share your runs and joys. Tell us about the hill top moments of delight, and the hours of slogging through the mires.
I may not see you out on the roads and trails, but I'll be looking for your footprints in the mud.
Member Submission
C25K Connection
By: Nicole Losavio
It was nearing the end of the day on the third Monday since I started working from home and I was in – yet another – Zoom meeting. The meeting moderator asked each of us to share one word to describe how we were feeling that day. I was near the end of those called on and, as I heard people sharing words like "sunny," "excited," and "encouraged," I held on to my word. "Anxious."
I was feeling anxious about several additional stressors at work that week. My supervisor was returning from parental leave and we'd be catching her up on everything. Reunions were likely going to be cancelled or postponed but we didn't know which. I've been in non-stop meetings but don't feel like I'm accomplishing anything.
Additionally, my family held a Zoom family dinner the night before and I was realizing that it would likely be months before I'd get to see them in person again.
A colleague's daughter joined her on camera as my name was called. She looked to be the same age as my oldest niece and, suddenly, my word changed. As I realized that I hadn't hugged my nieces in over a month, I found myself on camera, in a Zoom meeting for work, crying. My new word was "sad."
While I've been great at social distancing, I'm realizing that it's been over three weeks since I'd seen anyone I know in person. As someone who's not overly emotional and who definitely doesn't cry in front of people, this wasn't my finest hour. However, the outpouring of kindness and support from those in the meeting was amazing. In private chats, others shared that they were having similar feelings and offered words of encouragement.
While I'd consider myself an introvert (yes, the first two weeks of social distancing were a breeze), this experience reinforced the need for connection. I'm learning to be gentle and patient with myself and others.
Now, more than ever, I'm so glad to have found "my people" through Couch to 5K and am incredibly thankful for the amazing friends this program brought into my life.
I am finding so much joy and connection through our Tuesday and Thursday Zoom walks (see photo). The Saturday morning at-home workouts over Zoom followed by homemade coffee and chatting have created some sense of normalcy.
To my wonderful Couch to 5K family, I offer heartfelt gratitude. Whether you realize it or not, your encouragement and friendship give me strength. I can't imagine social distancing without you!
If anyone is interested in joining us, please reach out to me at nicole.losavio@gmail.com. I'm happy to loop you in.
Member Submission
Hanover Country Club Trail and Mountain Running Course
By: Bill Young
Social distancing, no golfers, nature and long views make the Hanover Country Club golf course a lovely training location right now. Who knows if and when the golfers will return? Park on Lyme Road near the Fire House or Rope Ferry Road near the Club House. Stay high since sections of ice and eroded banks make the Girl Brook Circuit sketchy. One long and hilly run will circle up and down the sledding hill section, cross the high trestle bridge, go out past the historic Val de Tempe ski jump, down and up to holes 11 and 12, pause at the medical school cemetery on the high ground and return by similar routes. My guess is 2 miles. Dear Strava addicts- please measure your runs for us. The annual Dartmouth Mirabel Sanchez Memorial XC Invitational follows some of this course. Dee Dee the mother bear and her 3 cubs, a bobcat, fisher cats and a herd of deer call this home. Keep calm and social distance on.
Member Submission
Cancellations, Postponements, And Virtual Races….Oh, My!
By: Judy Phillips
Given our current indefinite period of sheltering (or running!) in place, with so many races having been cancelled (some well into the fall), I'm sharing thoughts on races for your schedule next year. The dates will be approximately around this year's.
New England Races
4/17 NHTI/Delta Dental 5k – Concord, NH (6 PM start)
We love races on the NHTI campus! I'm also partial to evening races. The NHTI race organization team is always friendly and fun, with a raffle typically following. This is a simple, well-marked loop course, with the only hill being the incline of the overpass.
4/18 Stoneyfield Earth Day 5k – Londonderry, NH
The course is a straight run to a loop through neighborhoods in Londonderry and back to the start. This is a Millennium Running event, and their races are always well-managed and fun.
4/18 New Castle 10k – New Castle, NH
A longer distance option offering a loop course through New Castle and Portsmouth, which promises lovely views and exceptional dining post-race.
4/25 Springfield Dam Run – Springfield, VT (1/2 mile/4 mile options)
Road Trip!
4/4 Cooper River Bridge Run – Charleston, SC
I was registered for this 10k so was disappointed that it's been postponed to a date I cannot make. The course is fast and flat and attracts a large field (35k). There is transportation to the start and from the finish. I booked lodging at the Planter's Inn, selected based upon proximity to a shuttle stop. The Governor's Inn is also an historic, elegant small inn. Charleston is a lovely city, with beautiful neighborhoods, amazing food and hospitality. It does get steamy, but I love running in the heat. New date: August 1; the heat will be a challenge for runners from Northern New England.
4/5 Cherry Blossom Ten Miler – Washington, DC (5k option)
The lottery opens in early December. This is another race with a large field (16k limit). The course is very flat (elevation range: 31 feet) and rather crowded at points, and there is a minimum pacing requirement. The event staging area is on the Washington Monument Grounds and the scenic course includes a view all of the major DC Memorials. This can be a beautiful time in DC; a nice introduction to Spring running. Be prepared to be patient, though: the packet pickup and Expo can be quite crowded. But the positives include great fan support, beautiful medals and good food at the end.
4/26 – Salty's 5K & Double Nubble 10K – York Beach, ME
This is a newer race (this would have been the second year). The course is beautiful and last year was closed to traffic. There are some nice hills, and you run within sight of the Nubble Lighthouse and the ocean. Plan a weekend jaunt and stay at a local B&B or the York Harbor Inn (a personal favorite). Not much is open this time of year, but the sound of the ocean without the crowds on the beach is lovely.
Member Submission
Bored Silly
By: Ellie Ferguson
With the Corona virus sweeping around us, if the world was flat it would have fallen off itself by now. I never thought I would see toilet paper hoarding. You know there are things that will do in a pinch. Being of the pre-disposable diaper age, I really appreciated Justin Spencer's speil on the topic. You have to keep a sense of humor about things.
Not to downplay the seriousness of the virus and our current situation, but we've been here before, albeit not to this extent. I guess some of my 'calmness' comes from being an 'essential worker bee'(at least to the big bosses who get to work from home when I can't) is, we go through this kind of stuff every year. The flu, including H1N1, noro, cdiff, MRSA, something else.. Wash wash, glove glove, mask mask, closed to visitors and maybe admissions. Story of my life. So while I am unlikely to be out of work, at least until I get quarantined, life goes on. Fortunately missed my first opportunity by going to the OTHER vet in Littleton, not the vet that had the visitor with the Corona virus.
So guess what, Corona is here..It's going to make the rounds, unfortunately will take some people with it, but this will pass. Then we can celebrate with a beer (of course a Corona). Sorry I couldn't resist..
So what to do while we are 'social distancing?" Pretty much what I do a lot of anyway. Stomp around in the woods scaring the squirrels, too early to paddle (at least in my book). Stealth trips to Cannon.. I am typing this March 20th and while Cannon is officially closed, there is still a fair amount of snow on the slopes and I did seen another like minded person stomping around on another slope.. While no snow lower down, it's still full winter on the high peaks..The yoga studio down the street is closed as well, so self yoga or online it is.. I am tending to stay out of the gym to continue the social distance, besides, while I do hit the gym, I generally hate it, except when it's -20 degrees out. Besides, there's always outside work to do around the house involving lifting,raking, etc, etc. So keep the faith, we will make it through this…
Member Submission
The Loneliness of the Long-Distance Runner
By: Jim Burnett
I trotted on along the edge of a field bordered by the sunken lane, smelling green grass and honeysuckle, and I felt as though I came from a long line of whippets trained to run on two legs, only I couldn't see a toy rabbit in front and there wasn't a collier's cosh behind to make me keep up the pace. I passed the Gunthorpe runner whose shimmy was already black with sweat and I could just see the corner of the fenced-up copse in front where the only man I had to pass to win the race was going all out to gain the half-way mark. Then he turned into a tongue of trees and bushes where I couldn't see him anymore, and I couldn't see anybody, and I knew what the loneliness of the long-distance runner running across country felt like, realizing that as far as I was concerned this feeling was the only honesty and realness there was in the world and I knowing it would be no different ever, no matter what I felt at odd times, and no matter what anybody else tried to tell me.
Sillitoe, Alan. The Loneliness of the Long-Distance Runner: Stories (Vintage International) (p. 43). Open Road Media. Kindle Edition.
If you just read the excerpt above from The Loneliness of the Long Distance Runner, then I dare you not to read this 48-page short story by Alan Sillitoe (1959) and not see the movie (1962) for that matter.
I can't remember exactly when it was that I first heard about TLLDR, but I think it was decades ago during the First Running Boom in the late 1970s, and my first thought was – this story must be about how runners are lonely sorts running miles and miles all alone with their own thoughts on backroads and trails far from the madding crowd. Well, this may be correct to a certain extent but that is not all that TLLDR is about by a long shot. As runners we should be grateful that we can continue to ply our craft on the backroads of the Upper Valley despite new social distancing guidelines resulting from the threat of the novel coronavirus. We are fortunate that we can run and ruminate on and on.
It is interesting to me that the author, Alan Sillitoe, is not a runner himself as we may think of a runner today. But really, how could he be a runner as we know it having grown up in post-World War II England (Nottingham), a member of the industrial working class in which running for sport was never a consideration. If Sillitoe had indeed learned how to run as the boy in the story, Smith, had – to escape the grasp of the police, well then, I guess I better understand the source of his insights into what it feels like to fly through the woods and find peace and freedom.
Runner Profile
Runner Profile: Charlie Buttrey
By: Scott King
Name: Charlie Buttrey
Town: Thetford, VT
Where are you from originally and what brought you to this area?
I grew up in Ann Arbor, Michigan and moved to the Upper Valley right after I graduated from college in 1981 to be with my girlfriend, who was at Dartmouth. The plan was to spend a year or two here and then go to Michigan Law School, but Michigan didn't accept me (the bastards), and the only other school I applied to was Vermont Law School. The girlfriend thing crashed and burned, too, but I have been in Thetford my entire adult life.
While I am not technically a native, it should be noted that both my children were born at Hitchcock, as was their mother, as was HER mother.
What do you do professionally? I practice law with a small firm in Lebanon, doing trial work (chiefly personal injury and criminal defense).
How long have you been running? I ran a bit in my teens, but didn't start taking it seriously until I was in my mid-20's. Every runner knows that we are born with a finite number of miles in us, and I am fortunate not to have used up a lot of them in my youth.
How long have you been running competitively? I started running competitively almost immediately. As much as I love running, it is very hard for me to get out the door if I am not focused on preparing for a race, as opposed to just running for the joy of running.
Why do you run? Some people meditate, some do yoga. I run. It helps me maintain my psychological and emotional equilibrium.
Recent memorable moment while running? In January, I ran the Masters Mile at the Dartmouth Relays in 5:48, which earned me an age-grading of 80%, which was the first time I'd ever achieved that figure in a race of any kind.
Best athletic accomplishment and why? I hold a college record that will never be broken. I was the placekicker for the Princeton Sprint football team (which is like the real deal, only players have to weigh in prior to the game, and cannot be heavier than 172 pounds). I set the team record for field goals in a game (three, all in the first half, against Rutgers), and a few years ago, Princeton eliminated sprint football. So that record will last forever.
If you like to race, what is your favorite race distance? Why? I liked that the indoor mile allows you to get a sense of your pace at very short, regular intervals, so there's something to be said for that. On the other hand, it's indoors. I'm guessing the 5-miler would probably be at the top of the list; long enough to hurt, but not so long that you spend the rest of the day recovering.
If you like to race, notable race moment or most memorable race? I've run Mount Washington twice, and seeing the line of humanity stretching out in front of me as far as the eye can see on the switchbacks is a memorable sight. As is seeing the CITGO sign at the tail end of the Boston Marathon. They say that when you see that sign, you're a mile from the finish line. They lie.
Training partners? David Aman and Tim Smith and I have traditionally trained together for the Masters Mile until one, two or all three us get injured. Other than that, 95% of the time I train by myself. I tend to live a pretty social existence both professionally and personally; in contrast, running is my Me Time.
Cross training activities? My main cross-training is the Expresso Bike, which is an exercise bike with dozens of different courses (many of which can be quite painful) displayed on a fairly space-age video screen. It allows you to track your progress over time and to compare your times with your peer group all across the world. When I am looking for something really painful, I hop onto the Concept 2 rowing machine. In the winter, I like to cross-country ski. I live kitty-corner to Olympian (and trail designer) John Morton, who developed a series of cross-country ski trails around his property, which he grooms, so a terrific cross-country ski workout is literally just out my back door.
Favorite local running route? Thetford has some amazing places to run, some of which I will keep a secret. But you can't beat the Woods Trail at Thetford Academy, which hosts the Woods Trail Invitational Meet and the Vermont State High School Cross Country Championships every year. I have run on that trail literally thousands of times in the last 40 years. If there is a nicer high school cross-country course anywhere, I haven't found it.
Favorite post run treat? I am certain that I am the only person who guzzles low-sodium V8 juice after a workout.
Strangest place ever run? Reykjavik isn't particularly strange, but it was nice to hop into a spring-fed hot tub after a long run, followed by a bracing dip into the North Sea.
Any notable streaks or other unusual running events? I created the Foliage Five Road Race at the Union Village Dam, which I directed for 10 years until Paul Coats took it over. If you're looking for a five-mile course with an absolutely brutal hill in the final half-mile, have I got a race for you!
What made you start running? In my mid-20's, I began to experience anxiety, and running was cheaper (and more effective) than therapy.
Who is your running "idol"? It's awfully hard not to admire Joan Samuelson, who last year threw down a 3:04 at the Boston Marathon at the age of 61. And what's not to like about Vermont farm girl Elle Purrier, who competed several times at Thetford Academy while running for tiny Richford High, and who recently broke the U.S. women's indoor mile record?
Are your reasons for running now the same or different than the reason you first started? I still need to run regularly to maintain my sanity.
Why did you join UVRC? I think Paul Coats convinced me that it was so cheap that it was almost free.
Ever run in a costume? Every runner in the Santa Run 5k, which is run in Burlington in December (and which benefits Camp Ta-Kum-Ta, a summer camp for kids who have or who have had cancer) is required to dress as Santa. It's a pretty hilarious scene.
The only running shoe for me is Hoka, though I race in Nike Vapor Fly shoes. And, yes, they make a difference.
Ever been injured? How did it happen? I used to run a lot, and occasionally I would get injured. Now I'm injured a lot, and occasionally I run. I tore the meniscus in both knees on separate occasions some years back, but the surgery on both was successful. The most frustrating injury I get is a calf strain, which comes on quite suddenly and completely at random, and typically curtails all running for three to four weeks. I now engage in an extensive series of post-workout lower leg stretches to try to keep the calf strains at bay.
Hot or cold weather runner? I don't run if it's under about 15 degrees or if it's over 90. Otherwise, I'm not really concerned with the weather.
Morning or evening runner? The evening run is ideal for dialing back the stress that has accumulated over the course of the day. The only time you'll catch me running in the morning is race day.
What is your motivation? I am trying to decelerate less rapidly than my peers.
I run therefore I am less annoying than I am otherwise.
How did you become interested in running? I remember being in kindergarten and seeing runners go by my house. I wasn't exactly sure what they were doing, but I thought it was pretty neat.
What is your favorite race? The Vegas Marathon was a hoot. The year I ran, the race started with fireworks on the Strip, the Blue Man Group was performing along the course, there was a run-through wedding chapel around Mile Five, and a world record was set for the most people dressed as Elvis running in a road race.
Favorite running book/film? I enjoyed Karuki Murakami's book "What I Talk About When I Talk About Running," but the gold standard has to be Christopher McDougall's classic book "Born to Run," which I foist on the kids whom I coach.
What does your daily workout consist of? It varies depending on what race I'm training for and how close (or far) I am to race day, but a typical week will include a weekend long slow run, a hill workout, a speed workout, tempo work and some cross-training. It's also important to rest, but not to let rest turn into an excuse not to run. It is not uncommon that I find myself completely unmotivated to get out the door. It's then that I have to remind myself that never never ever have I ever regretted having gone out for a run.
How about favorite work out? I'm not sure it's my favorite, but easily the most painful is a speed interval workout that I created in which the intervals get longer and longer. As I remind my athletes when I have them do this workout, it's not designed to fun; it's designed to be effective.
What is your diet like? Oat cereal of one kind or another for breakfast, with low sodium V-8. Sandwich, carrot, apple and yogurt for lunch, with low sodium V-8. For dinner, I have become fond of Blue Apron, but I also make a pretty decent pesto and can always whip up an acceptable veggie lasagna. I'm not Catholic but, as a spiritual exercise, I eschew all junk food during Lent, including chocolate, which I happen to love. Coffee and beer do not, by the way, qualify as junk food.
If you could run with anyone, who would be the person? I beat then-Vice President Gore in the Marine Corps Marathon, though he was not aware that we were racing against each other, and I'm guessing that I got more training miles in than he did.
Additional input or comments? I have co-coached the Thetford Academy middle school cross-country team and the varsity indoor track team for a number of years, and this past season the TA boys indoor track team won its first state championship, while the girls finished 2nd. While I'd like to get some credit for it, let's be honest: track coaches play less of a role in a team's success than in any other sport, with the possible exceptions of bowling and bass fishing.
I have also served on the Thetford Board of School Directors for something like 25 years.
My wife Karen likes it that I find activities that get me out of the house.
People to mention?
Karen has always tolerated my running, and we will sometimes plan a vacation around a race (Vegas, Edinburgh, Washington, D.C.). Paul Coats infects everything he does with joy and enthusiasm. Where would the UVRC be without him?
What else should the club know about you?
I once jumped out of an airplane at 10,000 feet. Thankfully, I was attached to a trained professional who had a parachute.
Aside from running, what are your hobbies? I play the piano and sing in my church choir, and conduct regular "Sing-Along With Charlie" gatherings at a couple of senior living facilities in the Upper Valley. I am also the Music Director at Camp Ta-Kum-Ta.
Ask the Coaches
Heart Rate Zone/VO2 Max?
Last year I purchased a fitness watch that seems to give some good feedback, although I am not sure what some of the results mean. Can you give me a simple to understand explanation of the heart rate zone/VO2 max?
— Unnamed Athlete
Carly Wynn
First of all, just know that your watch's estimate of HR zones and VO2 max is probably not super accurate. It might be, but knowing for sure requires fancy machines and testing, and your watch is doing a lot of guessing. So don't stress about it by any means.
VO2 max, max heart rate, and lactate threshold are different types of upper limits of physical performance, and when you talk about one, you usually also talk about the others. Knowing these metrics gives athletes, coaches, and physiologists tools to approximate the most effective training zone for an athlete.
The prerequisite knowledge to the rest of this explanation is that the body has two ways of producing energy: in the presence of oxygen (aerobic) and without oxygen (anaerobic).
The short version is that VO2 max refers to the maximum amount of oxygen that body can be using to produce energy at one time. Lactate threshold refers to a particular spike in blood lactate at high levels of aerobic exertion. Maximum heart rate is exactly what is sounds like, though endurance athletes spend very little time training at or near max heart rate, where energy production is short term and anaerobic. When your watch sets heart rate zones it will rely on its ability to guess these metrics.
The training effect on the body is different depending on what percentage of your VO2 max and lactate threshold your training heart rate falls at. LT and VO2 are a pain to measure, whereas current HR is easy to measure, and monitors are getting more accurate. So when your watch guesses at things like VO2 max, LT, and max heart rate, it can feed you back training zones with specific heart rate ranges as a guideline for you to use when training.
It doesn't matter what your watch tells you your VO2 max is. There's a genetically determined upper limit for VO2 max anyway, and any conditioned athlete is operating pretty close to their VO2 max as it is. The real training benefits come from increasing your LT, with the ideal scenario being that HR @ LT = HR @ VO2 max. Training zones are an important training tool for doing this, but the question is whether your watch's training zones are accurate.
An athlete who mostly trains at comfortable, conversational pace and occasionally throws in some intervals or races can probably ignore the watch's zones in favor of focusing on perceived exertion, or use the zones to ensure your easy runs are actually easy enough. An athlete trying to improve performance at race-level effort will need to do specific intervals at certain percentage of VO2max and LT to improve their LT. At that point, the watch's guess is probably not close enough. There are other tools coaches and athletes use at that point to get more accurate training zones if needed, including ways to hone in on training by perceived exertion (training by feel).
So ignore your watch's VO2 estimate entirely, optionally use training zones to ensure you're actually going EASY some of the time, and if you want to check on the accuracy of the watch's training zone estimates, ask your coach.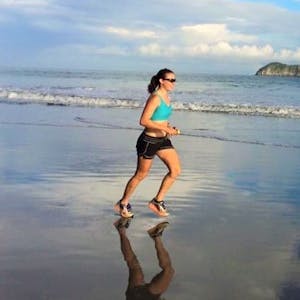 Jim Burnett
I will leave the technical responses to these questions to the other coaches, but I am happy to chime in on the utility of fitness devices in general. The two basic functions of fitness devices are to count your steps and measure your heart rate throughout the day and night. Given these data, fitness device developers create algorithms that chart your fitness over time in various categories. Simple algorithms count your steps throughout the day and the device can offer a challenge for you to meet, such as, walk and run 5,000 steps a day. On top of that your device can notify you during the day to let you know if you are on pace to reach 5,000 steps or, if not, send you an encouraging message – "Time to move!"
When you add heart rate sensors to the mix, algorithms become much more complicated. The companies that develop fitness devices want to make them fun to use so you will buy one. One way to do this is to create unique algorithms that use multiple calculations, averaging, ratios, etc. (I do not claim to understand these algorithms) to come up with measurements like "Suffer Score", available on Strava and developed through a partnership with Garmin. Garmin's software, Trainingpeaks, goes one step further and offers integrations with which you can easily build structured workouts you can upload to your device in minutes.
I sheepishly admit that I have spent a lot of money on fitness devices and for years wore two air a time, one on each wrist. For me it has become one runner's search for the Holy Grail, the device that does everything, including a battery that will hold up for a 24-hour workout. I do not begrudge Garmin and FitBit for marketing their lines of devices that they seem to upgrade every week! My advice is to have fun with your devices and if "Suffer Score" helps to motivate you – Great!
Like many devices, my Garmin Instinct monitors my heart rate throughout the day and night and calculates my resting heart rate. If my resting heart rate goes up 5+/- beats per minute from the day before, I take that as an indication that my body was stressed and is still in recovery mode. So, I will go a little easy for 24 hours or so and see if it comes back down. Another good use of fitness devices is to keep track of your steps per day over time. I find that it takes me about 2,200 walking steps per mile and about 1,800 running steps per mile, so on an average day 2,000 steps per mile is about right. If I average 10,000 steps a day, I am walking and running about 5 miles a day, 35 miles a week. As I prepare for a race, particularly a longer race like a marathon, I want to see my steps per day approach an average of about 20,000 per day or 70 miles a week during a training block where I'm peaking out my weekly mileage. If there is one measurement you can trust it's steps per day. Want to both save money, track your fitness and get ready for your next important race? Use a pedometer or simple FitBit-type device to measure your daily steps and measure your heart rate by hand each morning.
Probably I will continue to buy new fitness devices, the search for the Holy Grail goes on. But, I will do so with my eyes wide open and not get carried away with setting a new PR for my "Suffer Score".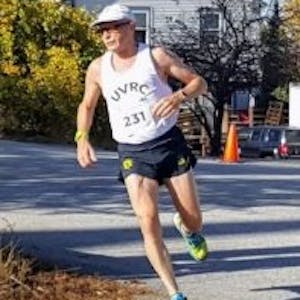 Jim Burnett
Jim Burnett is the president of the Upper Valley Running Club
Member Submission
Planning Your Running Year
By: Dorcas DenHartog; Tim Smith
Information and answers from the UVRC coaches
[Author's note: This article was written before our present Shelter-at-Home season, with no racing in the near future. Which means we are in "Phase I" for a long time. But when life returns to normal, we hope this will help you put the pieces of your training back together.]
In February we had a session about the theory behind running plans. A number of UVRC runners were there, but a great many more were not able to make it. So here we are presenting the same information.
Over the last century a lot of people have wanted, desperately, to win. To that end sports science has studied the minutiae of human performance in order to win Olympic medals, money, and chest-thumping nationalism.
For the rest of us, we can take their conclusions, and dial it back to what is doable for each of us. This article is to help you better understand your running body and what you are accomplishing with different workouts (and/or why the coach is having you do these workouts!). As an informed, healthy adult, this information can be used to guide and sometimes cajole ourselves to do what it takes to achieve our personal goals.
What we present is primarily based on the publications of Jack Daniels, the coach and sports physiologist from SUNY Cortland, as well as the recommendations of the USATF. In fact most science-based training programs have the same features.
Instead of presenting day-by-day workouts, we will present the overarching themes of these plans, and try to explain their terminology and theory behind them.
First we will present some of the pieces that go into a plan (physiological systems, types of training, stress response, etc …), and then we will describe actually writing a plan (macrocycles and microcycles).
What are you trying to achieve?
Jack Daniels' Runner's Profile
When Jack Daniels takes on a new athlete he has them fill out the below questionnaire. Essentially what he, or any coach, wants to know is where is an athlete coming from, where do they want to go, and what are they willing to do to get there.
We reproduce the questionnaire for your own self-evaluation.
Name: Age: Ht: Wt: Gender:
What has been your average weekly total run (miles or minutes) over the past 6 weeks?
What has been your longest single run in the past 6 weeks?
Have you run any races in the past several months?
How much free time do you have, on a daily average, for running?
How many days per week are you able to train?
What is available for training? (track, grass, roads, trails, . . .)
Details of any specific workouts you have performed over the last 6 weeks
List any races you are planning to run (or at least hoping to run) in the coming 4 months.
What is your most important race in the next 6 to 12 months?
We may all want to "do whatever it takes to be a champion", but we also need to be realistic about how running fits into the rest of our lives. Remember: every champion began at the beginning.
Goal Races
It is easy to say, "My goal this year is to run the Upper Valley Racing Series", with all races being of equal importance. Or, "I want to get into primo condition, and then just stay there!" But the body doesn't work that way. We tend to build up to a climax; but we can't stay there. We tip over the edge and need to recover. Therefore it is best to tune your season such that that goal race happens at the climax.
Below is a list of the races in the Upper Valley Racing Series, the New Hampshire Grand Prix, and a few other local favorites. Clearly you can not "Peak" for all these races. One or two may be a "Goal Race". The others, at best, you can treat as extreme workouts.
The Training Toolkit
Physiological Systems
One of the basic tenets of a training system is to recognize that a runner's body has a number of physiological systems which need to be developed. But we can not develop all these systems at the same time. Each of them responds to a different type of stress, a different type of training and workouts.
As one of Dorcas' favorite coach used to say;
"The body is like a garden. A little sun . . . A little rain . . . and time. It takes a season of adding the right elements at the right time to create a vibrant being."
These are what the body needs to have fed:
Muscular/Cardiovascular


Speed


Economy


Lactate Threshold


Aerobic Capacity (VO2-max) – Interval-pace intervals


Now, what follows should help you through the times when you feel tired, uncomfortable, starting to act prickly to people around you ('Depleted')! Hang in there for another minute, day, week (per the training plan) The plan will then call for rest, 'Recovery', and whammo! 'Supercompensation'! You're faster and stronger than before.
Stress Response
If you never change your training, your condition will plateau. To continue to improve we need to change the stress level of our workouts. Through a season we also change the stress level by changing which physiological system we are training. At one point we may be emphasising muscular development. At another time we change the stress by emphasizing speed.
Supercompensation Model
The idea here is that after a major stress (workout) your body is Depleted. It then goes through a Recovery period and finally a Supercompensation period. Supercompensation works on many different time scales. You can think of it as the 48-hours between major quality workouts. It can also be used to describe a 10 day delay between a stressful training week and reaping the benefits of that work.
We use it to understand recovery times, and the timing of the next major stress.
Planning your season
Macrocycles
A Macrocycle is the period of time from starting a plan, to running the goal race. Macrocycles can range in length from 3 months (think high school season or Couch-to-5k) to 12 months. Macrocycles can be broken down into four training phases, and one transition or recovery phase.
You will also notice that each phase emphasises one of the physiological systems, and types of workout mentioned above. In each phase you will still be running lots of miles and doing other things, but the primary quality workout of the week will focus on one physiological system.
Phase I – Easy Mileage

Phase II – Repetition

Phase III – Intervals

Phase IV – Threshold/Competition

Phase V – Transition

Mapping Your Season
If you have 10 weeks, or 20 weeks before your goal race, how do you distribute your time between the different phases? Jack Daniels has the most confusing chart, but one commonly used, so we present it with explanation and examples.
To use this chart – imagine you have 17 weeks to train for your goal race.
Use all the numbers from 1 to 17
Mark those numbers on the chart

An alternative is to use our chart:
Microcycles
A Macrocycle is a pattern of workouts which you will repeat several times in one phase of your season. In the literature some coaches advocate 7, 10 or 14 day microcycles. We always use a 7 day cycle because it meshes well with a normal week.
What is in a microcycle depends upon what phase of the season you are in, but typically it will involve two quality workouts and an event or race on the weekend.
The plan for a microcycle should be revisited at the beginning of each cycle and potentially adjusted for a number of reasons. You may adjust the plan if; training is not going well, you have other stress in your life, you are recovering from injury or illness, or other things which just make life complex. An objective observer, such as a coach, can be useful in these conversations and adjustments.
A typical microcycle;
(Q = Quality, R I T = Repeats, Intervals, Tempo)
Also note that this is the microcycle suggested by Jack Daniels who is training elite and collegiate athletes. As you age you will need more recovery, so a workout that includes speedwork, agility, form drills, can be considered a quality workout (Dorcas). For myself (Tim), Tuesdays are my primary Quality workout, with the other two less intense. However, in a good season, especially in Phase II and III, I will increase the intensity of Thursdays and Saturdays.
Talking with successful UVRC runners we find that some are ridge about their microcycle, especially in the heart of the competitive season. Other recognize that their personal schedule is always changing, and so plan flexibility into their week. But all make a point of having two or three quality workouts a week.
One last note. Often non-quality workouts are referred to as "Junk Miles". They are not – as long as you are moving at conversation pace. Think of these sessions as a moving massage, an essential part of recovery. They pump blood through your body which aids in the building and repairing of muscles.
Do NOT try to keep up with other people if you are feeling uncomfortable.
Do NOT feel guilty for running more slowly than others.
Be wise to win your goals.
They can also, and often should be for older and beginner and injured runners, non-running exercises – swim, bike, hike, row, as well as strength, core, balance work.
In Conclusion . . .
Be an informed, active adult. Understand the physiological why and how that makes each of us a better runner, and informs how we get from where we are to what we want to accomplish.
Onwards!